Registration Open for Virginia Wine Country Half Marathon
January 10, 2013
The 3rd Annual Virginia Wine Country Half Marathon (www.destinationraces.com/runvirginia) produced by Destination Races will be held on Saturday, June 1, 2013. The popular race sold out months in advance the past two years, and the Virginia race is the only East Coast location for the Wine Country Half Marathon series. Registration is open to runners and fast walkers who can keep a pace of 16:00 per mile or better and finish in 3hr 30min or less.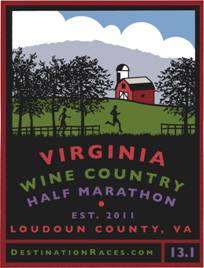 The race starts and finishes at Doukenie Winery in Loudoun County. Doukenie Winery is also the host site for the post-race Wine & Music Festival in the beautiful outdoor setting featuring over a dozen wineries from the region, plus an awards ceremony, exhibitors, Food & Beer Garden and a popular live band. The Virginia Wine Country Half Marathon is a destination race event where runners are encouraged to bring friends, family and running partners to spend time and enjoy this beautiful area. LoudounCounty is the host region and official tourism partner. Most scheduled activities are located in and around historic Leesburg, Virginia, one hour west of Washington, D.C. and 20 minutes west of Dulles airport.
The 13.1 mile course route offers views of the Blue Ridge Mountains, historic farms, rolling vineyards, and farmland. The race is staged on Saturday with race activities planned beginning on Thursday at Potomac River Running store. The race expo is held on Friday, May 31 at Lansdowne Resort from 10:00 a.m. to 6:00 p.m. "We feel very much at home here in Loudoun County," said Matt Dockstader, president of Destination Races. "We enjoy the people here, the history, the scenic countryside, and working with the fabulous venues that host our events. It's an ideal fit for the Wine Country Half Marathon Series."
The 2012 Virginia Wine Country Half Marathon had a significant impact for Loudoun County in visitor spending and fundraising in support of local and national charities. Over 3,000 room nights were booked in Loudoun hotel properties, and over $2 million was raised for charities, including Crohn's & Colitis Foundation of America, through its Team Challenge program. The local beneficiary and primary volunteer provider is Special Olympics of Loudoun County.
The Virginia Wine Country Half Marathon is produced by Destination Races of Sonoma, California. The Wine Country Half Marathon series consists of six races including Santa Barbara wine country, Northern Virginia, Napa-to-Sonoma, Oregon (Willamette Valley), Kelowna, B.C. and Healdsburg, California. For more Information on the event series and Destination Races, go to www.destinationraces.com.
About Visit Loudoun
Visit Loudoun is the destination management organization for Loudoun County, Va., known as DC's Wine Country, located 25 miles from Washington, D.C. This not-for-profit organization develops and implements programs that promote tourism and travel to Loudoun and its towns, to increase visitation and generate visitor spending. The organization showcases Virginia's culinary and heritage assets, including award-winning vineyards, horse country, scenic byways, and towns and villages steeped in history. Visit www.VisitLoudoun.org for more information.