Heron Hill Winery Opens the New Year with Icewine Harvest at Ingle Vineyard
January 04, 2013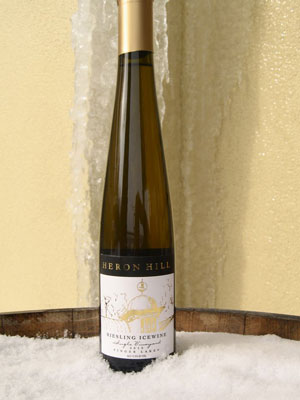 January 3, 2013 (Hammondsport, NY) – Heron Hill Winery is once again enthusiastic about the potential to make another fine Finger Lakes Icewine. A team of eleven people hand-picked nearly one ton of Riesling grapes from 3 a.m. to 6:30 a.m. on the morning of January 3, marking the official close to the 2012 harvest (based on the growing season year). The Arctic Clone Riesling grapes were naturally frozen on the vine below 17°F for at least three days at the sustainably farmed site of Ingle Vineyard, situated on the west bank of Canandaigua Lake.
"An Icewine's ethereal sweetness makes it special and it's exciting because nature doesn't allow for it to happen every year," says Bernard Cannac, Heron Hill's winemaker since 2009. "Also the experience of harvesting at night in the snow can be surprisingly fun and builds comradery." The weather conditions in 2011 were not conducive to an Icewine. Currently Heron Hill Winery is selling an Icewine from the 2007 vintage exclusively in its three tasting rooms. In the spring, Heron Hill Winery will release an Ingle Vineyard Riesling Icewine from 2010. The early cold weather in 2010 made picking icewine grapes prime on December 3rd that year, the concentrated low yield resulted in just 30 cases produced.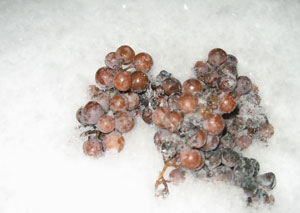 Heron Hill Winery crafted its first Icewine in 2003. For 35 years, Heron Hill Winery has grown cold-climate Riesling and Chardonnay grapes and made elegant world-class wines on a slate hill overlooking scenic Keuka Lake in the Finger Lakes region of western New York. Heron Hill Winery was chosen as one of the ten most spectacular tasting rooms in the world by Travel + Leisure magazine! In addition to the magnificent vaulted Tasting Hall and Winery overlooking vineyards on Keuka Lake, Heron Hill also has tasting rooms on the west side of Seneca Lake, and in Bristol on Canandaigua Lake.