Sonoma Wineries Fill Grape Gondolas with 2,600 Pounds of Toys for Toys for Tots
Russian River Valley beats Alexander Valley by 20 pounds in first-annual wine country gondola toy drive
December 17, 2012
A head-to-head competition between wineries of the Alexander Valley and Russian River Valley—battling to see which wine region could fill its massive grape gondola with the most toys and coats for local children in need—ended today with more than a ton of toys donated. Russian River Valley won the challenge by just 20 pounds with 1,040 of donations to Alexander Valley's 1,020 pounds for a grand total of 2,060 pounds.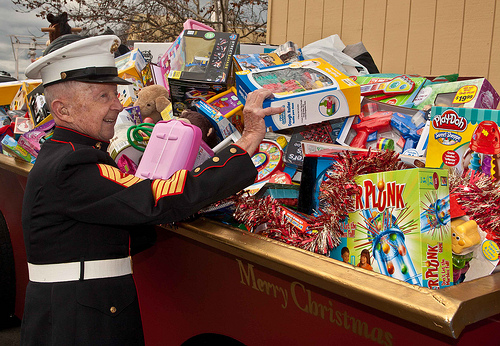 Retired U.S. Marine assists with Toys for Tots
Photos by George Rose, J Vineyards & Winery
Hosted by John Jordan of Jordan Vineyard & Winery of Alexander Valley and Judy Jordan of J Vineyards & Winery of Russian River Valley, this three-week toy drive benefited Toys for Tots and drew nearly 20 wineries. More than 50 community members turned out at today's grand finale gondola weigh-in event, as each team's behemoth, vintage grape gondola—painted like Santa's sleighs and overflowing with toys—pulled up to Jordan Winery's scale house in Healdsburg for the official weigh-in. U.S. Marine Reservists, leaders of Sonoma County's Toys for Tots program, were also on hand to help wineries load last-minute donations into the gondolas.
"My sister Judy may have won this year, but we'll be back," said John Jordan, CEO of Jordan Vineyard & Winery. "But, in all honesty, the children are the real winners. Thanks so much to all the wineries for coming together to support this worthy cause during the holidays."
Russian River Valley wineries will be presented with an official Toys for Tots top donor plaque, which will be customized to attach to the Russian River Valley gondola "sleigh." "In this case, we are all winners because we came together as a community for the children of Sonoma County. Congratulations to the Russian River Valley and Alexander Valley Wineries. Job well done," said Judy Jordan, Founder and President of J Vineyards & Winery.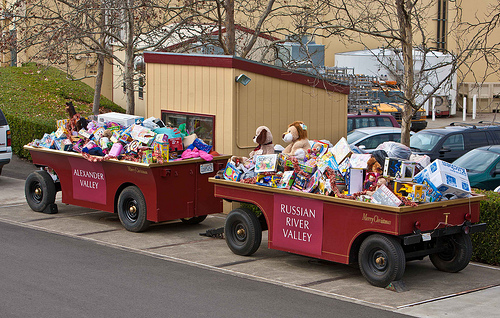 Sonoma wineries gondola toy drive weigh-in
Participating wineries included: Alexander Valley Winegrowers Association, Chalk Hill Estate Vineyards & Winery, Francis Ford Coppola Winery, Ferrari-Carano, Lancaster Estate, Munselle Vineyards, Robert Young Estate Winery, Stryker Sonoma and Silver Oak Cellars (Alexander Valley); DeLoach Vineyards, Dutton Goldfield, Hartford Court, Lasseter Family Winery, Moshin Vineyards, Papapietro Perry, Rodney Strong Vineyards, Sunce Winery and Twomey Cellars (Russian River Valley).
Santa Rosa-based U.S. Marine Corps Toys for Tots will distribute the donations next week in Santa Rosa, Windsor, Healdsburg, Guerneville, Forestville, Sonoma, Rohnert Park and Petaluma. "The Jordans took their Toys for Tots donation program to the next level," said Larry Williams, Senior Vice Commandant of U.S. Marine Corp League Detactment 686. "We're thrilled to have doubled Jordan Winery's 2011 record and to have more wineries throughout the valleys participating. The toys donated today will allow us to fulfill the toy and coat requests we've received from the 28 organizations we support through Toys for Tots." Jordan Vineyard & Winery hosted its first gondola toy drive in 2011, pitting different departments within the company against one another. Nearly 1,000 pounds of toys were donated by Jordan employees and Jordan Estate Rewards members—the largest donation Toys for Tots received last year.
About Jordan Vineyard &Winery
Jordan Vineyard & Winery lies tucked into the hills of Alexander Valley in Sonoma County, where the iconic Jordan chateau, inspired by the great estates of France, overlooks nearly 1,200 acres of rolling hills and vineyards with three quarters of the land dedicated to natural habitat. Today, second-generation vintner John Jordan continues to build upon the legacy of his parents, preserving the timeless winemaking qualities of balance, elegance and food affinity. www.jordanwinery.com
About J Vineyards &Winery
J Vineyards & Winery is located at 11447 Old Redwood Highway south of Healdsburg. The winery focuses on Brut and Brut Rosé sparkling wines, as well as Pinot Noir, Pinot Gris and Chardonnay Estate varietal wines, produced from grapes farmed primarily within Sonoma County's Russian River Valley appellation. Founded by Judy Jordan in 1986, J Vineyards & Winery is an independently-owned Sonoma County wine producer and celebrated its 25th Harvest this year. The winery is Certified Sustainable through the California Sustainable Winegrowers Alliance.
www.jwinery.com
About Toys for Tots
Christmas is a time of joy, happiness and goodwill. It is a time of giving and helping those who are less fortunate than ourselves, especially impoverished children. For more than half a century, one organization—the U.S Marine Corps—is the unchallenged leader in looking after America's needy children at Christmas. Marine Corps Reserve Units throughout the nation conduct toy collection and distribution campaigns near their reserve centers each year. To expand the nationwide coverage of Toys for Tots, the Marine Toys for Tots Foundation authorizes Marine Corps League Detachments, like #686 in Santa Rosa, to conduct a campaign in Sonoma County. In 2011, local Marine Corps League Detachment #686 collected enough toys for more than 7,000 children. For more information about the U.S. Marine Corps Reserve Toys for Tots program, visit www.toysfortots.org.