Beveragetradenetwork.com launches BTNBevBrokerConnect
December 17, 2012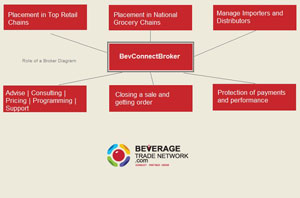 Beveragetradenetwork.com has launched one of the largest active broker system for the wine and beverage industry in the world.
BevBrokerConnect is a smart system designed by BTN which helps supplier members connect with brokers in the beverage industry (wine, beer, spirits and non-alcoholic beverage). Here, brokers will list the countries they are looking to represent. Suppliers will get full access to the broker companies and can contact them directly to ask them for representation. BTNBevBroker helps suppliers find new importers and distributors and then manage them.
Suppliers seeking to expand distribution would benefit in having a broker who can represent the company. Most of BTN's brokers work on a commission basis and have long term relationships with suppliers. Their job is to help connect the right broker with the right supplier. Brokers can register for Free and list which countries they are seeking products from so suppliers from that country can contact them.
If you are a wine, beer, spirits or other beverage broker, register here.