Sommelier Turns Texas Winemaker
December 13, 2012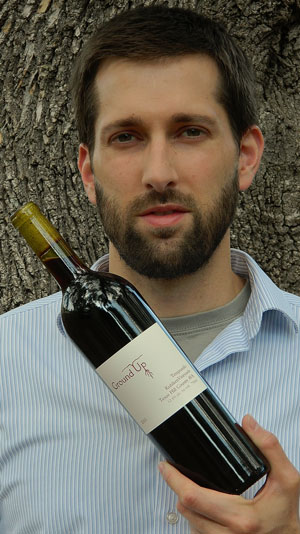 Another sommelier has entered the ranks of winemakers. Brian Phillips of Austin's InterContinental Hotel and Haddington's has released his inaugural wine with the 2010 Ground Up Tempranillo from a small portion of Pedernales Cellars's Kuhlken Vineyard in Texas Hill Country. Phillips hand-harvested, -sorted, and -destemmed the fruit along with some hired hands, following through on all production steps except some of the regular punch downs during intial fermentation. The wine was aged eight months in a new, medium toast, French oak barrel from Radoux and further aged in bottle for a year prior to release. The small lot made easy its gravity flow, no fining or filtration treatments. 2010's 30 cases was a test run; Phillips skipped Texas Hill Country's drought-ridden 2011 harvest but hopes to double his production this year.
"I am lucky it worked out and that is a major reason I kept the production process simple and minimal in my approach," he said.
Located 10 minutes west of downtown Fredericksburg, the Kuhlken Vineyard was planted in 1996 and serves as an integral part of Pedernales Cellars production. Phillips thinks the style "is more feminine with its bright fruit and refreshing acidity while exhibiting the classic varietal character expected from Tempranillo." The wine has been sold by the glass only at restaurants Mulberry and Haddington's (where he serves as its consulting wine director) as well as a short stint at The InterContinental Hotel. Distribution is currently limited to Austin with Phillips's goal "to make a local 'by the glass' wine at a restaurant I was working at the time."