Donum Estate Buys Russian River Valley's Nugent Vineyard
Sonoma Pinot Noir specialist moves from a partnership to ownership.
November 21, 2012
The Donum Estate (TDE), the Carneros-based Pinot Noir producer, announced today that it has acquired the Nugent Vineyard in Russian River Valley from owners Joe and Cynthia Nugent for an undisclosed amount.
The 16 acres of Pinot Noir, located on a level, 20-acre property in the heart of the valley, was planted for the Donum Estate with the guidance of Anne Moller-Racke, TDE president and winegrower, who still oversees the farming of the vineyard.
"Anne and Joe Nugent have enjoyed a wonderful working relationship through the years that has produced spectacular results," said Trond Fredheim of Winside, Inc., a partnership of Danish investors that bought TDE less than a year ago. "We are delighted that Joe has entrusted ownership of this special site to our winery."
Since 2005, fruit selected from lighter soils in blocks on the northern and southern extremes of the vineyard has gone into Donum's estate-grown Russian River Valley Pinot Noir bottles. The five vintages released to date have received ratings in Wine Spectator ranging from 91 to 95 points, averaging 92.8. Last year, the inaugural release of Donum's Russian River Reserve, a 2009 vintage limited "best barrel" selection, received a rating of 96.
Nugent Vineyards originally comprised 11 acres, divided equally between Dijon Pinot Noir clones 667 in the northern blocks and 115 to the south. The Russian River Valley wine consists of equal parts of each clone; the Reserve is entirely 667. More recently, five acres of Pommard selection were planted to the west, and a 2011 vintage from this "Ten Oaks" parcel is forthcoming.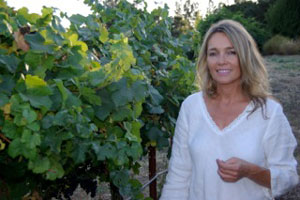 Anne Moller-Racke, TDE president and winegrower, guided the planting of the vineyard.
"We could not have asked for a better partner than Joe Nugent, because he has understood and supported our grand cru model for Pinot Noir," said Moller-Racke. "We farm all of our vineyards to the same high standard, and we focus on finding those special blocks or portions of blocks where the clone or selection aligns perfectly with the site to offer pure expression in a complete wine. As a result, wines that we label for appellations, like our Russian River Valley, are actually made from select blocks within single vineyards, and our crus, like the Russian River Reserve, are best barrel selections of one clone on one site."
The winery has begun planting an additional 15 acres of Pommard and Calera selections at the 147-acre Donum Ranch in Carneros, and an Anderson Valley Vineyards Pinot Noir from the 2011 vintage is also in barrel. Donum currently produces both a Carneros Pinot Noir and Chardonnay as well as two Pinot Noir crus, East Slope and West Slope, from its 45 planted acres at Donum Ranch. All Donum wines are estate grown and the vineyards managed by Moller-Racke.
"Our goal is not to increase production, but to identify more exceptional sites capable of consistently producing grand cru level wines," said Daniel Aaxman, another of the five Winside partners.
Donum's Russian River Valley Pinot Noir retails for $70, and the Reserve, for $90.