California Food & Ag Board Examines Impacts of Farm Bill Expiration
Wine and Grape Programs Affected
After hearing about the benefits from federal farm bill programs for California agriculture, the state's economy and job creation from agriculture and wine industry representatives at a meeting Nov. 6, members of the California State Board of Food and Agriculture were urged to contact Congressional representatives to promote passage of the 2012 Farm Bill, or an extension of programs prior to the end of 2012.
California Department of Food and Agriculture (CDFA) Secretary Karen Ross, in a news release announcing the meeting, stated: "I remain hopeful that Congress will pass a federal farm bill once it reconvenes in mid-November. However, we must move forward with the understanding that with the current expiration of some farm bill programs (Sept. 30, 2012), dramatic long term impacts will be felt by California's farmers and ranchers."
Market Access Program Expires
Linsey Gallagher, the Wine Institute's director of international trade marketing, told the board about the importance of the currently expired Market Access Program (MAP). The Wine Institute uses MAP to promote wine export sales that grew to a record high of $1.4 billion in 2011, or about 20 percent of all U.S. wine sales by dollar amount. California wines represent about 90 percent of U.S. wine exports. Gallagher said the California wine industry accounts for 330,000 jobs in the state, of which an estimated 66,000 are now attributable to U.S. wine exports.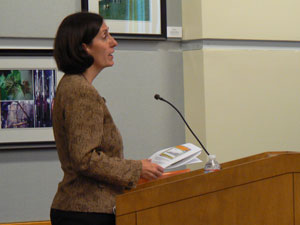 Linsey Gallagher of the Wine Institute discusses impacts from expiration of the farm bill's Market Access Program at this week's meeting of the California State Board of Food and Agriculture.
The 2008 farm bill allocated $200 million per year through 2012 for MAP, administered by the U.S. Department of Agriculture's (USDA) Foreign Agricultural Service to partially reimburse program participants for foreign market promotion activities. The Wine Institute has used MAP funds since 1985, and in recent years received about $7 million per year in MAP funds. The Wine Institute provides matching funds of 150 percent, to add $12 million to $13 million a year for annual export promotions. The Wine Institute has 15 international office representatives and export promotion programs in 27 countries. Activities include trade shows and retail level promotions in Europe and Asia, international trade missions, and hosting foreign press and trade representatives on California wine tours.
Gallagher said total U.S. agricultural exports have an annual value of $137 billion, and for every $1 spent for MAP promotions, the program has a 35 to 1 return on investment. Gallagher said, "With the expiration of the farm bill, USDA has no ability to maintain MAP programs in 2013. This program helps protect and create American jobs, which is even more important in today's economy."
Nathan Bowen, representing the National Association of State Departments of Agriculture, closely follows farm bill legislation. He spoke to the board through a live video conference call from Washington, DC. With the expiration of 2008 farm bill provisions Sept. 30, he said," We're seeing immediate effects with MAP trade promotions oversees screech to a halt." Bowen advised board members to contact Congressional representatives and "emphasize that the MAP program creates jobs, and that foreign policy has an impact on our economy." He added, "These programs do not just benefit farm businesses, they are important for other small businesses nationwide."
Discussing the issues and politics that will affect Congressional action in the "lame duck" session that begins this month, Bowen said fiscal and budget issues will be top priorities and will impact how Congress deals with the farm bill. He was optimistic Congress would take action, most likely a short-term extension of farm bill programs for six months or one year, but it's conceivable a full 5-year bill could pass. He noted that earlier versions of the 2012 farm bill had significant reductions in baseline spending--$23 billion less in the Senate bill and $35 billion less in the House bill, so overall funding is expected to be much less than the 2008 farm bill. On a positive note, the Senate version had increases for the Specialty Crop Block Grant Program, and for invasive species programs.
Some 2008 farm bill programs with baseline funding have been extended at static 2012 levels through March 2013 as a result of a Congressional continuing resolution. However, 37 other programs do not have baseline funding and are currently impacted, such as MAP and the following:
--The National Clean Plant Network has funded improvements and expansion of facilities and methods to propagate clean grapevines and rootstock materials at facilities such as Foundation Plant Services at UC Davis.
--The Rural Energy for America Program (REAP) has helped fund wind and solar energy installations at farms, including vineyards and wineries throughout the U.S.
--The Specialty Crop Research Initiative (SCRI) has funded several major wine industry research projects in recent years related to vineyard drought and salinity issues, vineyard mechanization and automation technology, vine trunk diseases, and has funded establishment of a national grape extension website.
Jean-Mari Peltier, president of the National Grape & Wine Initiative, told the board the SCRI ended September 30 with no provisions for extension in the continuing resolution. She discussed how SCRI could potentially be affected in a new farm bill, based on versions of the bill discussed earlier this year. She said, "The good news is that both the Senate and House versions set up SCRI as a mandatory program. The bad news is, even if we get a new farm bill, both versions make cuts in SCRI funding that will likely be at least 15 percent less over the next five years compared to the 2008-2012 period." SCRI grants had totaled about $45 million to $50 million a year spread across all specialty crop proposals, with grape projects receiving about 10 percent of funding.
California State Board of Food and Agriculture president Craig McNamara said, "California's farmers and ranchers need to reach out to their Congressional representatives about the importance and value of farm bill programs." He added, "Without this communication, we run the risk of losing programs of importance to our state and nation."