PR: Ledson Winery Salutes the 2012 World Champions with Second Release of "Baby Bull" Orlando Cepeda Zinfandel
Proceeds benefit the Ledson Harmony Foundation for Children
November 06, 2012
press release - Hot on the heels of the San Francisco Giants' world championship 2012 season and World Series win, Ledson Winery is re-releasing limited quantities of its wine collaboration featuring legendary former San Francisco Giants baseball player and Hall of Famer, Orlando Cepeda. Proceeds from the sale of Ledson's "Baby Bull" Zinfandel will benefit the Ledson Harmony Foundation for Children. The special price is $50 per bottle (regular $68) and $70 for a signed bottle (regular $88). This special offering runs through Dec. 15.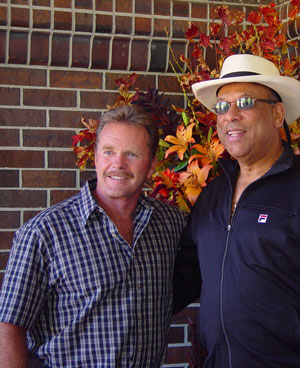 Steve Ledson (left) with Orlando Cepeda.
"The Giants are successful because of these young new players like Posey, Baumgarner and Lincecum," explained Harmony Foundation head Steve Ledson. "They were just kids the other day themselves. So we have this special price to recognize the Giants, but just as important give every kid a chance to become a professional and help us build America's future, our kids. Please purchase your memorabilia bottle today while we still have a few and know you are making a difference in some kid's life and building on the future of America."

Bottles can be purchased at The Castle in Kenwood, at www.ledson.com or by calling (707) 537-3810.
The Ledson Harmony Foundation was started to give kids a leg up. The Foundation has donated hundreds of thousands of dollars to deserving children's related endeavors including local girls softball teams, Make-a-Wish foundations, the Anderson Valley school district, the Sonoma Charter school playground, the Flowery School in Sonoma and Sonoma Jazz + music programs, to name a few.

Previous high-profile celebrity humanitarians to be honored with wine bottlings include singer Michael McDonald, actor Jeff Bridges and San Francisco 49er Dwight Clark. All proceeds from Harmony Collection Wines have gone to youth-related organizations.
About Ledson Winery
Local builder, philanthropist and fifth generation Sonoma winemaker Steve Ledson founded Ledson Winery and Vineyards in 1993.The winery is located at 7335 Sonoma Highway in Kenwood and is open daily from 10 a.m. to 5 p.m. For more information, call the (707) 833-2330 or visit www.ledson.com. For more information about the Ledson Harmony Foundation, visit www.ledsonharmonyfoundation.com.