Arizona Wine Industry Celebrates 2012 Harvest
October 22, 2012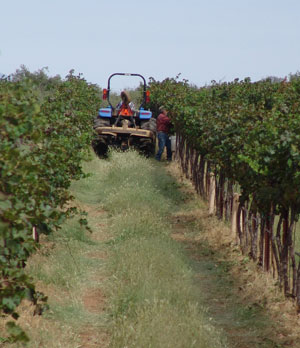 The Arizona wine industry is celebrating a better-than-expected wine grape harvest this year. With yields up and grape quality above average, the harvest left many wineries scrambling to find more barrels, tanks, and workers to bring in their crop. "It is a nice problem to be having this year after several years of devastating crop loss due to weather," said Curt Dunham, winemaker/owner of Lawrence Dunham Vineyards.
In Arizona's oldest wine region, the anticipation for a good growing season was very high and the harvest exceeds expectations. Ann Roncone, winemaker/owner of Lightning Ridge Cellars in Sonoita, explained, "I'm thrilled to actually have some estate white grapes this year. We lost about half the crop from the April 18 frost. But half a crop is much better than the last two years, where April frosts completely wiped out our two white varietals (Muscat Canelli and Malvasia)."
Many vineyard owners reported that the monsoon season came early this year; starting in earnest in mid-June bringing quite a bit of rain for June and July in southern Arizona. Also, there were fewer new bugs to battle. The biggest challenge was keeping the nutrient levels just right. Vineyard managers reported phosphorus and potassium deficiencies creating difficulties during the growing season.
Oak Creek Vineyards and Winery in Northern Arizona's Verde Valley region reported its best harvest ever from its 12 year old vineyard. "We harvested our grapes with Brix at nearly 26° plus which we anticipate producing rich, smooth wines with nice alcohol," said Florian Wahl, Oak Creek winemaker. Kief Manning, winemaker at Kief-Joshua Vineyards in Sonoita/Elgin area said, "The cool summer temperatures coupled with plenty of rain has resulted in a hearty harvest this year."
Arizona is receiving a lot of attention in recent years as the number of vineyard acres are expanding, wine production is increasing and the quality of Arizona wines are being recognized. There are now over 60 bonded wineries in Arizona, up from nine in 2000. However, wine grape acres have not kept up with the demand, sending Arizona wineries to purchase grapes from outside of the state. "The 2012 harvest will help Arizona producers begin to keep up with demand," said Peggy Fiandaca, president of the Arizona Wine Growers Association. "The opportunities of the Arizona wine industry are great, and there is no reason that the wine industry cannot be the next billion dollar wine region like Washington and Oregon."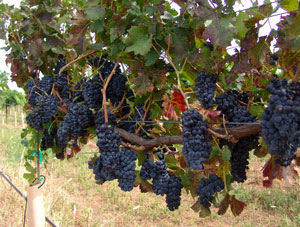 Southeastern Arizona is the third major wine grape growing region and one of the fastest in terms of the amount of acres being planted. "We have just completed an amazing 2012 harvest," said Dunham. "We finished harvesting September 27 by picking the last of the Petite Sirah. Our estate harvested over 12 tons which averages out to about six tons per acre – an amazing yield especially for such a young vineyard. We are literally up to our elbows in deep purple must and have been scrambling to find places to not only ferment the grapes but to store the finished wine after pressing."
"The Arizona wine industry is excited about the 2012 growing season. We have a new state-of-the-art custom crush facility in Willcox, Arizona, new vineyard acreage planted, and wineries producing highly rated Arizona wines. All of these accomplishments are boosting Arizona's image as a quality winemaking region," said Peggy Fiandaca, president of the Arizona Wine Growers Association.
About the Arizona Wine Growers Association (AWGA)
The AWGA serves grape growers and winemakers in Arizona, allying its members for representation, promotion and education. The association strives to advance with integrity the sustainable growth and production of authentic Arizona-grown wines.
Arizona has over 60 licensed and bonded wineries. Several Arizona wines have been served in the White House, and more than 20 wines from eight Arizona wineries have scored at least an 88 rating from Wine Spectator. In a recent blind taste test featuring several high-profile judges, Arizona wines beat out noted wines from around the world, grabbing three of the top five spots in both the red and white competitions. Arizona wines also took first place for both red and white. For more information visit www.ArizonaWine.org.