How South African Wines Can Re-Engage the U.S. Market
Baboons in the Vineyard and Other Issues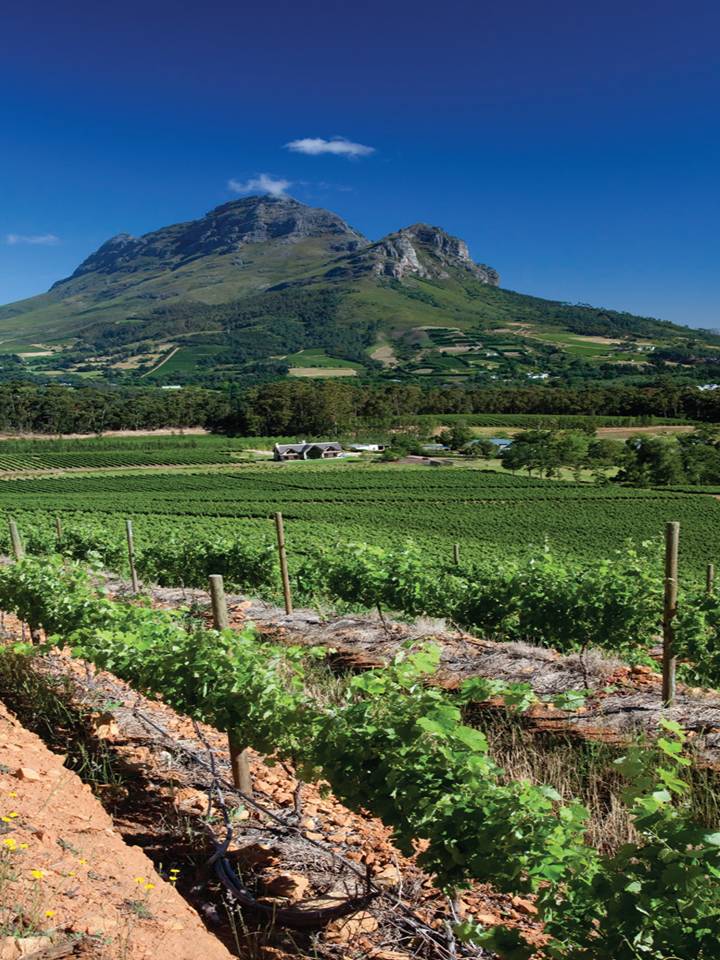 South African vineyard
South Africa is entering a new era of producing fresh, exciting, and beautifully crafted premium wines, yet many wine consumers in the USA have still not had a chance to taste the latest style. Instead they have lingering memories of giraffe labels and "burnt rubber" tastes in South African wines from a decade ago.
Yet at the Capewine conference this past week, the more than 650 South African wine producers and the 3500 grape growers supporting them, showcased exquisite chenin blancs and complex cabernet sauvignons, syrahs, pinotages, and red blends from all regions, and fresh chardonnays and pinot noirs from the Cape South Coast. I was able to taste more than 300 wines, and only found a few with the "rubber" taste, or what others dub as "eraser or band aid" notes.
So what does South Africa need to do to change their public image in the US, and achieve the same export success they have in the UK and Scandinavia? Following are a five first steps that may help them reintroduce the exciting wines they are now producing.
1) Acknowledge Former Quality Issues
"We exported a lot of wines we shouldn't have," one South African winemaker told me. "After Apartheid ended, we had so many countries asking to buy our wines that we shipped everything without checking to make sure it was quality wine."
Indeed, for those Americans who have tasted South African wines, the first experience wasn't always memorable or pleasant. Many were introduced to inexpensive semi-sweet chenin blancs with giraffe or leopard labels that they picked up in a grocery store. Though fun to try once, the innocuous flavor didn't convince many to buy a second bottle. Others, who encountered the burnt rubber tastes of the early pinotages, swore it would never pass their lips again. This is unfortunate, because I tasted some pinotages this time that were so fresh and fruity they could have been a lighter bodied spicy syrah.
Therefore, admitting to former quality issues, and explaining how the "burnt rubber" taste has been almost completely eliminated by replanting virused vineyards and adopting modern winemaking methods, is an important first step for Wines of South Africa (WOSA). When other countries have experienced quality issues, such as Austria with their anti-freeze scandal and, more recently, Italy with its Brunello glitches, acknowledging the problem and communicating solutions is the best way to move forward.
2) Showcase Country Images with Unified Marketing Message
"I've been trying to sell South African wines in the US market for more than 20 years," said one US importer, "but Americans just don't seem interested. The concept of wine from Africa is alien to them."
This statement rings true, because I had a couple of people say to me before I left – "I didn't know they made wine in Africa." And several college-educated friends said, "So which country in Southern Africa are you visiting for your wine conference and tour?" When I answered that the name of the country was "South Africa," they were surprised. Yes, many Americans are geography challenged.
Therefore WOSA should consider developing a unified and memorable marketing message with positive images illustrating the beauty and location of the country. Photos showing the dramatic landscape of mountains, vineyards, and ocean, as well as local people, food, music and dance could assist in the process. A catchy slogan that helps Americans recognize the location and quality of South African wines would be extremely helpful. Indeed, just five years ago, many Americans hadn't heard of Argentina and malbec. Now most wine consumers recognize both.
The fact that the various wine regions and associations of South Africa are working more closely than they ever have before, should help in the development of a unified marketing message for this purpose.
3) Lead with Chenin Blanc
New Zealand took the world by storm with its unique style of sauvignon blanc. South Africa should consider leading with its chenin blancs, which are some of the most beautiful I have ever tasted. Furthermore, except for the Loire Valley, no other region is focusing on chenin blanc to the extent of South Africa.
South Africa has a wide variety of chenin blanc styles that should appeal to multiple consumer segments. My favorites are the bone-dry chenins with a peach nose, mineral palate, and clean high acid finish -- wonderful food wines. At the same time, I also tasted some exquisite semi-sweet chenins with aromatic peach and honey notes that make a great sipping wine. Then there are the fuller-bodied and more serious oaked chenins with complex flavors that have been developed through oak fermentation, battonage, and malolactic fermentation. These wines give chardonnay a run for its money.
4) Court Sommeliers
Another good entry point in the US market is via the sommelier circuit. This is because many of the premium wines South Africa is producing are a unique mix of styles, with the ripe fruit nose of the New World, but the minerality, terroir notes and higher acids of Old World wine countries. This makes these wines a perfect compliment for food, but often requires a hand-sell from an expert who can tell the story of the vineyard and property. Sommeliers are in an ideal position to do this.
WOSA was wise enough to invite several influential American sommeliers to Capewine, and the ones I spoke with were very complimentary about the potential of South African wines. Dedicated follow-up, and perhaps more hosted tastings of South African wines in the US market, should assist in this process.
5) Communicate Sustainability & Fair Trade Efforts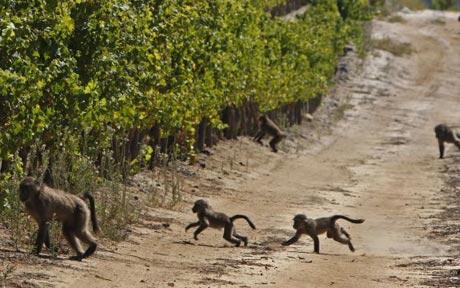 Photo: AP
With its very unique flora and fauna, South Africa was an early adopter of environmental practices in agriculture. It is the only country that has one of the world's six floral kingdoms within its borders, marked by the unique fynbos family, including multi-colored protea flowers that grow wild along the roadsides. In addition, it has very unique animals, and visitors can see baboons, greysbok, and even the occasional leopard in the vineyards.
Because of this, many wineries and vineyards have adopted sustainable winegrowing practices, and some are gravitating towards organic and biodynamic certification. In addition, complete winegrowing regions are creating ecotourism zones. The Green Mountain Eco Route, blending wine and biodiversity, is a good example of this.
On the social equity side, South Africa is working even harder than many countries because it the legacy of Apartheid. Some wineries are FairTrade certified, which includes adopting social practices such as fair pay, assisting with child education, health, and other equity issues. These commendable measures should be communicated as part of their wine marketing message.
About the Author: Dr. Liz Thach, MW is the Korbel Professor in the Wine Business Institute at Sonoma State University in California. She can be contacted at liz@lizthach.com. For more information on South African wine, watch for new blog postings at www.Winetravelstories.blogspot.com.