New Book: The NapaLife Insider's Guide to Napa Valley: A Travel Guide for the Connected Age
From Paul Franson, editor and publisher of NapaLife, the Insider's Guide to Napa Valley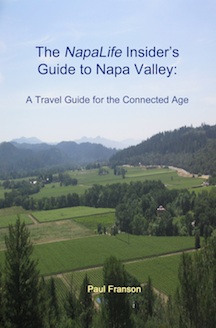 Napa, CA Sept. 24, 2012 – Paul Franson, the editor and publisher of NapaLife, the Insider's Guide to Napa Valley, has published a new book of the secrets of the good life in Napa Valley.
The NapaLife Insider's Guide to Napa Valley: A Travel Guide for the Connected Age is a 360-page, 100,000-word guide to Napa Valley for visitors and locals. It describes the valley in detail, focusing on the wine and wineries, food and restaurants as well as other attractions.
What it doesn't do it waste space on details of attractions, which are readily available online and change often.
Instead, it tells people what life is really life in Napa Valley, from the reason wineries can't have restaurants to the best places to eat, from the best bicycle trips to the best views.

It also includes Franson's strong opinions on all aspects of life in his chosen home. Franson's paid weekly newsletter NapaLife is the source of the insider news about Napa Valley, and it's almost always the first place to find out about new developments including restaurants, entertainment and wine. In 16 years of living in Napa Valley, Franson has researched and written about almost every aspect of valley life.

His work appears regularly in the Napa Valley Register, Inside Napa Valley and Napa Valley Life, Wines & Vines and Wine Business Monthly, and he's also written about the valley for Food & Wine, Decanter, the Wine Enthusiast, the San Francisco Chronicle, Napa Sonoma and many other publications. He's also hosted two programs about life in wine country on local radio stations.

The NapaLife Insider's Guide to Napa Valley is available in printed form for $24.99, and in ebook format for the Kindle and other electronic readers for $9.99.

Order the printed version from Amazon subsidiary CreateSpace at https://www.createspace.com/3987074.

Order the Kindle version from Amazon.com.

The print version is also available from Amazon.com and other retailers.

For more information or to buy a PDF version, visit www.napalife.com/Napa Insider.html.

Table of Contents of The NapaLife Insider's Guide to Napa Valley
The Lay of the Land
A Quick Tour of Napa Valley
Napa Valley: Glitz Grafted on Deep Roots
How the Ag Preserve Saved Napa Valley
The Couple Who Created Napa Valley
Getting Around
The Napa Valley Wine Train
The Vine Trail
American Canyon: There's no There There
Napa – No Longer a Cinderella
The Historic Napa Mill
The Riverfront
Yountville – the Tiny Gourmet Capital
The Shops at V Marketplace
Oakville & Rutherford: Big Names but Tiny
St. Helena – the Heart of Napa Valley
Calistoga – the Wild West in Napa Valley
Angwin – Teetotaler's Haven
The Land East of Eden
Grapes and Wine in Napa Valley
Wine Varieties
Sauvignon Blanc – Napa's Best White
Chardonnay – America's Favorite Wine
Pinot Noir – the Choice of Kings
Merlot – Unappreciated Stepsister
Cabernet Sauvignon – the King of Wines
Zinfandel – America's Own (Croatian) Grape
Blends and Meritage Wines
Other Varieties in Napa Valley
Growing Grapes in Napa Valley
Stealth Organic Growers
Biodynamic and "Natural" wines?
The Gentleman Grower from Virginia
Plant Your Own Little Bit of Wine Country
Making Your Own Wine
Wine Terms
The Legacy of Napa Valley Wineries
A Note on Visiting Wineries
Napa Valley's Major Appellations
Oak Knoll AVA
Stags Leap District
Rutherford AVA
St. Helena AVA
Calistoga AVA
Los Carneros AVA
Coombsville AVA and east of Napa
Mt. Veeder AVA
Spring Mountain AVA
Diamond Mountain AVA
Pritchard Hill
Atlas Peak AVA
Howell Mountain AVA
East of Eden – Across the Eastern Range
Napa's Hot Winemakers
Winetasting in Downtown Napa and Nearby
Hidden Retailers Sell Rare Wines
Food and restaurants in Napa Valley
A Passion for Food
Napa Valley's Favorite Restaurants
A Peek Inside the CIA
Hot Chefs, Hot Restaurants
Do Napa Restaurants Feature Napa Wine?
Corkage at Napa Valley Restaurants
Enjoy Food with Wine at Wineries
Brick Ovens Make Wine Country Memories
Cooking Classes in Napa Valley
Olive and Grapeseed Oil in Napa Valley
Gourmet Chocolate in Napa Valley
Prepared foods
Gourmet Shops and Delis in Napa Valley
Cookware Stores in Napa Valley
Top Picnic Areas at Napa Valley Wineries
Top Breakfasts in Napa Valley
Favorite Mexican Restaurants
The Food Truck Phenomenon
Napa Restaurants
Yountville Restaurants
Rutherford and Oakville Restaurants
St. Helena Restaurants
Calistoga Restaurants
The Best Places to Eat Alfresco
Lodging in Napa Valley
Stay at a Winery?
Hotels in Napa
Hotels in Yountville, Oakville and Rutherford
Hotels in St. Helena
Hotels in Calistoga
Boutique inns & B&Bs
Chain, business and other lodgings
Camping and RV spaces
Things to Do in Napa Valley
Top Views in Napa Valley
Farmers Markets in Napa Valley
Napa Chef's Market and Cheers!
Auction Napa Valley
Music Festival for Mental Health
School and Charity Auctions
The Napa Valley Wine Library tasting
The V Foundation Wine Celebration
Commercial Art Galleries
The Most Interesting Winery Architectures
Performance Venues
Music and Art Festivals
Wellness and Sports in Napa Valley
The Best Bike Rides in Napa
Hiking Napa Valley
The Top Gardens in Napa Valley
Skyline Park Native Habitat Garden
Up, up and Away In a Beautiful Balloon
Harvest in Napa Valley
Winter in Napa Valley: Cabernet Season
Visiting Napa Valley Alone
Things to Do on a Cold, Rainy Day