May Issue of WBM: Wineries See Healthy Growth in Tasting Room Sales
Average purchase in Napa nearly doubles the average tasting room purchase in any other region
May 01, 2012
The May issue of Wine Business Monthly is on its way to your mailbox, with the digital edition available today. Included in our May issue is the tasting room survey report, which was conducted in partnership with Silicon Valley Bank.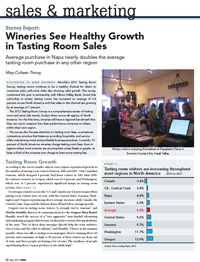 According to Wine Business Monthly's 2012 Tasting Room Survey, tasting rooms continue to be a healthy channel for direct to consumer sales, with wine clubs also showing solid growth. The survey, conducted this year in partnership with Silicon Valley Bank, found that visitorship to winery tasting rooms has increased an average of 6.4 percent across North America and that sales in the channel are growing by an average of 7 percent.

The 2012 Tasting Room Survey is a comprehensive review of tasting room and wine club trends, broken down across all regions of North America. For the first time, wineries will have a regional benchmark that they can use to measure how their performance compares to others within their own region.

The survey also focuses attention on tasting room fees, a sometimes contentious practice that balances providing hospitality and service while maintaining smart and profitable business practices. Currently, 70 percent of North American wineries charge tasting room fees. Even in regions where most wineries are pouring their wines freely to guests, at least a third of the wineries now charge at least some tasting fee.
To read the Tasting Room survey in the May issue of Wine Business Monthly, click here. For more information on how the survey was conducted, contact Rob McMillan, Founder, SVB Wine Division: RMcMillan@svb.com.
To subscribe to Wine Business Monthly, click here.