Umpqua Community College Builds New Future for Oregon Wine Industry
Oregon is on a mission, and that is whole heartedly to expand their presence in the winegrowing world. To that end, the tail that wags the dog, i.e., the Williamette Valley, has led to an interesting development of a little known wine growing region called the Umpqua Valley, and it is there that the latest investments in critical wine education infrastructure are taking place.
The Southern Oregon Wine Institute, fondly known as SOWI, is a division of Umpqua Community College in Roseburg, Oregon. The Institute recently established a wine education program to serve a seven-county area in southern Oregon, including Douglas, Jackson, Josephine, Coos, Curry, Klamath and southern Lane counties. Students are now receiving instruction in a beautiful, brand new 24,000 square-foot, LEED-certified state-of-the-art center that offers an array of educational programs and services designed to support growers and winemakers. It is the first viticulture and enology program in Oregon outside of the Willamette Valley.
Says SOWI Director Chris Lake, "The Institute was created to foster economic development around the wine and grape industries in Southern Oregon. Grapegrowers and winemakers came to Umpqua Community College in 2007 asking for help to grow their industries. The College responded by forming the Institute. By helping these industries grow, the regional economy will be strengthened.
Ultimately, we believe that the wine and grape industries will grow and this will make Southern Oregon a better place to live in."
The SOWI wine education program, which was modeled after a highly successful viticulture and enology program established in Walla Walla, WA, is a vital first step.
Set prominently on a hilltop with sweeping views of the Umpqua Valley, the architecturally stylish instruction facility, called the Danny Lang Teaching, Learning and Event Center, features stunning conference and event rooms that are available for public rental, as well as a wine tasting bar, and a culinary arts kitchen. Vineyards are going in on the surrounding slopes, and a modern crushpad with Boucher press is all set for the 2012 harvest. The Center is the culmination of a long-held dream and a dream come true for many who found employment in its construction.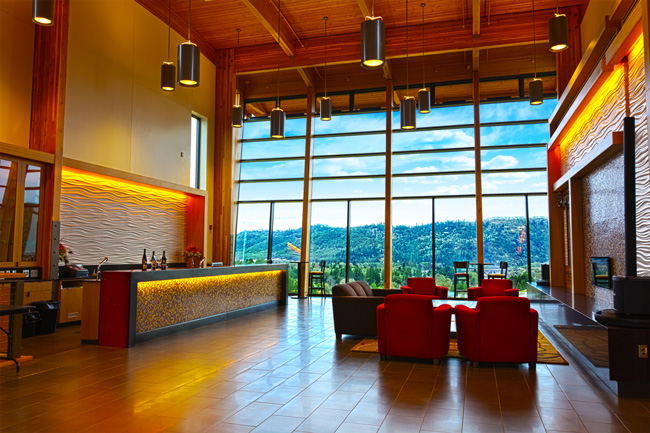 Eighty-seven percent of the funds to build the $7 million Danny Lang Center were spent on locally purchased labor, contractors, materials and systems. The center, which emphasizes wood construction materials, supported a long-standing major industry of Douglas County and employed over 200 workers. The UCC Foundation raised $2.5 million from some 250 individuals, foundations and other organizations to construct this "jewel in the crown" addition to the campus, the first major construction here since 1970. The remaining monies are funded through federal Recovery Zone Bonds (long-term mortgage with 45% of the interest reimbursed by the federal government) acquired by UCC with the assistance of the County Commissioners.
An important goal of the organizers and backers of this project, including SOWI Director, Chris Lake, is to create an incubator for local vineyard owners who want to make their own wines, as well as for winemakers without crush facilities of their own. Says Lake, "This is the opportunity for Southern Oregon to step onto the world stage with wines that are comparable to wines grown all over the world."
According to UCC enology instructor Dwayne Bershaw, tanks and equipment for making the college wine (about 400 cases) is currently stored in a temporary production facility and will be moved to the new building upon completion of licensure requirements.
Says Bersham, "In order to begin a winery business incubator we will need to purchase more tanks and equipment. We've received a grant from the Economic Development Administration (EDA) for funding the purchase of this equipment. The grant is for $1.25 million and needs to be spent in the next 18 months. So, with successful completion of grant equipment we foresee having the incubator project up and running in two years."
Instruction is done in an Online/Hybrid method with lecture components delivered remotely using on-demand, web-based formats, while the laboratory components are delivered in face-to-face sessions at UCC and local vineyards and wineries.
Two programs are offered, including a one-year certificate program in Viticulture and Enology, which prepares students for entry into the industry and serves as the first year of the two-year AAS degree. The certificate program includes an introduction to grape growing, basic principles of soil science, vineyard practices throughout all four seasons, and supervised practical work experience. The second year curriculum emphasizes enology.
The second program is the Wine Marketing Assistant Pathway Certificate, which includes portions of the full Viticulture and Enology one-year certificate and the two-year degree program that prepare students for entry level positions in wine sales and distribution. Students can continue with either the Viticulture/Enology program or augment business skills.
Says Lake, "What we're doing here is replicating a small winery and vineyard that gives students hands-on experience." From grape growing to crush to fermentation to bottling to sales, the Lang Center offers a fullscale winery experience.
Among the donors who contributed to the Lang Center are long-time Umpqua Valley winegrape growing pioneer, Scott Henry, who is an icon of the viticulture industry in Southern Oregon. If his name seems familiar, there's a good reason: he invented the Scott Henry trellis system, a modified VSP scheme which provides optimum sunlight exposure to two fruiting zones by training two canes up and one downward. Ironically, his name appears twice on the handsome plaque installed next to the state of the art gas fireplace in the dining area of the Lang Center. Says Henry, "That seems fair. They got me coming and going!" The vineyard being planted on the UCC campus is named in his honor.
Former UCC president, Dr. Blaine D. Nisson, shepherded the project to completion. The beautiful wine library, which was donated, designed, and built by Victory Builders of Roseburg, is named in his honor. It will display historical wine artifacts, donated by the Douglas County Museum dating from 610 AD, and eventually will also house a collection of the finest award-winning wines from Southern Oregon.
The Lang Center also is home to a satellite facility for ETS Labs, established in 1978 by Gordon and Marjorie Burns in St. Helena, California. ETS Laboratories is the leading independent laboratory serving the global wine industry today, and
provides testing services to regional wineries and supports the viticulture and enology academic program at UCC.
Henry, along with many other local winemakers, is very excited to have this educational resource for the wine industry in his back yard. It has steadily been attracting local vineyard owners and wine maker wannabe's, and is already adding to the creation of the 5k wine industry-related jobs that are projected over the next 8 years, thanks largely in part to the SOWI wine program.
Says Lee Paterson, Campaign Chair for SOWI, "Southern Oregon is an exciting place to be, and I think this Wine Institute accelerates that excitement."
Formal education is vital to establishing the region's credibility, adds Henry. "You cannot name a major winegrowing region well-known around the world that doesn't have a teaching facility at the core of its industry. They just don't exist."
Thanks largely to the efforts of dedicated people like Henry, Lang, Nisson, Paterson, Lake and a host of others, Southern Oregon is well on its way to its rightful spotlight on the world wine stage.