New Releases: Bronco Goes Organic with Green Fin from Organic Grapes for $3.99
February 24, 2010
Bronco Wine Company has launched Green Fin, a white table wine made with organic grapes from California sold exclusively through Trader Joes stores for $3.99 a bottle.

Bronco is the fourth largest U.S. wine company by volume according to Wine Business Monthly and may be best known as the company behind Charles Shaw, nicknamed "Two-Buck Chuck" because it sells for as little as $1.99 in many Trader Joe's locations.
The back label describes the wine as follows: "This Green Fin White Table Wine is made entirely from organically grown grapes.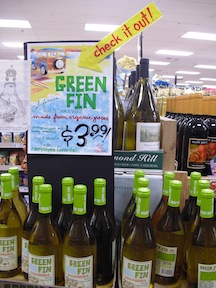 This pale straw colored wine has very intense orange blossom and honey aromatics while delivering a full rich body with a core of pear and nectarine flavors followed by a smooth aftertaste that's long and focussed. Savor the flavor of this organically grown white table wine with your favorite meal or by itself. Enjoy!"

One review already posted to Cork'd describes the wine as: "Pale straw in the glass. Faintly citric nose, notes of honey and orange blossom. A touch of flinty granite as well. Creamy honey-orange on the palate, off-dry with decent acidity. Warm honey-apple finish, lasts awhile. Pretty good stuff for the price."

While the label does not specify the grapes used in the blend, Bronco chief executive Fred Franzia told winebusiness.com the blend includes Sultana, Columbard and Muscat. "Green Fin is going to be a million-bottle plus-brand and Trader Joe's has the exclusive," he said. "It's real good."
Franzia said plans do call for a red table wine made with organic grapes under the Green Fin label and hinted he could soon launch another brand made with organically farmed grapes for the general market.