IBG Buys New Vine Assets at Auction for $4.5 Million
End-to-End Solution - Online Wine Marketplace Would Plug into Any Front End
Inertia Beverage Group was the winning bidder of today's foreclosure auction for various assets owned by fulfillment and compliance outfit New Vine Logistics, paying $4.5 million.
The outcome gives IBG, which assists wineries with direct to consumer sales, a footprint not only in e-commerce, but in fulfillment, logistics and compliance, sometimes called, an "end-to-end solution."
"This outcome ensures that Inertia Beverage Group will be able to service New Vine's former clients on an uninterrupted basis, resulting in even greater opportunities for customers, the direct sales channel, and the wine industry as a whole," IBG said in a statement. "The acquisition of these assets deepens Inertia Beverage Group's long term commitment to providing access to consumer and trade markets through a comprehensive suite of products and solutions designed to enable online wine marketplaces."
The outcome wasn't surprising give Inertia's position as senior secured creditor. It had purchased Silicon Valley Bank's secured notes and injected nearly $1 million of operating capital for New Vine to continue to operate.
The auction was open to ten registered bidders but New Vine's assets were sold as one block, not broken down into smaller lots or individual items. New Vine's warehouse is leased so was not one of the assets in play.
Inertia to Launch Collectivevine.com, Plans Additional Focus on Wholesalers

Beyond the intrigue about the seemingly sudden collapse of New Vine (some would argue it was far from sudden) and the focus on the auction, however, there is a broader story unfolding about what Inertia is trying to accomplish.
President and chief executive Ted Jansen, previously senior vice president of product and retail at Expedia, one of the world's top on-line travel services companies, has a specific vision for an e-marketplace for wine that can plug into any "front end." His aim is to leverage capabilities the company already has. He believes, meanwhile, that the combined company will even be profitable within a year, assuming certain circumstances.

"We're going to be the first with all the components for a winery to go direct to market," Jansen told winebusiness.com in a recent interview. "There will be a very powerful market access to get wines to market in a way that doesn't exist today."
Jansen said Inertia will launch a consumer web site within 30 days to be called collectivevine.com. While the company already has about 300 wineries participating in its system via e-commerce enabled storefronts, buyers previously were routed to individual winery websites or storefronts. The new site will be fully ecommerce enabled so consumers can buy all wines on the system with a single shopping cart.
The vision is that any entity with a brand, be it Amazon.com, K-Mart, Sears, or even an industry trade association, would be able to sell wine with a customized front end with Inertia's turn-key solution behind it, driving demand for wineries on the system. Inertia already has an agreement in place to do just that for the Washington Wine Commission.
Inertia's direct to trade system, which is available in 12 states, was similarly revamped last month so that WineRevolution.com, as it's called, allows trade accounts to browse and order multiple brands from one centralized location. Prior to this, the site hosted 300 wineries but again, sent buyers to individual winery websites during the transaction.
Inertia is also tailoring its system to small and mid-sized wholesalers who would be able to supplement their books with a "virtual book" of wineries without the expense of maintaining inventory.
"Wholesalers have a high inventory turn," Jansen said. "It's difficult to represent smaller brands profitably because of the inventory. A smaller wholesaler who cannot compete will now have a virtual book to supplement their existing book."
"We've been spending significant time and effort and capital to build out these solutions that are ready to be deployed over the next several months," Jansen said. "We expect the volume we can generate through the system to be a game changer in the way wineries can approach the market. The volume it will generate enough volume to make use profitable."
The wine business is a long-term business and people in the industry tend to have long memories. Many remember companies that raised large sums, made big promises and failed after launching seemingly similar efforts, including WineShopper.com, which built the massive warehouse now occupied by New Vine. BevAcess, WineBuyer and eSkye were among other early attempts to create online wine ordering systems for wholesalers and restaurants during the dot-com boom. For its part, wine.com--which following the New Vine meltdown announced it is entering the fulfillment business--has yet to make a profit nearly a decade after the first iteration of wine.com was launched.
Jansen responds though, that there are key differences between Inertia and WineShopper. WineShopper was an attempt to create a massive retailer that imploded after a hail-Mary merger with another money loser--wine.com. He said Inertia is different for a number of reasons, primarily because its interests are "more aligned" with the interests of wineries. Under Inertia's model, the winery gets the sale and the customer data so the winery can remarket to that customer.
While New Vine operated with 125 people at its peak, Jansen anticipates the logistics and compliance arm operating with 75 or 80. He said a combined company, which will not be burdened with New Vine's debt, would be viable by focusing on providing core services to existing customers, even if the new marketplace he envisions wasn't to work out."
"The timing is incredibly different," he said of the comparison to WineShopper. "It's a whole different world around e-commerce. Then there are the Granholm changes," he said (of the 2005 Supreme Court decision on direct shipping) that make this the right time. And during a recession, suppliers need more help."
Amid wholesaler consolidation and brand proliferation, wineries do indeed need more help than ever getting their wines to consumers. Legally, wineries can get there, but practically it becomes a challenge to get wines out in the market.
Though the acquisition gives Inertia a fulfillment and logistics arm, Jansen said his company is not interested in fierce competition with other vendors. He anticipates continuing to work with other fulfillment outfits and said wineries won't be required to use New Vine's logistics services to be included on the Inertia system. "We will be agnostic," he said. "If they have relationships with other players, that's okay too. … We'd like to change the tenor of the conversation in the industry. We think there is a higher order calling for the industry that requires companies like ours to exist and drive change and to provide new ways for wineries to get to market."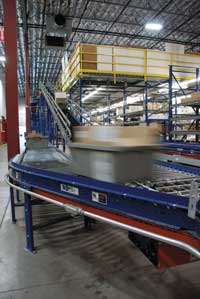 New Vine Logistics
Inertia Beverage Group was the winning bidder of today's foreclosure auction for various assets owned by fulfillment and compliance outfit New Vine Logistics.