Major Custom Crush Facility Under Construction in Carneros Region
Carneros Vintners Launches with one-million-plus gallon permit -- three million in the works
January 08, 2009
Carneros Vintners, Inc., a division of The Vintners Group, which operates the Lodi Vintners custom crush facility in Woodbridge, California, has broken ground on what will be the largest custom crush facility in the Sonoma Carneros region.
The new facility is expected to be operating by mid-summer, in time for the 2009 harvest.
The Vintners Group, founded by Dennis Rippey is owned by the Rippey family, which launched Lodi Vintners in 1991, a facility that has grown to six-million-gallons in capacity.
"We were lucky and pleased to find a property that had a permit this size and at this location, because it's a hub for Napa and Sonoma fruit," Dennis Rippey said.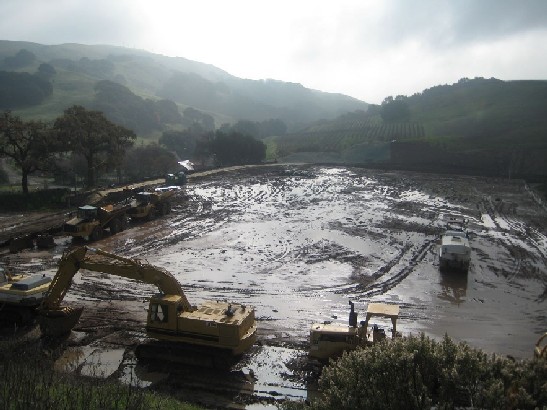 Breaking ground for construction for the new Carneros Vintners custom crush facility

The business plan includes expanding from one million gallons to three, with the flexibility for handling both larger and smaller lots. The facility will have different bladder press sizes, for example, as well as two different crusher sizes, and numerous tank sizes for maximum flexibility. The winery will feature an elevated gravity flow crushpad for gentle handling of fruit while unloading trucks.

The new facility, to be located near a quarry on Stage Gulch Road, will provide storage for barrels, case goods and bulk wine in a 52,000 square feet of temperature-controlled warehouse space. Plans call for later adding a high-speed bottling line.

Tyson Rippey, vice president and general manager for The Vintners Group, said the company had been considering an expansion for some time, and was fortunate to find a site that had an existing permit. The Vintners Group purchased the property from Napa-based Silverado Premium Partners.

Rippey noted that timing is good for such a project, as prices for such things as construction materials and labor are down and demand for custom crush space is increasing.

The facility will have an on-site winemaker and cellar crew.

The Rippeys plan to expand their custom crush facilities and vineyards to other California regions in the future.

For more about the operation, visit www.carnerosvintners.com, call 707-933-9349, or e-mail info@carnerosvintners.com.