Michael Mondavi -- Moving On
It's been only four years since the sale of his family's winery in Oakville, but Michael Mondavi is on the bounce, and exerting the energy that has made the Mondavi name a global coin.
The history is now a cliche: Michael Mondavi, scion of two wine making legends, has been to the top of the mountain, and then down, twice. His grandfather, Cesare Mondavi, had restored the historic Charles Krug winery in 1943, the year Michael was born. Then, when Michael was 21, his family was evicted, compelling his father, Robert, against the odds, to build the first, new winery in the Napa Valley since prohibition. The Robert Mondavi Winery became a training ground for innovation and world inspiration. Then, at 61, Michael, its president and CEO, was shown the door, again.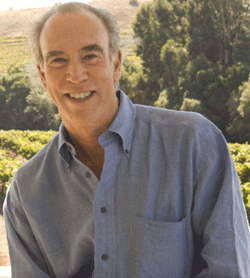 Michael Mondavi
It's been only four years since the sale of his family's winery in Oakville, but Michael Mondavi is on the bounce, and exerting the energy that has made the Mondavi name a global coin. He is focusing that energy on his own wines while keeping his wife, Isabel, and children, Rob and Dina, close and in the mix.
As founder and coach of Folio Fine Wine Partners, Mondavi is building a new wine force with "long-term partnerships, through friendships," both in the Napa Valley, and across the wine world. His company provides marketing services to 30 wine brands from California to Spain, Austria, and Italy, New Zealand, and Argentina. Folio is also the importer for the 800-year-old Italian wine family, the Marchese di Frescobaldi. With a new winery, 275 acres in Napa Valley's Carneros, Atlas Peak, and Aetna Springs appellations, and an enoteca cum bistro in the emerging Oxbow Market, right next door to Copia, he is again scaling the mountain--this time moving fast, slowly.
So, after 10 years of vineyard development, and auslese-style selection, he is now premiering his flagship wine, M by Michael Mondavi. It is a 2005 reserve,100 percent Cabernet Sauvignon, which retails at $199. Its pre-release was September 14, with distribution early October. Keen to the dichotomy in the present market for big wines for socializing, to finer, balanced wines to enjoy with a meal, Mondavi believes his signature, triple M wine has defined the solution, and his 15-acre, Amino vineyard, in Atlas Peak's Foss Valley, has produced this stunning wine. It is deep, bright, and floral scented, with hints of cassis and spice, and supple, oak and vanilla.
"The cool, long growing season in 2005 combined, with the rocky, volcanic soil, to deliver delicate grapes with exceptional depth and balance," Mondavi said. Because hillsides ripen unevenly, multiple pickings were required to obtain the balance and the layers of flavor he wanted. "Rob, Tony Coltrin [Folio winemaker] and I would walk the rows and taste the berries. We then tied a ribbon on the vines we determined had the right ripeness. And we picked only those that day. We did 12 pickings over a three week period." Not a fan of high alcohol wines, he said his selective picking produced fully ripe fruit while keeping the alcohol at just one point above 14 percent, and believes his labor intensive methods will bring in fuller, fruit-ripe wines at percentages even below that.
He said he bought the Amino vineyard in 1997 as a possible hillside component for Opus One. "The winery, however, decided hillsides were not cost effective, so I kept the vineyard for myself. It was a lucky break for me." He replanted in 1998. "In 2004, we did eight different pickings, but none of them passed muster for a flagship wine. They didn't reflect the level of maturity needed for the style of wine I was after. In 2005, we felt it did." Even so, of the 3,000 cases produced, less than 700 were bottled to the M label. "You know, you only get one chance to introduce a flagship wine. We wanted it to be right."
Like his new, signature wine, Mondavi is showing imagination in his other enterprises as well:
His new Enoteca and Winery in Napa's Oxbow Public Market is a unique source for his own, family wines, such as Oberon, Hangtime, Spellbound, and I'M labels, and some of those he distributes, such as Luce and Pomino Vinsanto from Italy, and Nandu from Argentina. And the wines sell at retail, with no markup. They can be taken home, or uncorked to have with your meal at the 50-seat bistro-style restaurant, situated--al fresco--around the tasting bar and winery.
His no-markup price, illustrates one of Mondavi's concerns: the sometimes exorbitant price some restaurants charge for wine. "In this economy, the customer should be getting a lot more respect, and one way is to have a reasonably-priced wine list," he said; recalling a restaurant in Marin county, during another economic downturn, which sold its wines only five dollars above retail. "While other restaurants were going under, at this place you often couldn't get a reservation." Ever a promoter of wine at the table, he feels high-wine costs at restaurants deny their diners the opportunity to enjoy wine with their food by pricing them beyond their budget. "It hurts the restaurant, the wineries, and the customer."
Included at the Enoteca is a winery, where ten casks are fermented and aged, five each of Sauvignon Blanc and Cabernet Sauvignon. "We have found that people are very interested in wine, but they're also very much afraid of it, as well," Mondavi said. "So when you give a customer the opportunity to taste the grapes and the juice, too, a light goes on. He goes, 'wow, now I understand what you mean by varietal character.' That's what we're doing. Barrel samples alone can't duplicate that." A Mondavi tradition-- not just sell wine, but make people more knowledgeable about it.
With his purchase of the old Carneros Creek winery, in the fall of 2006, Mondavi became a winery owner again. He named it, The Folio Winemakers' Studio. Having used the facilities for his earlier crush operations, now about 50,000 cases, he decided to turn the remaining space into a studio facility for other vintners with no winery of their own.
"We're not offering a custom crush operation, and don't custom make wine for people," he was quick to point out. "What we do is operate like an artist studio, and offer our facilities to other winemakers who want to bring their ideas, their expertise, and their personality to make their type of wine. It's a synergistic idea. We'll work with them, but they make their own wine." Mondavi says he presently has about five vintners using the studio. "In fact, we have two, very talented women winemakers making their wines here, and also consulting for other winemakers."
Because Folio represents 30 brands, and a dozen partnerships, he did not want to link the winery to a single name, not even his own. "We're like a group of artists, each with our own specialty," he said. "And under the Folio sign, we hang a shingle for each of the partners, inviting visitors to come in and try all of our wonderful wines."
His son, Rob, is president of winegrowing, and over sees the fruit sourced from their vineyards and others in the Napa Valley, the Russian River, and the Willamette Valley in western Oregon. Mondavi's daughter, Dina, is creative director for both the winery and Enotica, and his wife, Isabel, developed their artisinal food wines under the label "I'M." Mondavi also distributes an additional 350,000-plus cases from his world partnerships. About 70 percent of that figure comes from his near 30-year relationship with the Frescobaldi family in Italy. His wines range in price from $9.99 up to $350 for the Masseto from Tenuta dell'Ornellaia, a Frescobaldi signature wine. Most of his wines fall in the $14.99 to $35 dollar range.
Since he established Folio, four years ago, partnership and friendship go hand-in-hand; and while chemistry is an important part of good wine, to Mondavi it is also important to his wine business. "Part of our portfolio is to offer sales and marketing services to smaller wineries who want the national distribution we can offer. We have our own marketing team in house, and have a sales team throughout the country. Our general philosophy from the beginning has been to work with wine families here, and with small producers abroad who don't have the resources to get into the American market. Along the way, we've developed the philosophy that we'll only do business with people we can enjoy, and who want to enjoy us."
His only lasting regret concerning the sale of the Robert Mondavi Winery was his failure to encourage a more pro-active stock purchase plan for the former employees, a legal right every worker had. If the stock purchases were made when the winery was sold after 13 years of public ownership, he says the employees would have had a 10 percent share in the company, and about $130 million would have been returned to them. Taking note from this, Mondavi now has his plan in motion that allows Folio employees to purchase up to 12 percent of the company: He personally lends them the money, and then forgives the interest. The loan is paid when their stock is sold. The plan makes every employee a partner, and a member of the family. "To me, that's a very exciting company."