Virginia's First Winery Dedicated to Custom Crush Opens
In a move reflecting the rapid growth of the Virginia wine industry, custom crush facility Virginia Wineworks recently opened its doors. The venture was created by winemaker Michael Shaps, previously with King Family Vineyards and Philip Stafford, owner of USA Wine Imports of New York.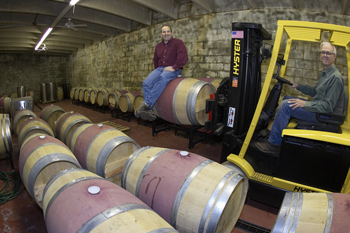 Philip Stafford, right, with Michael Shaps, left.
Located at the former Montdomaine winery facility about ten miles south of Charlottesville, the new custom crush facility will serve startups: independent growers interested in launching their own brands and winemakers creating their own labels. Several are already in the works, as the winery started in 2007 with three clients and has about a dozen for 2008.

"We think there's a lot of potential," Shaps said. "There are sources of fruit for people who want to start their own brands. There's still a boom in grape growing in Virginia."
At last count, there are 147 bonded wineries in Virginia, up from 96 just three years ago, according to Wine Business Monthly's proprietary database. Yet the state boasts just two "virtual wineries,"--non-bonded wineries that don't have a facility yet make their own decisions regarding the wine, from vine to bottle.

The new crush facility will serve local growers and winemakers, but also produces "Michael Shaps" wines and Virginia Wineworks wines, another Shaps brand dedicated to wines that retail for less than $12 per bottle. Wine Business Monthly readers may recall that the 2006 "Michael Shaps" Viongier which was produced when Shaps was with King Family Vineyards, was one of ten wines highlighted in the February issue in the article, "Hottest Small Brands of 2007." The Michael Shaps wines will now be solely made at Virgina Wine Works. Shaps is also a partner in Maison Shaps & Roucher-Sarrazin in Meursault, France with Michel Roucher-Sarrazin, previously winemaker of Maison Chartron et Trebuchet.

Some wineries have provided custom crush services in Virginia on a small and limited basis to help others get started, but none has been dedicated to custom crush. Shaps said one of the barriers to entry has been the state's complex regulatory scheme and that the new venture has had to be somewhat creative with the legal paperwork regarding transferring wine, ownership of wine, and the like.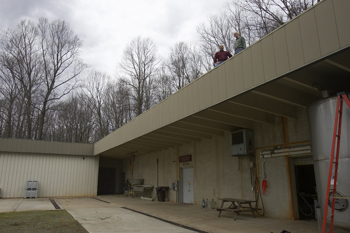 New legislation that passed through committee and will be voted on by the legislature will make it easier to offer custom crush services, assuming it is enacted. Anyone obtaining a Farm Winery permit would be able to have wines produced at an off site location and would be allowed to have it transferred back to their premises.