Spring Mountain AVA Keeps Marketing Focus Close to Home
Spring Mountain District, Napa Valley, California- While many wineries and associations look outside their locations to market and advertise their wines, the Spring Mountain District (SMD) in Napa Valley has decided their best marketing tool is right in their own backyard.
The 4-day second annual "Touch the Terroir" crush camp was recently attended by 13 sommeliers and wine buyers from around the U.S. and Canada with seemingly positive results.
"Our primary goal was to teach them about Spring Mountain terroir, but also to acquaint them with the entire SMD winemaking community," said co-chair Sheldon Richards. "SMD is mostly comprised of small, owner/operators who are down-to-earth real individuals. You have to get to know them to appreciate their passion for this AVA and its wine. 'Touch the Terroir' was created to educate wine experts about the nuances of harvest and crush on Spring Mountain's rugged hillside terrain; to learn to appreciate what's different about the AVA's terroir; and what it brings to SMD wines."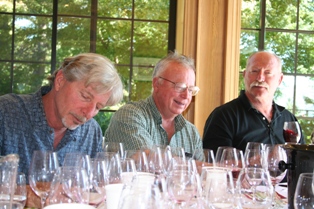 Left to right: Spring Mountain Vineyard winemaker Jac Cole, Fred Schweiger of Schweiger Vineyards, and Nils Venge of Saddleback Cellars during the Spring Mountain "Touch the Terroir" blind tasting.

Participants were hosted in SMD member homes and guest houses throughout the four-day program, giving them individual one on one time with the people involved in the vineyards, the wine-owners, winemakers, vineyard managers, sales team and tasting room staff . Each attendee rotated between SMD vineyards, spending a minimum of a half a day of exclusive time at different facilities throughout their stay. Each winery provided hands-on work experience in all aspects of harvest: picking and crushing grapes, fermentation, punch-downs, barreling, etc.

"My experience began with warm hospitality from a group who all make wine," said Park City, Utah sommelier Josh Cowart. "Each moment and activity confirmed my first impression, the mountain helps, but the people here make the wine great."

Aside from hands-on experience, participants attended various daily workshops that included: a history session on Spring Mountain by Fritz Maytag of York Creek Vineyards; a SMD tasting with Karen MacNeil, author of The Wine Bible: lessons on SMD terroir conducted by Paul Skinner, a Napa Valley viticulture and terroir expert; and a comparative 2006 blind tasting of SMD mountain and valley floor barrel samples of Cabernet Sauvignon and Merlot with SMD winemakers and camp participants. Each day's event concluded with nightly wine harvest party hosted by one of SMD wineries.

The out of pocket cost to coordinate this year's "Taste of Terroir" totaled $12,000. Money well spent according to SMD wineries.

"Our long term goal is to promote our AVA," stated Richards. "So while the cost may be high per person, the long term benefits is where we see value. These people become our friends, and our advocates, and spread the word that Spring Mountain is unique for many reasons especially, its people and the wine they produce."

Clearly the Crush camp participants thought the event was worthwhile. "This a great experience," said Bill Minnett of Gross Mountain Grill, Eagle, CO, "They have a wonderful product with terrific individual personalities. I now have inspiritional aspects of Spring Mountain to express and pass on to customers. We sell wine one bottle at a time. The story behind these wines will only enhance that."

Cam MacCouquodale, of Murrietta's Bar, Grill and Wine Shop, Calgary, Alberta, Canada also left with a positive experience. "I thought the whole event was outstanding. This area is unlike any other in California. Right now we have one Spring Mountain wine on our list. I plan to add 3-4 more by Christmas. It's the individual experience I had here that has shown me Spring Mountain makes high quality, exceptional wines."
Cory Conklin, of Wichita, Kansas, best summarized the overall feelings of the group. "Living with Spring Mountain residents during harvest was my favorite industry experience to date. "My relationships with winery owners, winemakers, and industry professionals will not be forgotten."

Participating Wineries included: Atchley Vineyards, Barnett Vineyards, Cain Vineyard and Winery, Fantesca Estate & Winery, Frias Family Vineyards, Guilliams Vineyards, Keenan Winery, Marston Family Vineyard, Newton Vineyards, Paloma Vineyard, Peacock Family Vineyards, Pride Mountain Vineyards, Schweiger Vineyards, Sherwin Family Vineyards, Spring Mountain Vineyard, Terra Valentine, and Vineyard 7 & 8.