Rodney Strong Vineyards Acquires Davis Bynum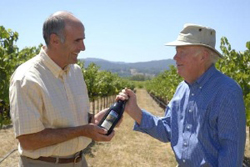 Tom Klein, left, and Davis Bynum celebrate the sale of the Russian River Valley brand.
In an effort to increase their presence in the Russian River Valley, Rodney Strong Vineyards announced that they had purchased the Davis Bynum wine brand and current inventory. Terms of the purchase were not disclosed.
Davis Bynum, the grape growing pioneer who established the eponymous winery in 1973, retains the winery, tasting room and vineyards that were previously associated with the brand. Bynum has agreed to maintain an advisory role for the brand over the next three years. He will serve as a spokesperson and provide insight on brand style and direction.
According to Rodney Strong spokesperson Robert Larson, the purchase has long been in the works. Tom Klein, owner and chairman of Rodney Strong since 1989, first approached Davis Bynum about three years ago. "Tom and Davis have been talking for a few years and it finally came to fruition. It just felt right for Davis to sell the brand right now. Davis is going to maintain the property that he has and still do business from that location," said Larson.

"This is a wonderful business," Bynum said. "It's my turn, though, to slow down a bit. Tom has demonstrated that he and his family are committed to making high quality wines from Sonoma's best appellations. I'm confident that the quality of Davis Bynum wines are in good hands going forward," says Bynum.
"Davis is a wine industry pioneer like Rod was," said Klein. "He raised the bar in production of Russian River Valley Pinot Noir and Chardonnay and was instrumental in building the reputation of Russian River Valley. Our family is proud to carry on Bynum's passionate commitment to quality winemaking."

For Rodney Strong, which also owns Sonoma Vineyards, the purchase increases the company's presence in the Russian River Valley. "For some time, Tom has been looking for a Russian River Valley brand to highlight the vineyards we have over in that area," said Larson. "Davis Bynum has a darn good reputation in the Russian River Valley."

Rodney Strong plans to focus the Davis Bynum brand on high-end Pinot Noir and Chardonnay, producing about 5,000 cases of each. The Pinot Noir and Chardonnay focus would reduce the assortment of wines currently in the Davis Bynum portfolio, which includes Merlot, Cabernet Sauvignon and Fume Blanc, among other varietals.

"We are going to start out around 10,000 cases with our initial release," said Larson. "When we had our staff meetings [yesterday], Tom emphasized that he didn't want to grow too fast or too big. He wants to keep Davis Bynum as a Russian River Valley brand." Gary Patzwald, currently Rodney Strong Vineyards' luxury winemaker, will take over as winemaker for the brand.

In addition to the incorporating production from the Russian River Valley vineyards already owned by Rodney Strong, the company plans to maintain historical fruit sources for the brand. "For the first year, we're going to buy fruit from the Davis Bynum home ranch and the negotiated contracts that he has. That's what he is known for, these great relationships with the growers."

The purchase was completed with International Wine Associates of Healdsburg, California serving as the exclusive broker and strategic advisor to the Davis Bynum family.