Wine Institute Presents First Annual Leadership Award to Congressmen Mike Thompson and George Radanovich
May 21, 2007
Wine Institute presented the first annual Wine Institute Leadership Award to Congressman Mike Thompson, D-Napa, and Congressman George Radanovich, R-Mariposa, during its 25th Annual Washington Week where Institute vintners met with top Congressional leaders and Administration officials to discuss policy issues. The awards were presented by Wine Institute President and CEO Robert P. (Bobby) Koch in appreciation and gratitude for the Congressmen's extraordinary work on behalf of the vintners and growers of California.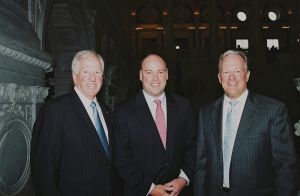 Congressman Mike Thompson (left), and Congressman
George Radanovich (right) were given Wine Institute's first annual Leadership Award by Wine Institute President and CEO Robert P. (Bobby) Koch.
"These two outstanding members of Congress are founders and co-chairs of the Congressional Wine Caucus, a bipartisan group which brings together more than 200 members from all 50 states to educate and engage in legislative and regulatory matters that affect the wine industry," said Koch in a press release. "They have helped to support the vitality of our industry by becoming actively involved in issues that affect wine such as tax policy, international trade, direct-to-consumer shipping, environmental policy, research, and control and containment of exotic pests, to name a few. It is an honor to make them the first recipients of Wine Institute's Leadership Award."

"We are proud to support an industry that makes such a wide variety of important contributions," stated Congressman Thompson. "Our country's wine and grape industries have a $162 billion impact on the U.S. economy and generate 1.1 million jobs. In California, wine regions attract nearly 20 million tourists who make $2 billion in wine-related expenditures. Beyond economics, the state's wine industry is conducted in an environmentally and socially responsible manner through its statewide sustainable winegrowing program."

"Winegrapes are a high-value agricultural commodity that helps keep the family farm economically viable and brings positive visibility to California and the U.S. worldwide," said Congressman Radanovich. "Wine sales have grown significantly for 13 consecutive years in the U.S. and wine exports have more than doubled in the past decade. Continued strong support of our wine industry will help maintain and grow its share. California is the leader in wine production, but all 50 states have a wine industry and are showing growth as well."
Each year, a vintner delegation from California travels to the nation's capital for Wine Institute's Washington Week. The delegation discusses key issues in working sessions with the country's top decision-makers. The annual delegation visit builds upon the year-round work performed by Wine Institute.