Southern Hemisphere the Focus for New Sebastiani & Sons Brand
Three Loose Screws, a division of Don Sebastiani & Sons, has launched Kono Barú, "intentionally misplaced labels from well-placed vineyards entirely from the Southern Hemisphere." True to the typically irreverent company, Kono Barú features a unique upside-down packaging design that is undoubtedly going to capture consumer attention.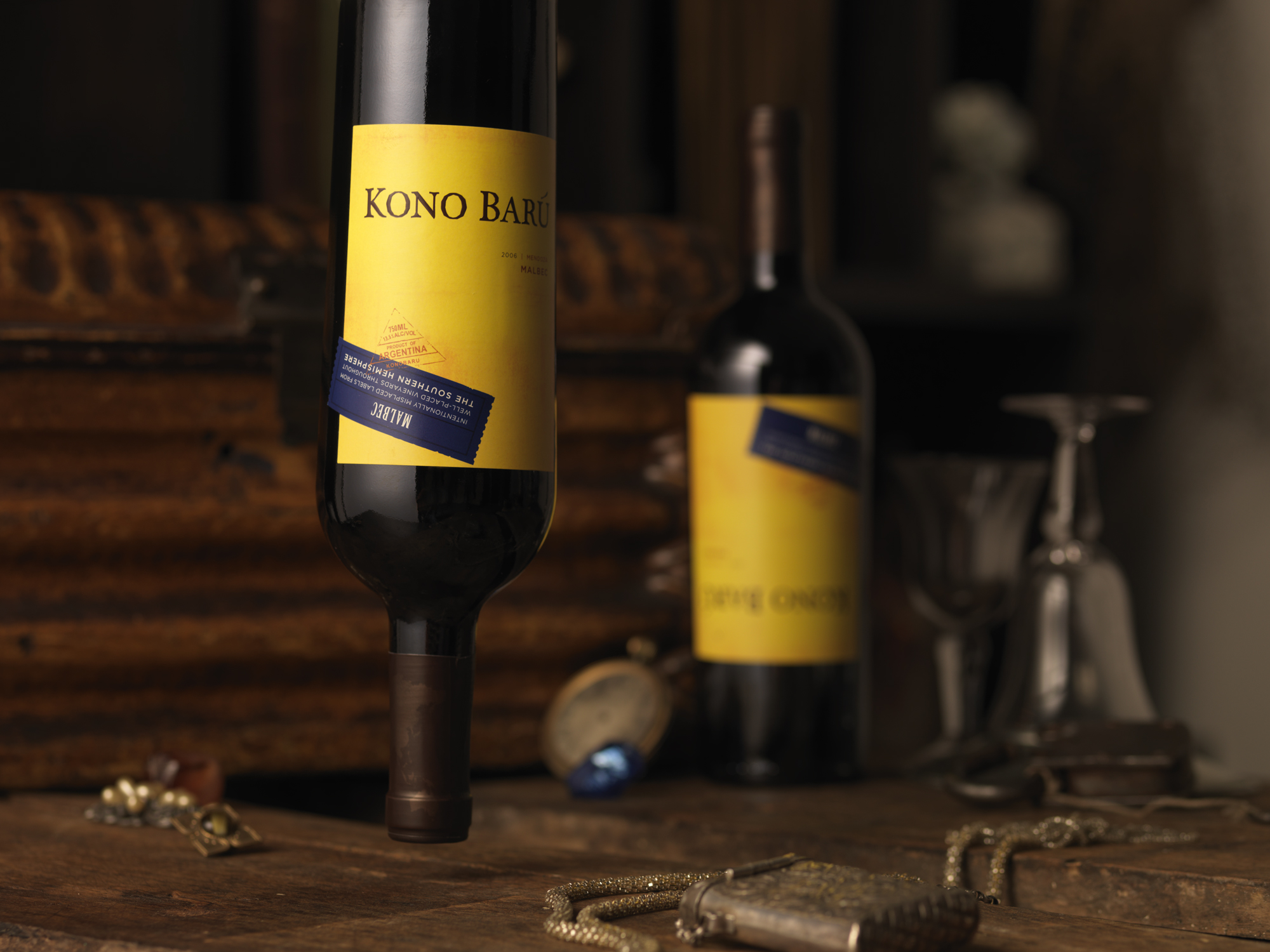 The label design invites comparisons to exotic travels, perhaps with explorers or pirates. The bright yellow label evokes visions of secret treasure maps, while the rough-edged Kono Barú font with a pirate sword accenting the final letter implies adventure. Further, a passport-like stamp marking the country of origin, alcohol content and bottle size sits atop a ticket design (color coordinated to the varietal, the ticket is the only right-side up element as the bottle sits on the shelf) that displays the varietal information and "intentionally misplaced" tagline.

"You really have to grab the consumer, shake them by their coat lapel," said Donny Sebastiani, the company's marketing director. "The upside-down [elements] represent the other side of the world--but we did not want to confine ourselves to just Australian wines. The label is meant to set ourselves apart because there's no reason for the consumer to look for a new brand. Nobody's walking into a store hoping for a new label to buy."

Sebastiani hopes that the striking imagery attracts consumers to explore the line, which initially features six varietals from three countries. From Chile, there is a Sauvignon Blanc, "unwooded" Chardonnay and Cabernet Sauvignon. From Australia, Kono Barú includes a Riesling and a Shiraz. The highest-priced offering, at around $16, is a Malbec from Argentina. The Chilean and Australian wines are priced at about $12 per bottle.

"The idea is that it's trying to be a trade-up from most of the Southern Hemisphere--more specifically Australia--category," said Sebastiani. "We wanted to do something with a pan-southern category. We went down there when we were sourcing for our Pepperwood Grove brand and we found these phenomenal lots. Our impression of this market, with some exceptions, is that consumers think Chile or Australia and they think aggressive pricing at around $4.99 or $5.99. Our goal is to showcase these segments in an upscale manner."
The initial launch, planned at around 100,000 cases, is targeted to independent retailers and on-premise accounts, with chain retailers coming by the end of the year. Eventually, Sebastiani & Sons hopes to expand the line to include more varietals from additional countries. Although the wines do not carry a specific appellation, they are identified with a more specific designation, such as South Eastern Australia or Valle Central.