Three Thieves Launches New Wine
Charles Bieler, Joel Gott and Roger Scommegna-the partners who created The Three Thieves brand in 2003-have just released a Cabernet Sauvignon-based wine blended from the Central and North Coast AVAs called "The Show."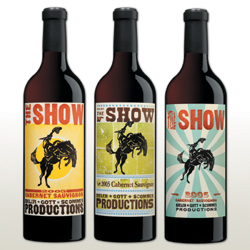 The team, who made their mark in inventive screw cap jugs and colorful liter boxes, has turned their attention to a slightly higher-end product (suggested retail $15) with this new release.

The marketing angle here is the Wild West. Labels were designed by Hatch Show Print in Nashville, Tennessee. The company is famous for letterpress prints and posters depicting the likes of Johnny Cash, Patsy Cline, Louis Armstrong, Hank Williams, and other music and cultural icons.

"The Show" has three different labels, each featuring a bucking bronco being ridden by a graceful cowboy. "We loved all three labels Hatch created, so we decided to use them all," said Bieler. "After all, there are three of us, so why not?"

Inside, the wine is fruity and hearty, accessible young but not too jammy. The 2005 release has 14 percent alcohol, and the Cabernet Sauvignon (80 percent of three combined AVAs) balanced with 6 percent Napa Valley Cabernet Franc, 3 percent Dry Creek Valley Petite Sirah and 3 percent Napa Valley Petite Verdot. 10,000 cases were produced.
The Show also, perhaps in an effort to reach out to Millennial consumers, has a MySpace.com page (click here to view the page). On the tongue-in-cheek page, the wines identify Bieler, Gott and Scommegna as their "heroes," and indicate that they would "like to meet" Johnny Cash, Louis Armstrong, Hank Williams and Patsy Cline. The page also offers a brief history of The Show, pictures and bottle shots of the brand, and links users to the Three Thieves website.