Off-Premise Sales Still Lag 2020 Boost
August 31, 2021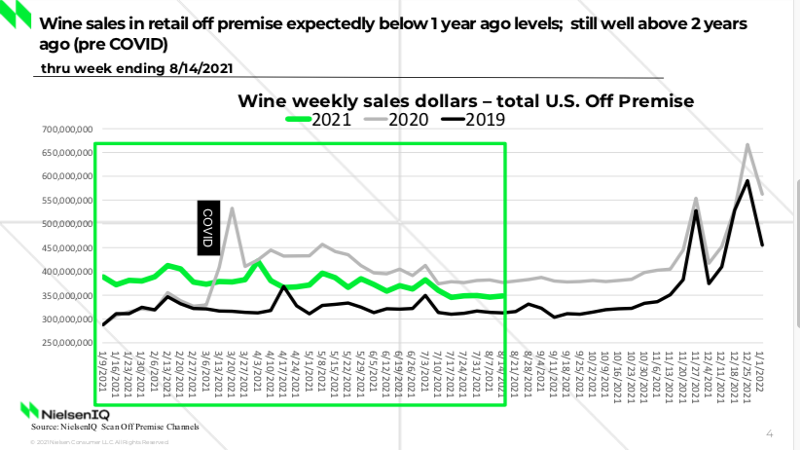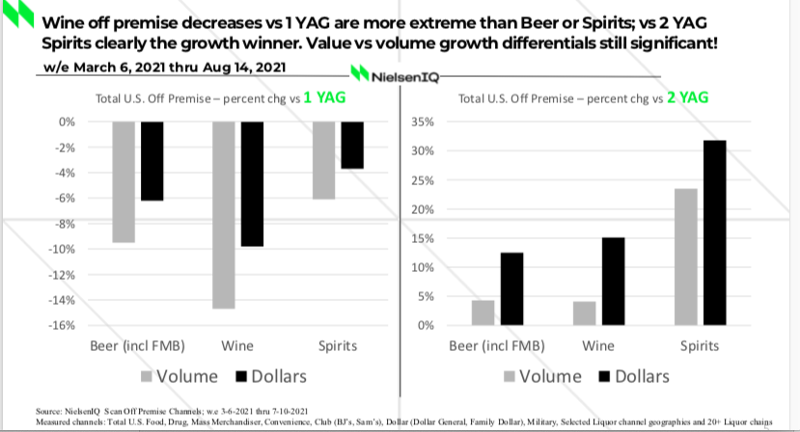 Total sales of wine through off-premise, retail outlets tracked by Nielsen continue to lag behind 2020 while the premiumization trend may be starting to moderate.
Conversely, the winery direct-to-consumer (DTC) shipment channel is "proving to be considerably more resilient than wine sales in retail off premise" according to wine industry analyst Danny Brager.
According to the most recent retail data by NielsenIQ and DTC shipment data by Wines Vines Analytics/Sovos ShipCompliant the two primary off-premise sales channels came to nearly $25 billion in 2020 with retail accounting for the lion's share at $21 billion off of 212 million 9L cases. Total DTC volume came to 8.4 million last year.
As of July 2021, total DTC volume came to more than 4.5 million cases with shipments in July alone totaling 451,458. Total DTC shipment value in July came to $181 million and that was 18% more than a year ago. Compared to two years ago, DTC volume was up 45% and value 53%.
Most of the trends Brager has been describing throughout 2021 stayed in play this summer with wine's total sales growth continuing to lag spirits and even beer. For the period of March 6 through Aug. 14, total wine sales value was nearly 10% less than during the same time last year while spirits sales were down 4% and beer was 6% less than in 2020. By volume, total wine sales were down by more than 14% while spirits were down just 6%.
Compared to 2019, total spirits sales value was up by more than 30% while wine posted a 15% increase. The difference was even more dramatic in sales volume where spirits posted a gain of nearly 25% as wine sales volume grew by less than 5%.
The average bottle prices in both DTC and retail continue to increase, with DTC posting a $5.04 increase to $33.41. In retail, the average was $11.79, which is 42 cents more than in July 2020. In his commentary, Brager writes consumers are still trading up in price for their retail wine purchases yet with the average price less than at around the start of the year when it rose above $12 premiumization appears to be moderating.
The DTC and NielsenIQ data are now part of a comprehensive report that provides a detailed look at the off-premise market. For more information, contact Brager at danny.brager@nielseniq.com