Sparkling, Pricier Wines Lead in Retail Sales
July 23, 2021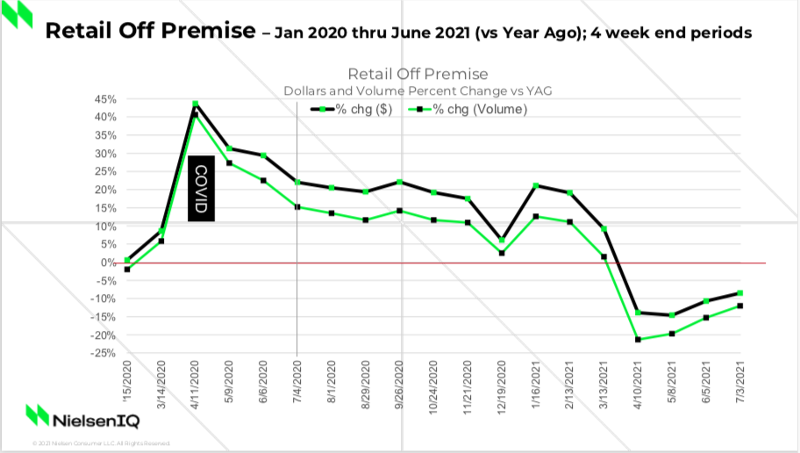 The expected decline in off-premise sales tracked by NielsenIQ compared to 2020 moderated to some degree recently as sales of higher-priced and sparkling wines continue to outpace wine in general.
"Versus two years ago, off-premise sales are still up on dollars but barely up on volume — signifying that consumers are still buying more expensive bottles of wine than in the past," wrote analyst Danny Brager in his regular, monthly report on the off-premise market.
Brager, the former vice president of beverage alcohol for NielsenIQ, said the decline in wine sales compared to 2020 and 2019 remain well below spirits and beer, with the latter buoyed by hard seltzers and other "non-core" beer segments. "Versus two years ago wine dollar and volume increases remain significant but well below spirits gains."
For the period ended March 6 to July 10, total wine sales value fell by more than 10% compared to last year while spirits were down a little more than 4%. Compared to two years ago, spirits sales were up by more than 30% in value while wine saw an increase of around 17%.
The wine regions that suffered the smallest decreases in sales compared to last year were Napa County and Oregon. These regions also saw the largest sales increases compared to 2019, while sparkling continues to outperform all other wine types.
According to data by Wines Vines Analytics/Sovos ShipCompliant, the winery direct-to-consumer (DTC) segment of the off-premise market performed better than last year in both value and volume. The volume increase in June came after two consecutive months of declines compared to 2020, yet the channel remains significantly larger than it was two years ago with June shipment volume up 45% compared to June 2019.
"Versus two years ago, DtC shipment growth continues to be very robust," Brager noted, "a strong indication that many wineries have adapted in expanding the effectiveness and efficiency of their DtC business."
And just as in retail, sparkling wines stood out in DTC with the highest and most consistent shipment growth.
The DTC and NielsenIQ data are now part of a comprehensive report that provides a detailed look at the off-premise market. For more information, contact Brager at danny.brager@nielseniq.com