European Union Awards Willamette Valley Protected Geographical Indication (PGI) Status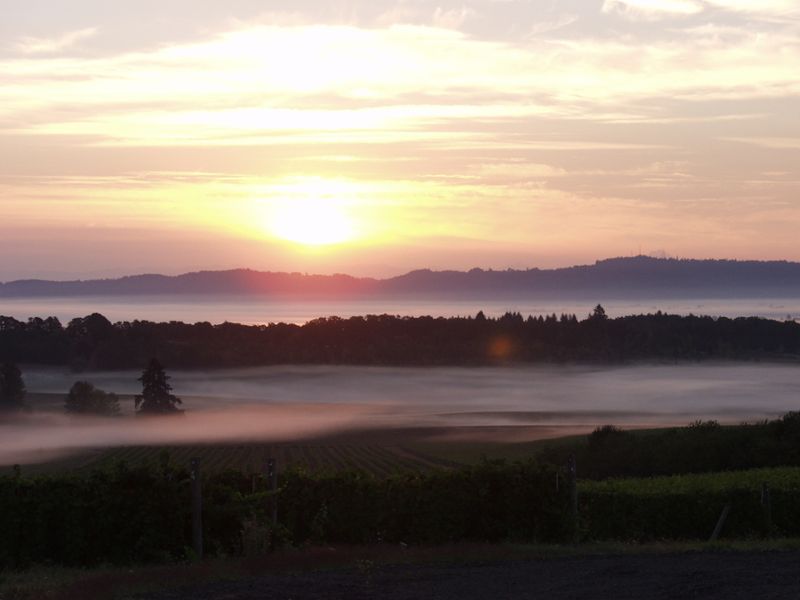 Portland, Ore. —Today Willamette Valley Wineries Association (WVWA) announced Protected Geographical Indication (PGI) status and protection by the European Union (EU), one of only two US wine regions so awarded.
Protecting Authenticity
PGI status protects "Willamette Valley" as a registered place name worldwide.
It also guarantees against counterfeits, ensuring authenticity and quality to over 450 million consumers in 27 EU countries. All GI applicants face the same stringent qualification requirements, EU and non-EU alike.
"When we received the direct application from the Willamette Valley Wineries Association to register the name 'Willamette Valley,' an analysis was carried out to establish the causal link between the specific qualities of the 'Willamette Valley' wines and the characteristics of the geographical area, the valley, where the product originates,"says a European Commission spokesperson. "It confirmed the uniqueness of the Willamette Valley wines, with features such as notes of bright, fresh ripe fruits and minerality from growing on hillsides of volcanic and sedimentary soils."
"A Place Perfect in All Ways"
Ultimately, the Willamette Valley's path to PGI designation took nearly twenty years, thanks to the stewardship of winemaker Harry Peterson-Nedry of RR Winery/Ridgecrest Vineyards. "I didn't project a time for completion, just kept plodding along," he says. "It's a little like beginning an industry, or a vineyard or winery - you take it a vintage at a time, and look back only when you stop to take a breath, or are forced to."
Initially, a handful of like-minded wine regions, including the Willamette Valley, met in the early 2000's to discuss preserving place names. "Europe has similar desires for this tightly bound purity," recalls Peterson-Nedry. "So with suggestions from several of them, especially Champagne, we joined a Declaration of Place, consummated in 2005, as a worldwide effort to protect place names."
Eventually, the group grew into the Wine Origins Alliance, today totaling 31 winery and grape-growing organizations in 11 countries. As a result of that meeting, Napa Valley sought, and received, PGI status in 2007 to protect the wine region from counterfeit infringement. Over time, with gentle prodding from other Wine Origins Alliance members, Willamette Valley followed suit.
"In addition to AVA and state law protections, the PGI seemed perfect to recognize the purity of our aspirations," says Peterson-Nedry. He also credits Willamette Valley pioneering families like the Letts, Courys, Eraths, and Ponzis for recognizing the importance of protecting "this special place" - and its hard-won recognition - from those eager to appropriate both the name and acclaim.
"The Willamette Valley is a special place to grow grapes, especially delicate varieties like Pinot noir," says Peterson-Nedry. "Place was what the original founders first sought - not a business environment, or a good place to live, or someplace convenient with balmy weather - a place perfect in all ways for sensitive grapes that make elegant and ageable wines."
Strength in Numbers
"Our collective hats are off from the Napa Valley Vintners, and our leadership here, to the Willamette Valley for this well-earned recognition," says Rex Stults, Vice President of Industry Relations for Napa Valley Vintners.
As the first US wine region to garner PGI protection, Napa benefits prove twofold. "It prevents problems from happening we don't even know about. It's like preventative medicine, essentially," Stults says. "EU customs officials have the ability to seize and destroy counterfeit wines on site."
In addition, PGI status brings strength in numbers. "The Wine Origins Alliance's focus initially was only on protecting wine place names," he says. "We still do that first and foremost, but secondarily is removal of trade barriers."
This also applies to negotiating trade agreements. "And so we have gone marching around the halls of Congress with leaders from Champagne, Chablis, Sherry, Rioja…," Stults explains. "And what we're saying is "Quit retaliating against wine, whether it's wines from Europe, or wine from the United States, leave us out of these things. And let us compete on an even playing field, ideally with a zero-for-zero tariff basis."
Special Places, Special Wines, Special Needs
Besides place name and trade benefits, PGI status also brings responsibilities. "Special places that makes special wines have special needs for protection, and that recognition is important," concludes Peterson-Nedry. "We need to prove ourselves to be as helpful to others as they have been to us, both helping others achieve protection, and raising awareness of place name importance. We have to do what we do well - make wine, and collaborate with others."