Abeja Launches Innovative, New Fine Dining Experience
Dinner Reservations for "The Kitchen at Abeja" Available Now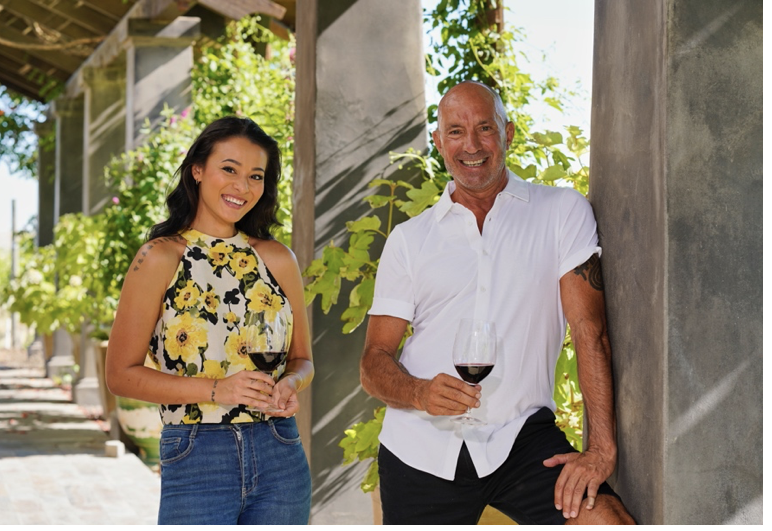 Walla, Walla, Wash. (July 13, 2021) – Those with a taste for wine country living have yet another reason to visit Abeja, a 38-acre historic Walla Walla farmstead and home to the acclaimed Abeja winery and bucolic Inn at Abeja. The winery announced the opening of The Kitchen at Abeja today, a fine dining experience showcasing innovative wine country cuisine and celebrating the Pacific Northwest's seasonal bounty.
The Kitchen at Abeja offers dinner guests the choice of a five or seven-course prix fixe menu. An optional wine pairing menu will explore how contrasting food and wine flavors and complementary tastes add enjoyment to a meal. Executive Chef Elodie Li will collaborate with Abeja winemakers Dan Wampfler and Amy Alvarez-Wampfler on the menus, updated weekly.
Surrounded by the winery's estate vineyards and gardens, The Kitchen at Abeja is a rich, refined wine country experience. The food is an irresistible blend of comfort and intrigue, relying on fresh, local ingredients to create a menu inspired by America and Europe's leading culinary conversations. Winemakers style Abeja wines to enhance the pleasure of a meal.
Dynamic Culinary Team Leads The Kitchen at Abeja
The Kitchen at Abeja represents a homecoming of sorts for the dynamic professionals leading it. Executive chef Li is a Washington State native. She recently returned to her home state after spending two years in Provence, France, cooking in Michelin two-star restaurants. Before that, Li worked alongside Chef Don Curtiss at Seattle's acclaimed Volterra. Tom Uberuaga will oversee food and beverage service for The Kitchen at Abeja. Born and raised in Poulsbo, Wash., Uberuaga originally moved to Walla Walla in 2000 to open Whitehouse-Crawford, later launching Walla Walla's Creektown Café, a casual wine country bistro. He returned to Walla Walla in late 2020 following a decade of working in hospitality and design in upstate New York.
"Abeja has always been about bringing people together. Offering fine dining just steps from where our grapes are grown and wines are made will take the experience to new levels," said Alvarez-Wampfler, who shares Abeja winemaking duties and property oversight with her husband. "For years, we have envisioned a culinary experience at Abeja that celebrates Northwest vineyards in a setting that recalls Walla Walla's pastoral history. We can't wait to share this with guests."
Since its founding in 2000, Abeja has established itself as a renowned wine country getaway known for its rural beauty, estate vineyards, and acclaimed wines. The Inn at Abeja's cottages and suites, all original outbuildings of the property that was once a dairy farm, have been meticulously restored. The Inn invites guests to slow down and appreciate the storied history of the Walla Walla Valley while enjoying the modern amenities of a wine country retreat.
Dinner at The Kitchen at Abeja is by reservation only. Reservations may be made at abeja.net/dining.php. The Kitchen at Abeja is open at 5:30 pm three evenings a week to welcome guests of The Inn at Abeja, Walla Walla visitors, and the surrounding community.
About Abeja
Abeja's beautifully restored century-old farmstead provides the perfect setting for extraordinary winemaking and world-class hospitality. Meticulous attention to detail defines Abeja's award-winning, limited-release wines crafted from estate grapes and acclaimed Washington vineyards. The Inn at Abeja provides guests with a tranquil respite from their busy lives in the heart of wine country. The Kitchen at Abeja offers guests an opportunity to experience innovative wine country cuisine. For more information about Abeja, please visit www.abeja.net.