Viticultural Research in New York, Texas, and Mississippi
The ASEV National Conference holds session on Eastern Viticulture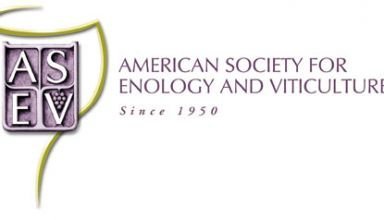 When the 2020 ASEV National Conference scheduled to be held in Monterey, California, was cancelled, the wine community across the country hoped that this year's conference would be held in person. That didn't happen, but the conference in 2021 did take place virtually on June 22 to 24. One advantage to online conferences is that speakers from many different regions were able to present their projects and, on June 24, the Eastern Viticulture session focused on research from three locations East of the Rockies: New York's Finger Lakes, Mississippi and Texas.
"Effect of Sun Exposure on the Evolution and Distribution of Anthocyanins in Interspecific Hybrid Red Winegrapes"
Catharine Dadmun, a PhD student in Dr. Anna Katharine Mansfield's lab in the department of food science and technology at Cornell University, began her talk on red hybrid grapes by noting that these grapes have become more important for cool climates because of their disease resistance and economic importance. As a result, there is now a need to optimize their production. One of the main sensory parameters to consider when optimizing production is color, as the color of a wine is one of the first characteristics consumers assess, and an atypical color can greatly affect the acceptability and quality perception of a wine. Anthocyanins, which create color in wine, are key compounds in wine quality determination.
While the color chemistry of vinifera wines has been extensively explored, the color chemistry of hybrids is largely unknown. This prompted Dadmun to conduct a two-year study on the evolution of monomeric anthocyanins over the course of ripening of hybrids in order to establish the distribution of anthocyanins in three hybrid varieties: Corot Noir, Maréchal Foch and Marquette. In order to study the effect of sun exposure and vine microclimate on red hybrid grape color, leaf pulling established an exposed treatment block and a shaded control vineyard block, and was repeated in triplicate for each cultivar. Light exposure and varying air temperature were monitored in the Corot Noir vines throughout the ripening period in order to determine the generalized vine microclimate.
Samples were collected from three different vineyards in the Finger Lakes region every two weeks until harvest. Berries were weighed for each sample, the pulp was separated from the skins, which were freeze-dried and then ground into a fine powder. Phenolics were extracted from the ground skins using 80 percent methanol, and monomeric anthocyanins were separated from that fraction using solid phase extraction. Monomeric anthocyanins were analyzed via HPLC (high-performance liquid chromatography).
The results showed that the leaf pulling treatment did not significantly affect the total anthocyanin concentration within any of the three cultivars. However, some individual anthocyanins within each cultivar changed in response to excess sun exposure, suggesting the possibility that the anthocyanin profile and therefore color perception itself can be altered by this vineyard treatment. Although photosynthetically active radiation (PAR) increased with leaf pulling, negligible changes in berry temperature were observed. This study set the groundwork to understand anthocyanin evolution of hybrid grape cultivars and further optimize wine color.
"Effects of Pruning Timing and Leaf Removal on 'MidSouth' Winegrape Quality in South Mississippi"
Haley Williams is a master's student at Mississippi State University working with Dr. Eric Stafne on small fruit crops at the Coastal Research & Extension Center in Poplarville, MS. She started her talk by recognizing that Mississippi has a climate with high summer temperatures, and both high humidity and considerable rainfall year-round. In spite of that, the hybrid bunch grape MidSouth has been successfully grown the Mississippi climate, in part because it is resistant to Pierce's disease. Its low total soluble solids and high titratable acidity are a challenge for winemaking and are two of the items researchers would like to improve.
Williams and Stafne developed an experimental design consisting of 48 vines divided into four blocks, with three replicates of each of four treatments: early pruning; early pruning plus leaf removal; normal pruning plus leaf removal; and normal pruning.
The MidSouth vines were spur-pruned to about 60 buds in mid-December for early pruning and in late February/early March for normal pruning. The goal was to assess whether the timing of pruning would affect the quality of the fruit and the timing of the harvest, with early pruned vines having less impact from heat, humidity, and rainfall. Leaf removal on early pruned vines took place in late March at the pre-bloom stage, while on normal pruned vines, leaf removal was done in mid-May after fruit set. Both prunings could not take place at the same time because of a Covid-19 shelter in-place order. Leaf removal consisted of taking off three to six leaves from the cluster zone of every fruitful primary shoot.
When the vines were going through veraison in mid- to late-June, the researchers measured cluster temperatures, total soluble solids, titratable acidity, and pH. They took readings from multiple clusters on a vine and then averaged them for that vine. The results showed that each treatment averaged approximately 39° C in temperature and that there was no significant difference between them for total soluble solids, titratable acidity, and pH.
When crop yields were determined, early pruning with leaf removal had the most negative affect, while normal pruning with leaf removal had the best results. Lower than normal yields may have resulted from a lack of fungicide sprays, combined with extra rainfall from tropical storm systems before harvest. Normal pruning plus leaf removal had the best Ravaz index (yield:pruning weight) and the best vine balance. The overall conclusion was that normal pruning, with or without leaf removal, was superior to early pruning treatments.
"Crop Load Adjustment by Canopy Management and Its Effect on Fruit and Wine Quality of Tempranillo in Texas"
Dr. Pierre Helwi is an extension viticulture specialist with Texas A&M AgriLife Extension Service in the High Plains region. He began by defining crop load as the relationship between canopy size and crop level. The Ravaz Index (vine yield/pruning weight) ranges, ideally, from 5-10 for vinifera and 8-12 for American and hybrid varieties. The values are variety specific and can be influenced by canopy management practices.
For this project, researchers used two methods of canopy management – pruning and fruit thinning – and looked at their impact on crop load and then its effect on grape and wine composition of Tempranillo in Texas. The goal was to answer three questions:
Does pruning/fruit thinning impact crop load?
Is fruit thinning using a mechanical harvester feasible? Does it impact overall vine health?
Is there a correlation between crop load and fruit and wine quality of Tempranillo?
The research was conducted in 2019 at Lost Draw Vineyards in Brownfield, Texas on 12-year-old, own-rooted Tempranillo vines on a bilateral cordon with five spurs per cordon. There were three treatments for this project, which are typical for vineyards in that region: 2 buds/spur; 3 buds/spur; and 3 buds/spur plus fruit thinning by mechanical harvester. Thinning took place in June, 30 days post-bloom, which reduced the yield by 12.5 percent. The fruit from all three treatments were harvested in September at 24° Brix, which is typical for the region. The 3 buds/spur plus fruit thinning had the lowest yield per vine, while the yield for 2 buds/spur was moderate and for 3 buds/spur the highest. In February, the pruning weight was calculated, and there were no differences between the three treatments in pruning weight per vine.
Researchers concluded that pruning and/or fruit thinning do affect crop load. In addition, fruit thinning using a harvester can be used to adjust crop load, but some damage from that procedure can occur on the shoots and clusters, and result in some dead clusters.
A second part of the project was to collect berries from veraison to harvest in order to compare the berry chemistry between the three treatments. They used three measures of grape maturity: Brix, pH and titratable acidity. Results at harvest showed that the low crop load had higher Brix, higher pH, and lower TA that the moderate and high treatments, and also showed that the berries from this treatment had a faster berry maturity rate.
All the grapes were picked when the grapes for one of the three treatments reached 24° Brix, the typical Brix level for Tempranillo in the region, and wines were made for each treatment. The composition of the wine was analyzed nine months after bottling (in glass carafes) for alcohol, pH, TA, VA, malic acid, lactic acid, tartaric acid and color. The results presented were for alcohol, pH, TA and color. There were differences in wine composition: the low crop load had the higher Brix, higher pH, higher TA, and also the deepest color of the three crop loads.
The conclusions for the second part of the project were first, that the low crop load treatment had a faster berry maturity rate and second, that there was a difference in wine composition. The last conclusion was that the low treatment wines were characterized by higher alcohol and higher pH, but such chemistry may not be desirable for Tempranillo vines grown in a hot climate. In summary, crop load can be adjusted by pruning and mechanical fruit thinning and has an influence on the berry and wine chemistry of Tempranillo.