Spirits leading in on-premise recovery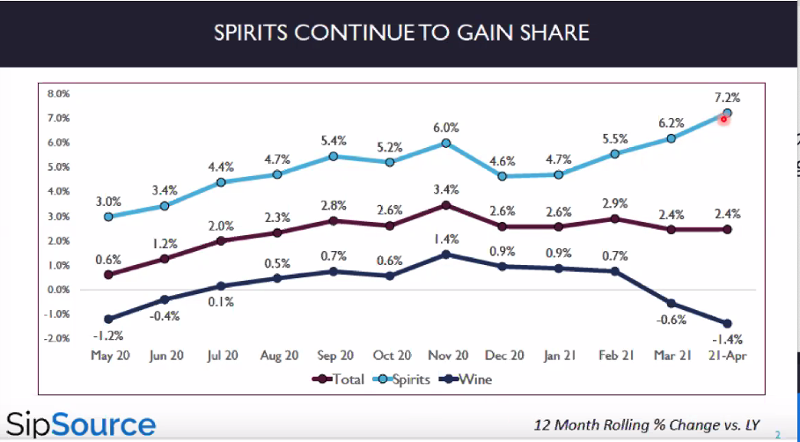 Wine is not just losing total market share to spirits, it's trailing behind liquor in the on-premise recovery that is beginning to gather steam as restaurants and bars across the United States reopen as normal.
According to depletion data by the nation's largest wholesalers via SipSource, total spirits depletions were 7.2% higher than last year in the 12 months through April, while wine was down 1.4%. In just the off-premise sector, spirits had rallied to 29% less than last year in April while wine was lagging behind at 41% less than last year.
"As we see on-premise reopening we see those on-premise operators really focus on spirits," said Dale Stratton an analyst with SipSource and president of the Wine Market Council (WMC).
Stratton said it make sense on-premise operators would focus on spirits products that offer better cash flow and less overhead, but he said the strength of spirits relative to wine is a trend that was in play long before the pandemic. "This makes me think it's a consumer-based trend that there's something going on with the consumer," he said.
The battle of market share between wine and spirits as well as beer and the new generation of beverage alcohol products such as hard seltzers was the focus of a June 24 webinar hosted by the WMC.
Gomberg Fredrikson & Associates report editor and analyst Jon Moramarco outlined earlier this month in a separate webinar how the total beverage alcohol market and US consumption isn't likely to increase so wine is a fight for market share.

That theme continued in the webinar featuring Stratton, the WMC's director of research Christian Miller and marketing consultant Lisa Ehrlich.
Ehrlich said the wine types that are doing well, Sauvignon Blanc and sweet red blends, represent a very different flavor profile than high flavor, low sugar wines such as Cabernet Sauvignon that also exhibit oak notes and astringent tones. "Those seem to be trending down and sometimes I wonder if some of those trends are mirroring our food trends," she said.
She added she regularly hears from bartenders who say Cabernet by the glass is a hard pairing as most consumers believe it's best with only red meat. "Beer and spirits aren't so bound by the pairing rules as perceived by consumers," she said.
Wine by the glass is also at a disadvantage in terms of consumer perception. Beer has tap handles and single serve containers covered in branding while liquor benefits from the back bar display and drink menus with enticing images of cocktails promoting specific liquor brands.
"An anonymous glass of wine could be anything when it shows up at the table," she said. "We're losing the battle for share of mind in the on-premise and I think we have a big disadvantage in how we serve wine."
WMC also recently conducted an extensive survey of consumer perception of wellness that revealed insights on drinking preferences. Miller said that survey found most consumers, including core wine drinkers, spread their drinking and purchasing across all alcohol categories.
Most reported they have kept drinking at the same pace over the last year, and 81% of those who said they are drinking less wine still had a favorable opinion of the beverage. That indicates there are different motivations for drinking less wine and "non-adoption of wine."
The core group of consumers has typically been fed by occasional consumers who develop a taste for it. Miller said one of the more disconcerting findings in WMC's surveying is that these two groups are now on divergent paths. Of core wine drinkers, 35% said they were drinking more wine and 13% reported drinking less while the trend was nearly exactly the opposite for occasional consumers; 13% drinking more wine and 30% less.
"You really have a bifurcation of our market now, but the problem is our core wine consumers and eventually our high-end consumers are conversions from marginal consumers," he said. "Now those people are drifting away and those drifting away skew younger. You have some serious issues to consider here."