Napa Valley Winery Needs To Work With Neighbors To Expand Visitation Program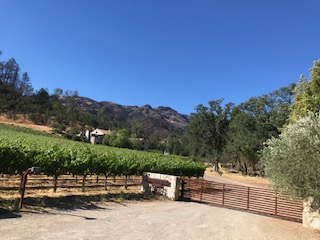 A Napa Valley's winery's request to host more than twice the number of visitors on the property has raised a host of concerns from immediate neighbors and others.
Kelly Fleming Wines, also known as Pickett Road Wine Co., is a 12,000-gallon winery on 83 acres located in a canyon on the edge of Calistoga. Its original use permit, which includes the winery and 7,000 feet of caves, was approved in 2006.
The Napa County Planning Commission on Wednesday voted 4-0 for a continuance to allow more discussions between Kelly Fleming Wines and its neighbors. Some neighbors in rural Simmons Canyon said they had learned of the winery's plans only recently. No new date was set as more studies may be required.
Owner Kelly Fleming wanted the green light to host more daily and marketing visitors at her estate winery.
The winery' current use permit allows for up to eight visitors a day and 60 per week for tours and tastings by appointment only. Fleming sought to have 24 visitors per day and 120 per week.
Fleming sought to have more than 1,000 marketing visitors a year. That included one marketing event per year for a maximum of 125 visitors between 10 a.m. 10 p.m.; 10 events per year for up to 60 people between 10 a.m. and 10 p.m.; 10 events per year for 24 visitors between 10 a.m. and 4 p.m.; and three wine release events with 50 visitors between 10 a.m. and 10 p.m.
Fleming now can host four marketing events with 60 visitors each; and two others, for 125 guests – or up to 490 marketing visitors a year.
Kelly Fleming Wines also sought to be allowed to have six full-time employees. The winery, which can only employ three full-time and 2 part-time employees under its current permit, has had too many employees, according to the county. The request to have 6 full-time employees was filed under county rules approved in 2018 that allow wineries to remedy violations.
The estate winery lost a pump house and about 4.3 acres of vineyard during last summer's LNU Lightning Complex fire. Before the fire, the estate cultivated more than 11 acres of vineyards. The county said the winery would not be able to host marketing events during red-flagged warning days and when PG&E shuts off power for fire safety.
The sewer/septic field is being expanded to accommodate an additional 26,000 gallons of water a year needed to accommodate the proposed changes, according to the winery.
Neighbors and others have voiced strong concerns about the winery's requests for more visitation, citing water, traffic and water issues.
Neighbor Robert Levenstein on Wednesday asked the Planning Commission to deny Fleming's application.
Levenstein, an engineer, said he and his wife have always supported Fleming's winemaking and farming.
However, Levenstein said the events at Fleming's winery "have been consistently noisy and unruly." He and his wife cannot support the "loud parties and amplified music which disturbs the peaceful enjoyment of local property," he told the commission. He's even reported the winery to the Sheriff's Office, he said.
The winery is in a canyon where "any sound – coyote or a sneeze," he said, "can be clearly heard throughout the canyon."
Levenstein also questioned the water recharge analysis which he said was flawed.
Environmental activist Kellie Anderson raised a number of issues, including water availability on the property.
Fleming also owns an additional 160-180 acres next to the winery. Anderson said the bigger property should be deed restricted so that no development could take place there.
Fleming's representative Jon Webb denied the studies were flawed and turned down the idea to deed restrict the property.
During Wednesday's hearing, Webb also said his client would be willing to have two fewer marketing events for up to 60 people. Fleming would also be willing to end nighttime marketing events at 9 p.m. and supply the neighbors in advance of the phone number of a winery staff person to address any issue immediately, Webb told the Planning Commission.
Planning Commissioners said they wanted the discussion to continue between the winery and the neighbor. "I would like to have more time to let those folks talk," Planning Commissioner Anne Cottrell said before the vote.
The Planning Commission did receive positive comment for Fleming's application. "The winery and Ms. Fleming are excellent stewards of the land and the environment and continue to be great neighbors," Keith Geeslin said in a letter to the Planning Commission.
Michel Wolf, president of Michael Wolf Vineyard Services Inc., said he has farmed Fleming's vineyards since 2012. He praised Flemings' stewardship of the land. "In the vineyard, we are very conservative in terms of water use, and employ several monitoring methods before ever irrigating. We do this both for wine quality and water quality reasons," Wolf wrote.