Dr. Andy Walker to Retire: Leaves Legacy of Grapevine Breeding, Research, New Cultivars
UCD Professor/Geneticist to Retire June 29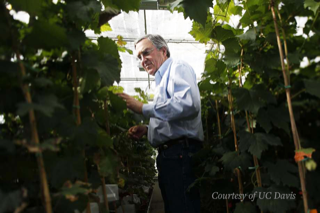 University of California, Davis (UCD) professor and geneticist Dr. Andrew Walker will retire June 29 after more than 30 years on the Department of Viticulture and Enology faculty and as a winegrape breeder. Given the long-term nature of the grape breeding process, it's not surprising that some of Walker's more significant breeding projects came to fruition later in his career--the release of five nematode resistant rootstocks in 2009, and the 2020 official release of five new winegrape varieties resistant to Pierce's Disease (PD). Reflecting the reality of his work, Walker titled one of his recent lectures,"30+ Years of Grape Breeding and Just Getting Started." With additional winegrape cultivars in development in the Walker Lab being bred for both PD resistance and powdery mildew resistance, important new grapevine materials will continue to become available well after he retires.
Walker's career and contributions were featured during an online presentation last month as part of the UCD Robert Mondavi Institute's (RMI) lecture series, "Forum: Talks on Food and Wine Sciences."
Walker was born in the Okanagan region of British Columbia, Canada. His family moved to California when he was a youngster. He grew up in the San Francisco Bay Area and did not travel far geographically, spending nearly his entire educational and professional life at UCD.
Walker completed his bachelor's degree in botany in 1975, his master's degree in horticulture/viticulture in 1983, and his Ph.D in genetics in 1989, all from UCD. He did horticultural work in nurseries and landscape construction before joining the UCD faculty in 1989. In 2000, he was appointed as the Louis P. Martini Endowed Chair in Viticulture, and was later named the Louise Rossi Endowed Chair in Viticulture and Enology. He serves as chair of the UCD Horticulture and Agronomy Graduate Group that administers M.S. degrees in viticulture and all applied plant programs. Walker has received some of his profession's highest honors from the American Society for Enology and Viticulture (ASEV) including the ASEV Merit Award in 2017, co-authored three Best Viticulture Papers, and delivered the Honorary Research Lecture.
The RMI Forum touched upon Walker's career and grape breeding in a discussion with enology professor and RMI director Dr. Andy Waterhouse, and included insights and tributes from past students and professional colleagues.
Grape Collection Trips
At UCD, Walker was preceded by viticulture professor and grape breeder Dr. Harold Olmo. The legendary Olmo has been called "the Indiana Jones of grape breeding" based on his global grape collection trips and adventures to places such as Afghanistan, the Middle East and Asia, where he collected wild and domestic grape samples to bring back to UCD for research and breeding. Walker was inspired by Olmo to continue grape collection trips, with a focus on native grapes within North America. Walker conducted one or two trips each year for more than 30 years, collecting an estimated 10,000 grape samples. After evaluation, some samples are selected for the UCD germplasm collection and used to identify desired characteristics matched to specific genes available for breeding.
UCD lab research supervisor Dr. Summaira Riaz has known Walker for 25 years, as a student, and now as a member of his lab. She described her experience on collection trips: "Some days could be very brutal. We'd start at 6:00 am and would cover 400 miles a day, ending at 7:00 to 8:00 pm, and then we'd have to prepare samples to ship back to Davis." However, she acknowledged, "One of the big reasons for Andy's success is that he understands the importance of germplasm."
Walker observed over time that in some areas, such as Texas and the Midwest, locations that formerly supported good populations of native American Vitis samples have now been lost to development and "weed" control/removal by state highway departments.
Collection trips frequently focused on the desert southwest U.S. and northern and central Mexico. In the arid southwest, wild grapes are commonly found growing near water sources, such as natural springs. "Where you find springs, you find grapes, because that's where the birds are," Walker said. He also observed, "Grapes have been bred inadvertently by birds, as they can distribute seeds from different species and varieties." This spread can sometimes be over long distances.
One of the more valuable southwest grape finds, Vitis arizonica, and some of its subspecies, have high resistance to Pierce's Disease (PD), in addition to salt, lime and drought tolerance.

Walker's lab has identified two different PD resistance genes from V. arizonica selections.
New Cultivars
Walker's important breeding projects include the introduction of five new PD-resistant grape varieties, and five new nematode resistant rootstocks. The PD cultivars range from 94 to 97 percent Vitis vinifera parentage to provide desired grape chemistry and wine quality, and the remaining parentage includes V. arizonica to provide PD resistance.
The PD research and breeding project, with significant funding from the California Department of Food & Agriculture's Pierce's Disease/Glassy-winged Sharpshooter Board, has resulted in new and improved techniques for the traditional breeding practice of crossing grape selections to produce new hybrid selections. In Walker's lab, breeding has been accelerated by aggressive vine training and selection for precocious flowering resulting in a seed-to-seed cycle of two years. Breeding is further expedited using marker assisted selection (MAS) on grape seedlings for PD-resistant genes to select resistant progeny as soon as seeds germinate. These practices have enabled production of four backcross generations with V. vinifera cultivars to produce new cultivars with 97 percent vinifera parentage within 10 years.
Walker observed that the tools and technologies for grape breeding have changed and evolved since he started, but the purpose of breeding has not. "Advances in molecular genetics, and the use of genetic mapping and markers have improved efficiency and accelerated the breeding process to achieve desired goals," Walker said.
With the PD-resistant cultivars, Walker said, "The goal was not necessarily to use these new varieties to produce varietal wines. It was more to use them for blending, so they could be planted in PD hot spots to enable longer-term vine health and production for winemaking." But a number of producers are making varietal wines from these, in the parts of the U.S. where PD limits the planting and production of V. vinifera varieties, and by California winemakers as well.
As a grape breeder, Walker has the right to name new cultivars coming from his lab. The PD-resistant varieties, three red and two white were named Camminare Noir, Paseante Noir, Errante Noir, Ambulo Blanc and Caminante Blanc, that Walker whimsically took from Spanish, Italian, French and Latin terms synonomous with " walker" or "walking."
The GRN series (grapevine rootstocks for nematode resistance) of five rootstocks provide resistance to the dagger nematode (Xiphenema index), a vector of grapevine fanleaf virus, in addition to three strains of rootknot nematodes. They also provide varying degrees of resistance to ring nematodes, lesion/pin nematodes and citrus nematodes, and good phylloxera resistance.
Walker mentioned concerns he and others have about long-term resistance to phylloxera. He noted that most commercially used rootstocks have a very narrow genetic base. Three species: V. berlandieri, V. rupestris and V. riparia make-up about 77 percent of the current rootstock parentage, including phylloxera-resistant rootstocks. He suggested more phylloxera-resistant rootstocks should be bred with wider genetic backgrounds to provide more alternatives and better long-term resistance.
Walker also advised: "I personally don't think it's useful to breed new varieties. We have over 3,000 grape varieties now and many make pretty nice wines. It's more important to breed disease resistance and mildew resistance into existing varieties." Breeding disease resistance will enable more sustainable viticulture to have vineyards wth longer lifespans that require less pesticide use.
Walker's work and legacy will continue with the future release of more cultivars still in the pipeline. This includes 10 or more cultivars with two genes to enhance PD resistance, the addition of powdery mildew resistance from multiple sources within the same varieties, and with different V. vinifera parentage to provide a wider range of sensory profiles. Walker said six powdery mildew resistant genes have been identified. He explained: "We're pretty convinced we will need more than one gene per plant for powdery mildew resistance worldwide. This is possible by stacking genes during breeding, and we can also integrate them into PD-resistant material."
Other material in the pipeline are additional nematode and salt tolerant rootstocks. The Walker grapevine breeding lab includes a number of long-time dedicated team members such as Alan Tenscher, Summaira Riaz and Nina Romero who Walker credits with being responsible for a large part of his success.
Teaching and Mentoring
While research products bring professional acclaim, Walker, like most successful academics, also takes great pride in the success of the many students he has taught and mentored. "One of the best parts of my career experience was the opportunity to educate a lot of students who now work across a wide breadth of industry occupations," Walker said. They include winery CEOs, researchers, educators, as well as vineyard managers and viticulture consultants.
Remi Cohen, CEO of Domaine Carneros, worked in the Walker Lab during and after obtaining her master's degree in viticulture at UCD and spent the first part of her career in viticulture before moving into management. Cohen told Walker, "You have all the best characteristics for a professor: you're brilliant, you're a fast-talker which is important because you have so much to say and knowledge to share, you're always willing to help, you're incredibly hard-working, and most importantly, you're always smiling and have a great sense of humor."
Dr. Astrid Forneck, professor at the Institute for Viticulture and Pomology at the University of Natural Resources and Life Sciences in Vienna, Austria was a visiting scholar at UCD in the early 1990s with Walker as her Ph.D advisor for research involving phylloxera. She credited Walker as a major influence in her career path and achievements. "One of the most important things he showed me is that teaching must be fun for the students as well as the teacher," Forneck said.
In "retirement," Walker will still be involved with his lab, will help mentor UCD's new grape breeder, and he says, "do more fun work and less paperwork." He also plans to take on some consulting projects.