Krasilsa Pacific Farms Sells Sonoma County Vineyard for $4.7 Million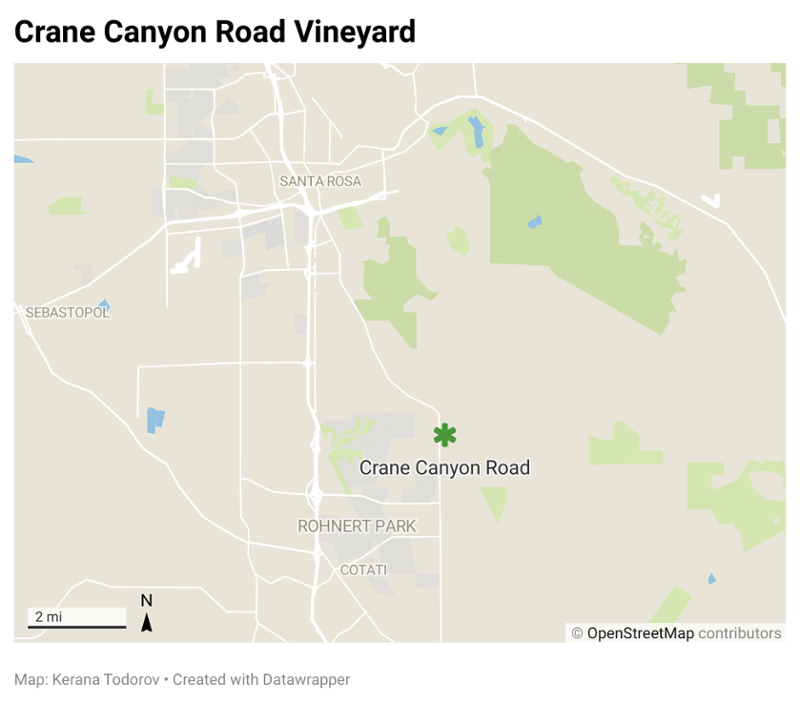 A Sonoma County vineyard belonging to a partnership led by well-known wine executive Hugh Reimers has been sold for about $4.7 million, according to county records.
The 46-acre lot belonged to Krasilsa Pacific Farms LLC, according to county and state filings. The land is in the 1400 block of Crane Canyon Road south of Santa Rosa. The property is near the intersection of Petaluma Hill Road and Crane Canyon Road in the Petaluma Gap wine region. The buyer is Flat Iron Farms LLC, a company based at the Turlock headquarters of Hancock Farmland Services Inc., a division of Hancock Agricultural Investment Group. The deed was filed April 16.
Krasilsa, which owns other properties in Sonoma County, has drawn the ire of state and county officials. In March, the company received a notice of "abatement proceedings" for one of its lots in the 4800 block of Geysers Road east of Geyserville, according to county records
In the summer of 2019, Krasilsa and Reimers made news when they received a notice of violation from the North Coast Regional Water Quality Control Board for allegedly deep ripping about 150 acres of land east of Cloverdale without permit, according to the state agency. The steep property stretches between the Russian River and Big Sulphur Creek. The alleged incident came to light when two hunters came across the land disturbance and reached out to the authorities, according to a report on the allegations. According to the document, Sonoma County officials suspected Krasilsa planned to plant a vineyard.
The Sonoma County District Attorney's Office has been investigating the 2019 alleged violations in collaboration with the North Coast Regional Water Quality Control Board and other agencies, according to the District Attorney's Office. "That is an ongoing and active process," said Brian Staebell, chief deputy district attorney.
Reimers, a former president at Foley Family Wines and Jackson Family Wines, declined to comment on the sale of the vineyard off Crane Canyon Road. Reimers hung up before he could be asked about the abatement notice.
Reimers and now ex-wife Ashley Reimers owned 30 percent of the company, according to divorce court papers filed in 2017. Hugh Reimers is listed as Krasilsa's managing partner in record filings.
Other partners involved in Krasilsa include a number of wine executives such as Ben Dollard, president of Americas-Treasury Wine Estates; Nick Withers, president at Huneeus Vintners; Sam Burton, vice president, director of operations at Joseph Phelps; and David Hayman, vice president of winegrowing for Delicato Vineyards.
The land had been listed for sale for $4.95 million in August before the listing was removed in November, according to Zillow.