Spirits Remain Growth Leader in Off Premise
April 22, 2021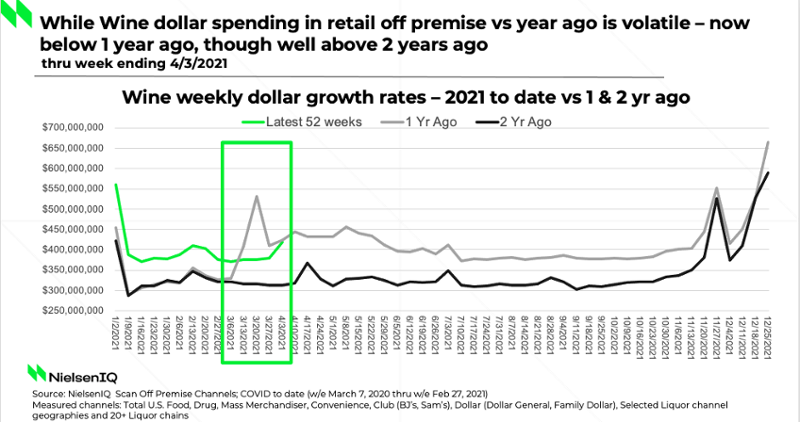 According to the latest off-premise data by NielsenIQ, wine sales in the four weeks ended April 3 fell 13% by value and 20% by volume compared to the same period last year.
"With comparisons against a huge stay at home/pantry loading month of March 2020 when COVID became a reality to most Americans, it wasn't surprising that despite only a very slow on premise return, wine off-premise sales fell significantly versus a year ago," wrote market analyst Danny Brager in his monthly report on the off-premise market.
Yet Brager goes on to note that sales of wine priced $20 and more expanded versus a year ago and sales remained significantly higher than in March 2019 because of the much slower recovery in the on-premise market.
The entire beverage alcohol market as tracked by NielsenIQ declined 1.3% in the week ended March 27 compared to last year. In that same period, wine sales fell by 7% and "core beer" declined by 4% while spirits increased 4%.
Compared to two years ago, spirits were up 37% while wine was 21% higher and beer was up 8%.
The off-premise report also includes data on winery direct-to-consumer shipments as tracked by Wines Vines Analytics/Sovos ShipCompliant. March was the first month since the pandemic began in which DTC shipment value grew faster than volume.
Total shipment value increased by more than 16% to more than $493 million with volume up by just 9.5% to more than 919,069 cases. "A major highlight of March 2021 was Napa shipment growth with double digit dollar and volume gains and dollar growth outpacing volume growth," Brager noted. "The luxury $100+ segment had one of its best months of growth."
The average bottle price for all shipments in March increased versus a year ago for the first time since February of last year. The March average bottle price was $44.71, which is $2.63 more than it was in March 2020.
For more information on the combined off-premise report, contact Brager at danny.brager@nielseniq.com