Wine in NielsenIQ Tracked Channels Down in week ending April 10 but Up Sharply Versus Two Years Ago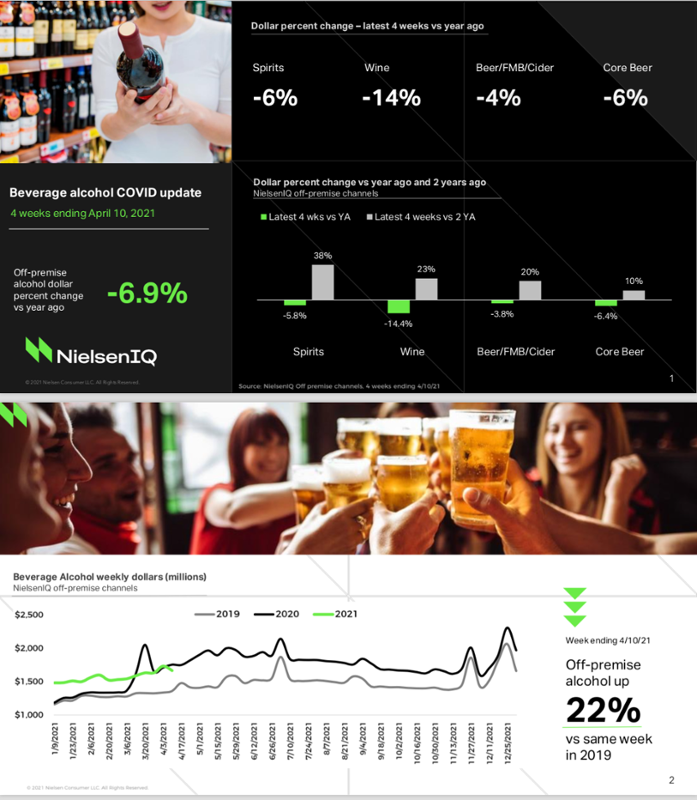 NielsenIQ Beverage Alcohol Update Week ending April 10, 2021
Unless otherwise noted, data and insights below are for the four weeks ending April 10, 2021 compared to the same four weeks last year in NielsenIQ off-premise channels.
For the latest 4 weeks ending 4/10/21, total off-premise alcohol dollar sales declined by 6.9% compared to the same 4 weeks last year. Beer/FMB/cider experienced the slowest declines, down 4%. Core beer (excluding FMBs and seltzers) was down 6%. Spirits declined by 6%, and wine experienced the sharpest decline, down 14%.
While the sales for the latest 4 weeks in off-premise channels are down compared to sales in 2020, they continue to outpace off-premise sales prior to 2020. When comparing dollar sales for the latest 4 weeks to the same time period two years ago in 2019, total off-premise alcohol is up 25%, with spirits up 38%, wine up 23%, and beer/FMB/cider up 20%.
Beer/FMB/Cider
For the 4 weeks ending April 10, 2021 there are several segments that continue to grow, even with strong sales reported during this same time period last year. Hard seltzers are up 21.7%, hard tea up 38%, and Mexican imports up 7.8%. No-alcohol beer continues at a strong pace too, up 37.2%. Premium lights are down 10.7% and lost 1.6 share points compared to the same 4 weeks last year. Below premium is down 15%, cider (-14.9%), (-10.9%), and super premium (-0.5%).
Spirits
Off-premise spirit sales are facing extremely tough comps from last year. At this time last year, off-premise spirit dollars were up 46%. As we have discussed in previous weeks, it would have been unrealistic for the total spirits category to have surpassed these dollar sales in off-premise channels for the latest 4 weeks this year.
Despite the overall spirit declines in off premise, there are a few spirit categories that continue to grow, up double and triple-digit rates -- over even last year's recording-breaking growth during this same time period. Ready-to drink cocktails are up 184%, cognac is up 26%, and tequila is up 17.4%. Japanese whisky and Scotch are also growing, up 23% and 12.3% respectively. However, these two segments had some of the slowest growth during this same time last year, so they aren't being compared to the record-breaking sales that some of the other categories are compared to for year-ago sales.
Given the tough comps, we would expect some declines across many of the other spirit categories. Total whiskey is down 5.3%, with American whiskey down 9.3%. Vodka is down 19.8%, rum down 21.2%, gin down 15.2%, and cordials down -4.8%.
Wine
Total wine declined by 14.4% in the latest 4 weeks, driven by table wine (-19.2%), while sparkling wine was up 18.4%. It's important to note, again, that trends vs two years ago were still strong, up 23% (compared to 4 WE 4/13/19). Within packaging, cans (+44.1%) and tetra (+13.7%) are still driving growth, as well as smaller formats, with 375ml and 187 ml up 28.9% and 20.0% respectively. We continue to see polarizing trends from a price perspective, with all segments under $20 declining, and all segments $20+ growing. From a channel perspective, Convenience remains the only channel seeing positive growth rates (+4.5%).