375mls Lead Growth in Glass Sales
The glass half bottle has proved quite popular with consumers as sales grew by more than 70% in the past year.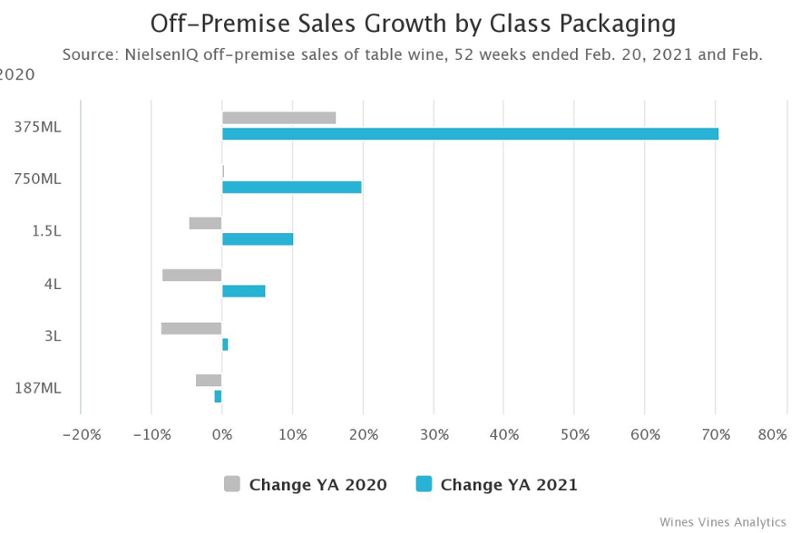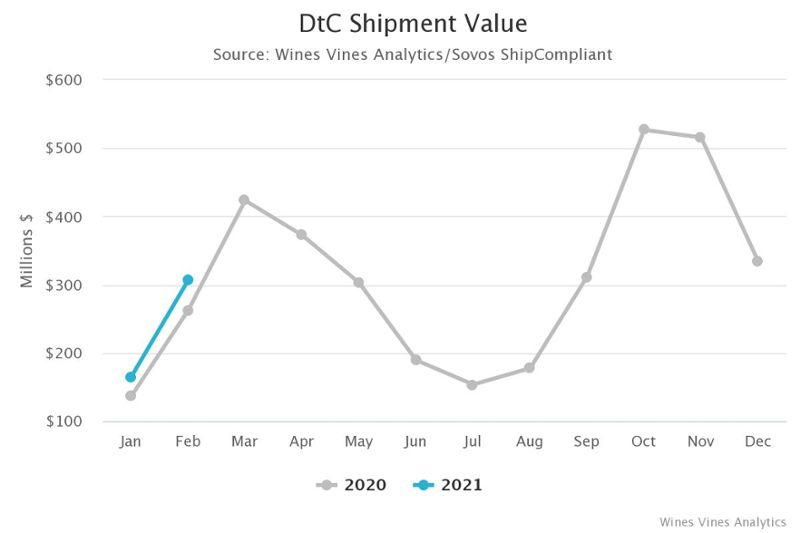 According to data by NielsenIQ, sales of table wines packaged in 375ml glass surpassed more than $40 million in the past year. Glass remains the dominant packaging material for U.S. wines, accounting for 77% of the volume of wine sold through off-premise channels in the 52 weeks ended Feb. 20. Total value of the wine category, as tracked by NielsenIQ, came to more than $19 billion.
Table wines in the standard 750ml bottle claimed 44% of total off-premise sales volumes. Yet glass packaging saw its share of the market inch down by nearly a percentage point during the period, indicating the growing share alternative packaging materials acquired through the pandemic. Surging off-premise sales favored boxes (up 21% by value, 16% by volume), plastic (up 27% by value, 26% by volume) and cans, which led with growth of 64% by value and 71% by volume.
The packaging sales data is featured in the March edition of the Wine Analytics Report that was released March 15. The latest report also includes a look at the wine industry in the Pacific Northwest, data and insights on wine pricing and an Q&A interview with Orin Swift Cellars founder Dave Phinney.
In the regular Wine Industry Metrics, winery direct-to-consumer shipments, as tracked by Wines Vines Analytics/Sovos ShipCompliant, rose 17% in February to more than $300 million while volume was up 23% to nearly 650,000 cases.
Sales of all U.S. wine totaled $66.4 billion in the 12 months ended February, down 12% compared to last year according to market research firm bw166. Domestic wine sales, including bulk imports, fell more than 8% to $46.5 billion in the 12 months ended February versus a year earlier. Spending in February suffered a smaller drop, falling 6% versus a year earlier to $3.5 billion.
The Wine Analytics Report is a monthly, digital report on the U.S. wine industry produced by the editorial team at Wines Vines Analytics and based on information from proprietary databases and data supplied by partner research firms. The report and Wines Vines Analytics are part of the Wine Communications Group that also publishes Wine Business Monthly.