Wine M&A Market Set for Rebound
Just as the industry hopes to see an explosion of pent-up consumer demand later this year, the same could play out among institutional investors, foreign buyers and wineries on the hunt for vineyards and other brands.
"My expectation is that you're going to see the market increasingly get more active the deeper in the year we go," said Mario Zepponi, principal of Santa Rosa, Calif., advisory firm Zepponi & Co. "That's going to be a function of people getting back to work as we get back to a little bit more of normal, which might take a while, but the vaccination process will certainly expedite that."
Zepponi's comments are in the February edition of the Wine Analytics Report that includes a report on mergers and acquisitions activity, an examination of the value side of the U.S. wine market, preliminary data from the 2020 California harvest and the monthly Wine Industry Metrics.
One of the biggest deals in recent history, that between E. & J. Gallo Winery and Constellation Brands, may help revitalize the value end of the market that has seen a return of lackluster demand following a brief rise in sales in tandem with the off-premise buying surge of the initial pandemic months. While sales of wine in 750ml glass packaging priced less than $11 are stronger than they were in 2019, they are lagging far behind the double-digit gains for wines at higher price points.
Gallo acquired most of Constellation's value brands in a deal that closed this year. If there's any company that could bring the resources, marketing prowess and distributor leverage to revitalize lower-priced market, the Modesto, Calif.-based company, which is the largest in the U.S. and the world, would be it.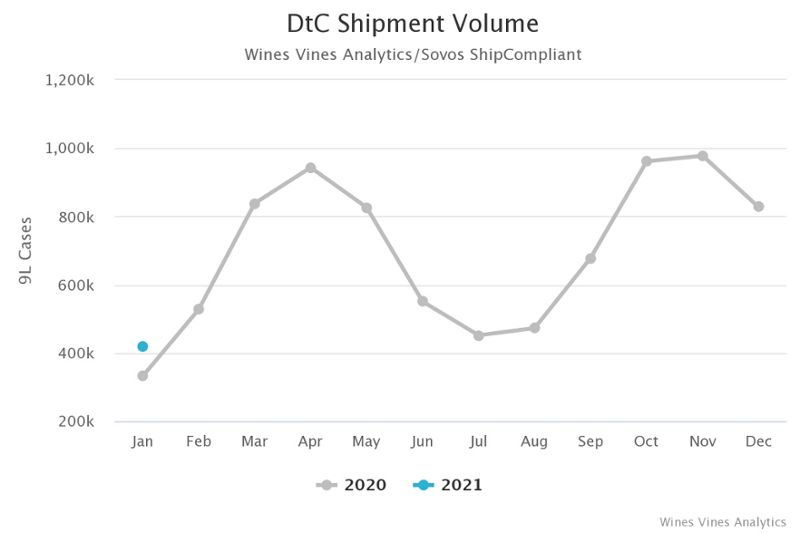 Of the Wine Industry Metrics, off-premise sales tracked by Nielsen were up 18% by value in January to more than $1 billion and winery direct-to-consumer shipment value last month rose 21% to nearly $165 million. DTC shipment volume grew by 26% to more than 417,000 9L cases. The dramatic year-over-year growth can also be attributed to the fact the industry had not yet felt the full effects of the pandemic in January 2020.
The February report also features an interview with WX Brands CEO Peter Byck who discusses the Novato, Calif.-based wine company's success with retailer exclusive brands as well as its own brands such as Bread & Butter and why he's confident wine will enjoy a strong year in 2021.
The Wine Analytics Report is a monthly, digital report on the U.S. wine industry produced by the editorial team at Wines Vines Analytics and based on information from proprietary databases and data supplied by partner research firms. The report and Wines Vines Analytics are part of the Wine Communications Group that also publishes Wine Business Monthly.