Winery Hiring in a Virtual World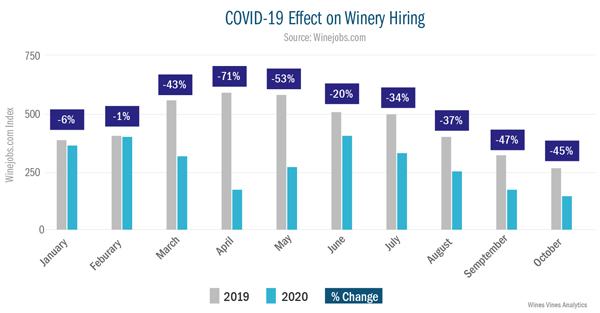 Just as the pandemic forced wineries to change how they connect with customers, it also compelled hiring managers and HR directors to change how they recruit, screen and hire new employees.
And as many wineries have discovered revenue through new direct-to-consumer strategies, new technology is providing efficiencies and improvements to the hiring process.
"The good news for us is we were on the technology journey even before COVID started," said Mark Johnson, head of talent acquisition for Treasury Wine Estates (TWE) Americas, during the annual Winejobs.com Summit conference held online on Nov. 10.
Johnson said remote and virtual meetings enable the company to meet with more candidates quickly and said the feedback from both candidates and hiring managers has been positive. He said he's found video interviews do in fact provide a good opportunity to evaluate someone's presence as well as look for subtle cues regarding their fit with the role and company culture.
He also mentioned the pre-employment assessment software Harver, which he said does a good job evaluating potential hires in terms of aptitude and attitude. "It's not to make hiring decisions but winnowing the list," he said.
Jennie Johnson, a senior manager of talent acquisition for E. & J. Gallo Winery, said the company has been using the program HireVue, which is a video interview and assessment software, for its first-round interviews. She said the platform essentially provides a "living resume" providing an almost 3D view on prospective hires.
Mark Johnson said video also is proving quite helpful in showing candidates what working in the specific role and the wine industry in general is like so they can better evaluate positions themselves. "It's really changing the game from 'give me your application and fill out this form' to what's a day in the life of the position (like)," he said.
Jennie Johnson said many of Gallo's office roles have shifted to being fully remote from the Modesto, Calif., headquarters and all of the company's onboarding has also gone remote. Interviews and candidate assessment have also gone virtual, but she noted that did not require many changes. She also acknowledged remote positions enable her to recruit from a much wider and more diverse pool as well. "We've had very positive feedback from our hiring managers and our candidates," she said.
Remote work has also helped Gallo retain some workers who might otherwise have left the company because their spouse or significant other found a new job in another state or region or they wanted to move for a lower cost of living.
Moving away from 'post and pray'
When asked about any negative impacts of the virtual office, Mark Johnson was hard-pressed to name any. "I haven't seen a lot of drawbacks," he said. "There's a loss of personal connection; to see a person, how they interact, body language, but it's just been about adjustment and getting used to a platform."
Both said they have lessened their reliance on recruiters, preferring instead to keep talent acquisition in-house to better ensure all hires — aside from very technical ones such as positions within IT — fit their respective cultures.
Diversity recruitment remains a priority, particularly after the events of 2020, and Mark Johnson said it really behooves the wine industry to make a strong effort in this regard as it still on whole is not very diverse. He said he's had to conduct a strategy of job marketing rather than just the old strategy of "post and pray" and wait for diverse candidates to file a resume. This type of strategy means searching out professional groups in LinkedIn for example, specific individuals and even other industries.
Mark Johnson said TWE has been shopping in different labor pools such as hospitality, luxury retail and other consumer-packaged goods industries.
Jennie Johnson reminded the virtual audience "your diverse people are the best way to get diversity" in terms of recommendations and connecting with particular communities. She said Gallo also takes a broader view of recruitment but rather than honing in on other, specific industries aside from wine it is focused instead on specific skills and types of workers.
As how and whom wineries hire has changed during the past year, hiring activity on the whole has trended downward.
The Winejobs.com Index plunged 45% in October and that has come after several months of steep "downs" and only a few minor "ups."
Eric Jorgenson, president of Wine Communications Group, said from 2012 through 2015 winejobs.com job postings grew by double digits and since 2016 postings had been growing by more than 5% per year. Wine Communications Group owns and operates winejobs.com and hosted the summit. The company also owns Wines Vines Analytics and the Wine Analytics Report.
Jorgenson said the industry had been experiencing a particularly tight job market immediately prior to the pandemic. Then everything changed. In April, Winejobs.com postings fell 71% and that was followed by a 53% drop in May. "COVID has had an immediate and severe impact on job postings by wineries," Jorgenson said.
Demand for winemaking and production roles has proved the most resilient while hospitality, typically the largest component of the WineJobs.com Index, has posted some of the steepest declines.
Winemaking and production saw demand rally 5% prior to harvest but the two other key subindices have seen steady declines each month versus a year ago.
Jorgenson said the industry's unsettled hiring market is even more complicated by the Bay Area's lack of affordable and available housing. "We still have a challenging recruiting environment," he said.