Q&A with Nicole Carter: On Overseeing Two Iconic Estates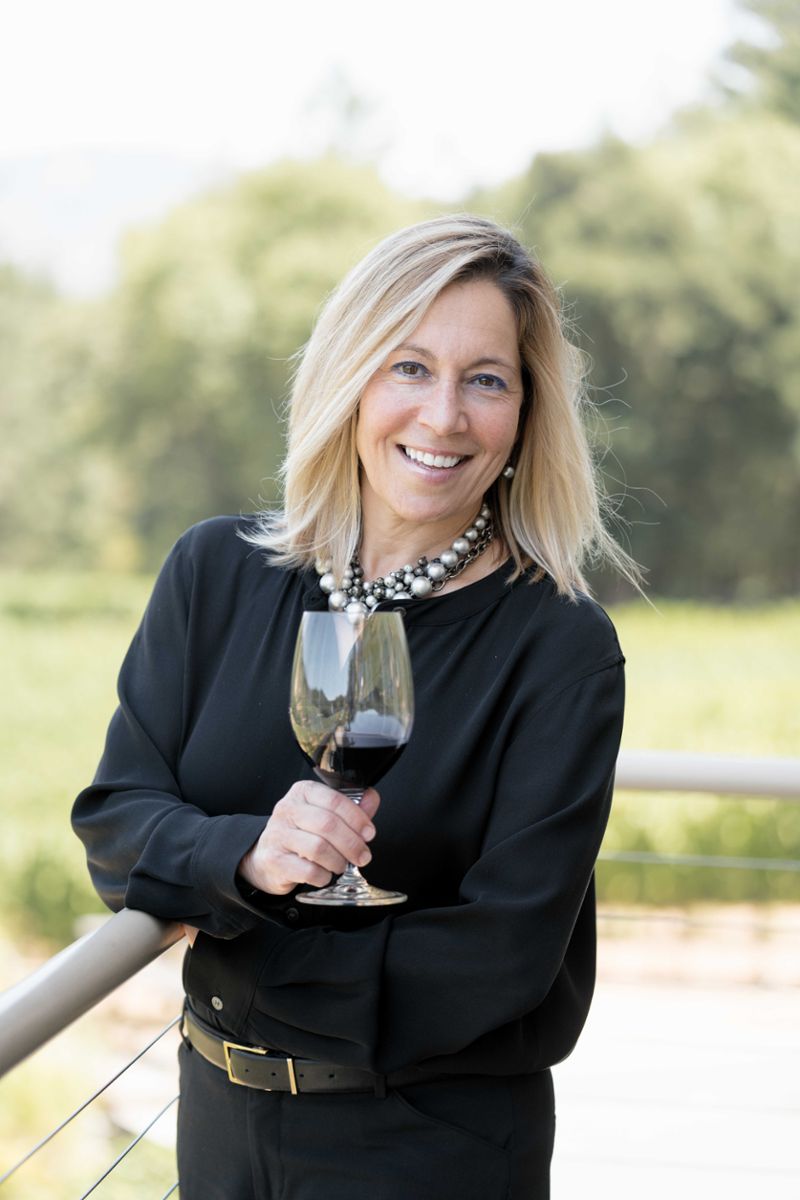 Nicole Carter has what she essentially describes as her dream job, overseeing two very different but equally historic and successful wineries in Napa and Sonoma counties. Carter is president of Merry Edwards Winery in Sebastopol, Calif., and Napa Valley's Diamond Creek Vineyards.
Carter was recruited for the Merry Edwards position following its acquisition by the French firm Maison Louis Roederer. She spoke with the Wine Analytics Report about her plans for Merry Edwards and the winemaking transition at Diamond Creek.
The interview took place on Sept. 23, following the containment of the LNU Complex fires that burned large swaths of Sonoma and Napa counties, but prior to the outbreak of the Glass Fire on Sept. 27. On Oct. 6, Carter provided an update: "Last week has been quite stressful and challenging. All of my Diamond Creek employees, and myself, were evacuated, and we are still evacuated from the winery. Fire came as close as two neighboring properties, but Diamond Creek was spared. We do not know the extent of the impact on harvest at Diamond Creek – we had already harvested part of our estate before the fires and we will evaluate from here, too soon to know."
Carter has more than two decades of experience in the global wine business, including 18 years with Treasury Wine Estates, working in several marketing and public relations roles for brands in Napa, Sonoma and Australia. She most recently was the chief marketing officer and director of winemaking for Hess Family Wine Estates.
Q: When you joined Merry Edwards, was the Diamond Creek deal already in the works or was it done, and did you know anything about it?
Carter: It was definitely not done, and if it was in the works, I was not privy to that information. But when I was recruited for the role at Merry Edwards, there was indication that the family was interested in staking a claim in Napa as well, and that my expertise in both valleys was of high interest. Who would dream up such a fabulous combination? I think to me, and because I've spent more than two decades in these two valleys, both wineries represent such an important part of history in their respective valleys. To be asked to be the brand steward, if you will, it doesn't get any better.
Q: The story of the 2020 vintage has been one of smoke and fire. How have the estate vineyards been affected?
Carter: We finished harvest at Merry Edwards last Friday (Sept. 18), and we're starting at Diamond Creek today (Sept. 23). We did as much testing as we could while the grapes were still on the vine at both wineries. But I think it's more important in the Merry Edwards context. And we did harvest a lot of our fruit early in an attempt to protect it from any adverse effects. But we couldn't harvest all of it at the time the fires started because it just wasn't ripe enough. I think the Russian River and Sonoma County have been affected in different ways than Napa, and we are still testing and tasting every day, and I think it's just too early to tell. My experience from the '17 fires, as we bring that experience here, one of the things you have to remember is that this is the earliest fires we've ever had.
In the past fires, 2017, 2008, the fires were later, so the grape varieties affected were much more limited. Right now, because they're earlier, you have to think about all grape varieties. And we have seen, if you go based just on the numbers, we've seen a little bit, but I'm not seeing anything that's making us stop in our tracks, if you will, at this early stage. On the other hand, we are committed to only making wines that meet our quality standards and won't bottle anything that doesn't meet our thresholds. And the other thing we've learned from '17 is it's just too early to tell at this stage of the game. You have to wait until the wine ferments, and it's an evolving process, so it's just too early to know. We picked everything we could at Merry Edwards, and we're going to pick at Diamond Creek.
Q: How about your strategy for growth beyond the pandemic?
Carter: There isn't a ton of room for growth on Diamond Creek, because we are 100% estate and production is limited. We sell what we make every vintage, and our goal there is to just continue to increase quality and maintain the legacy of what we do there. At Merry Edwards there's some room for growth, and to me that growth comes from new consumers. We have an unbelievably loyal consumer base, but we have to be involved and keep bringing new customers and consumers into the brand, and it's important to me that we do that in an authentic way. Are we leaning into social media a little bit more? Yes, but I don't think that's anything groundbreaking for the industry, if you will.
Q: Have you used some of the new ways to virtually engage with consumers?
Carter: When we were completely closed to the public, we were doing Friday tastings on Zoom where you could come by for curbside pickup, pick up the wines, and then join us on Zoom for a tasting. You could book a private Zoom tasting if you wanted to if you were a mailing list member, and then we did some partnerships with other wineries where we'd engage their consumers and they engaged our consumers. We taste both brands' wines with both winemakers or me, and that's been super successful, too. I would say there's been a lot of opportunities.
Q: The Diamond Creek brand doesn't need the same level of consumer outreach, but what are you doing there to ensure quality remains at the level your existing customers expect?
Carter: With any estate winery, you're always looking 10 years in the future, right? You have to make sure your viticulture and your production stays in line. We have this historic estate that needs tender love and care, and we'll continue to give it to it. Winemaking comes into play with the fact that our winemaker, Phil Steinschriber, who has been there for 30 harvests, has agreed to stay through this harvest as we transition to Graham (Wehmeier). And I think it's been a great benefit that I've gotten to work with Phil and Graham's getting to work with Phil and transfer that knowledge as he finishes his career there.
Whenever you have a new winemaker, you're working really hard to maintain the profile of an estate wine, and it just naturally evolves. We were looking for a candidate that had Napa experience and especially mountain winemaking. Graham came with the perfect combination of terroir-driven mountain Cabernet winemaking along with a great passion and sensibility that was the perfect fit. (At Merry Edwards, winemaking is overseen by Heidi von der Mehden, who worked with Edwards for several years as part of a plan put in place by the founder so she could transition into retirement.)
Q: How are you and the company managing the two estates?
Carter: Distinct and separate. It's pretty much the DNA of our company. With the exception of myself, I have separate teams at each winery because the nature of what we do is quite different. I think I am trying to create a culture of sharing information, but there's not a lot of crossover.
Q: Looking ahead through the rest of this year and beyond, do you see DtC staying at around 30% more than what you were doing last year? And is that going to be, pardon the cliché, the new normal?
Carter: That's such a hard question to answer. Of course, we're hoping that's the case, but by the same token I'm also so hopeful that our on-premise universe gets back into health. There's an old adage that brands are built on-premise, and you can enjoy a healthy DtC business and certainly we are, but there is this magnificent trial piece that comes with the on-premise universe that is much more difficult in DtC if you aren't able to bring people to your winery to taste. On-premise, traditionally, historically, has been where you drive trial, where you introduce consumers to new brands that they might not necessarily shop for. And I still think that's a critical part of the consumer journey. And there is inter-connectivity between that and DtC.