Arnie Esterer, Pioneer of Vinifera Wines in Ohio
Owner of Markko Vineyard Passed Away October 28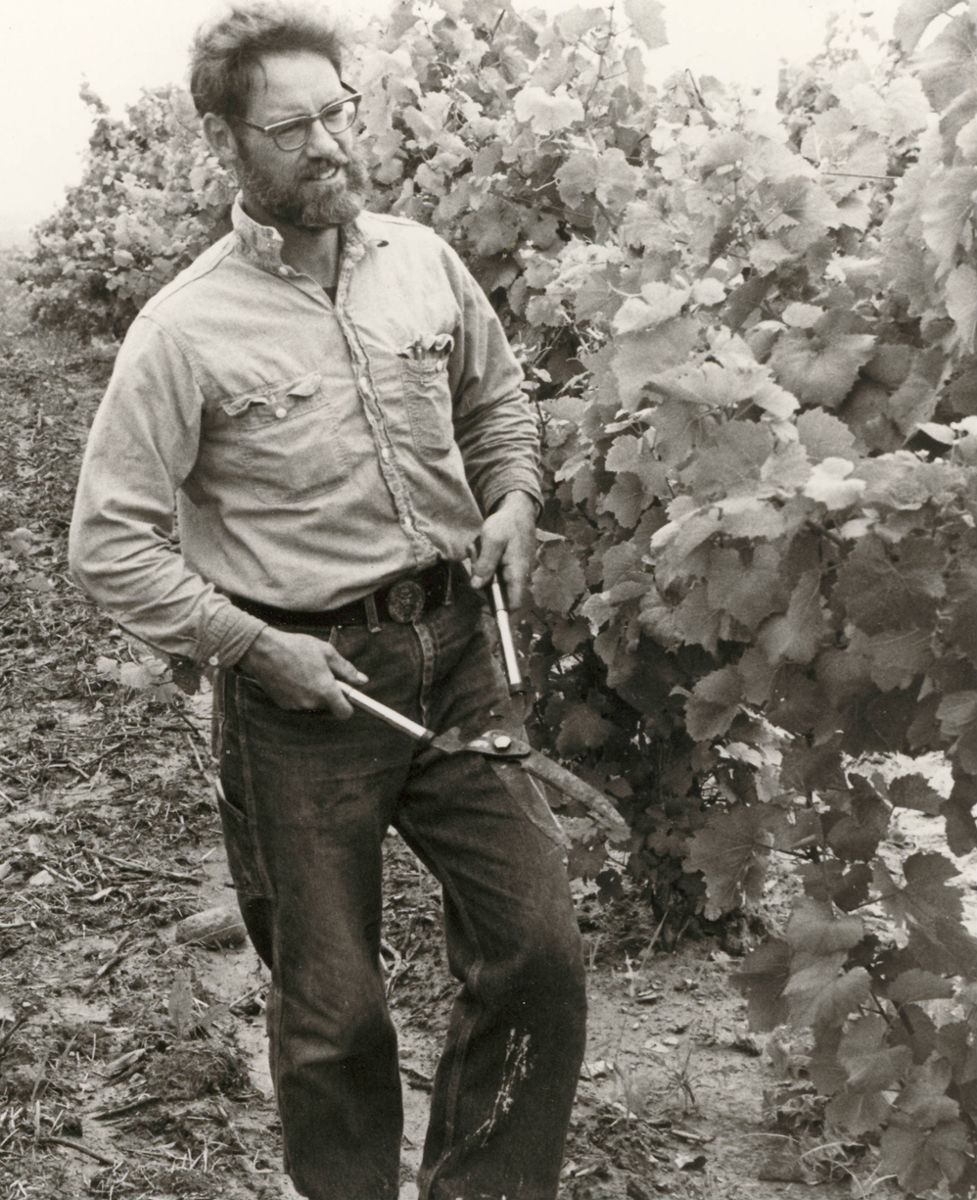 Arnulf "Arnie" Esterer, winemaker and owner of Markko Vineyard in Conneaut, Ohio, died at home on October 28, 2020. Born in 1932 in Bochum, Germany, he graduated from the University of Michigan with a B.A. in economics in 1954 and an M.B.A. in business in 1955. While working for Union Carbide in Ashtabula, Ohio as an industrial engineer, he became interested in growing grapes and making wine. In 1967 he read about Dr. Konstantin Frank, who was growing vinifera grapes in New York's Finger Lakes region. That year Esterer spent a week of his vacation working for Dr. Frank in his vineyard in Hammondsport, NY.
In an interview in 1984 with Hudson Cattell, co-publisher of Wine East magazine, Esterer described Frank's influence on his life. "Dr. Frank did two or three things that were very important to me," he said. "He told me to buy a lot of land. I wanted to buy 20 or 30 acres, but he said to buy 100. I wound up buying 130. I told him that I wanted to plant 2,000 vines. He said that was far too much and that he wouldn't sell or give that many to me. What he did was to restrict my growth and slow me down. Today I realize how right he was."
Esterer planted the vines he received from Frank in the spring of 1968, purchased the first 130 acres in Conneaut where the vineyard and winery are now located, and began his partnership with Tim Hubbard, who also was interested in wine and Frank's goal of promoting "superior quality domestic wines." Both Esterer and Hubbard were part of the group known as Frank's "cooperators." In 1972, Esterer left Union Carbide to work in the vineyard and build the winery. The grapes they had planted were mostly Chardonnay and Riesling, and the wines Esterer produced that harvest were the first commercial vinifera wines to be produced in Ohio.
While many people had tried to grow wine grapes from Europe in Ohio for 150 years, those vines succumbed to cold winter temperatures, Spring or Fall frosts, and diseases such as downy and powdery mildew. After Prohibition, wineries opened that produced wines from hybrid grapes, not from vinifera. In many ways, Esterer thought that Frank was the pioneer, because "we had guidance from Dr. Konstantin Frank." He told Cattell in 1984 that he considered "the wine-growing experience on the shore of Lake Erie as being where the real pioneering has taken place. 'While other winemakers had had success with the French hybrids, we set out to pour heart and soul into two of the world's great vinifera grapes, Chardonnay and Riesling.'"
Esterer continued to recognize the influence that Frank had on his winery. Markko Vineyard currently has a 2016 Homage Grand Cru, lot 1683, for sale with the description that the "Homage Chardonnay pays tribute to Dr. Konstantin Frank with a little Pinot Gris blended in..."
Over the course of his career, Esterer received numerous awards, including the Award of Merit in 1997 from the American Wine Society, an organization that had been formed by a group of winemakers meeting on Dr. Frank's porch. Esterer was inducted into the Ohio Wine Producers Hall of Fame in 2005.
Each year in the Spring, Markko Vineyard holds a special event, the "Blessing of the Vines," a service in the vineyard "with hymns and prayers to celebrate the new growing season, a time for rededication of growers to their vines and their hopes for a fruitful harvest." On Saturday, October 31, 2020 at 11:30 a.m. another service will be held in the vineyard at Markko. An All Faiths Celebration of Life and Reflection of the Vines will take place to remember Arnie Esterer, the founder of Markko Vineyards.
Esterer is survived by his children, Andrew B. Esterer, David C. Esterer and his wife, Lisa Anne Esterer; Paul Esterer and his wife, Rebecca Hall Esterer; and Katherine Esterer Miller and her husband, Richard Miller; thirteen grandchildren and three great-grandchildren.