Volume and Value of Global Wine Exports Plummet After Covid Lockdowns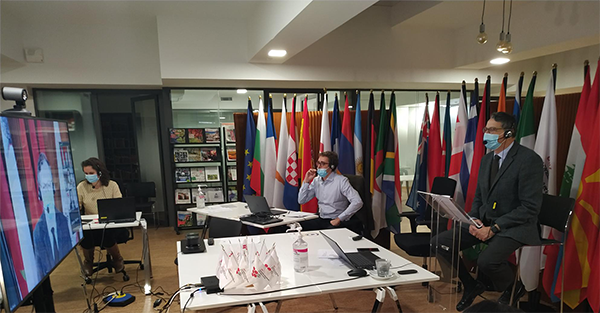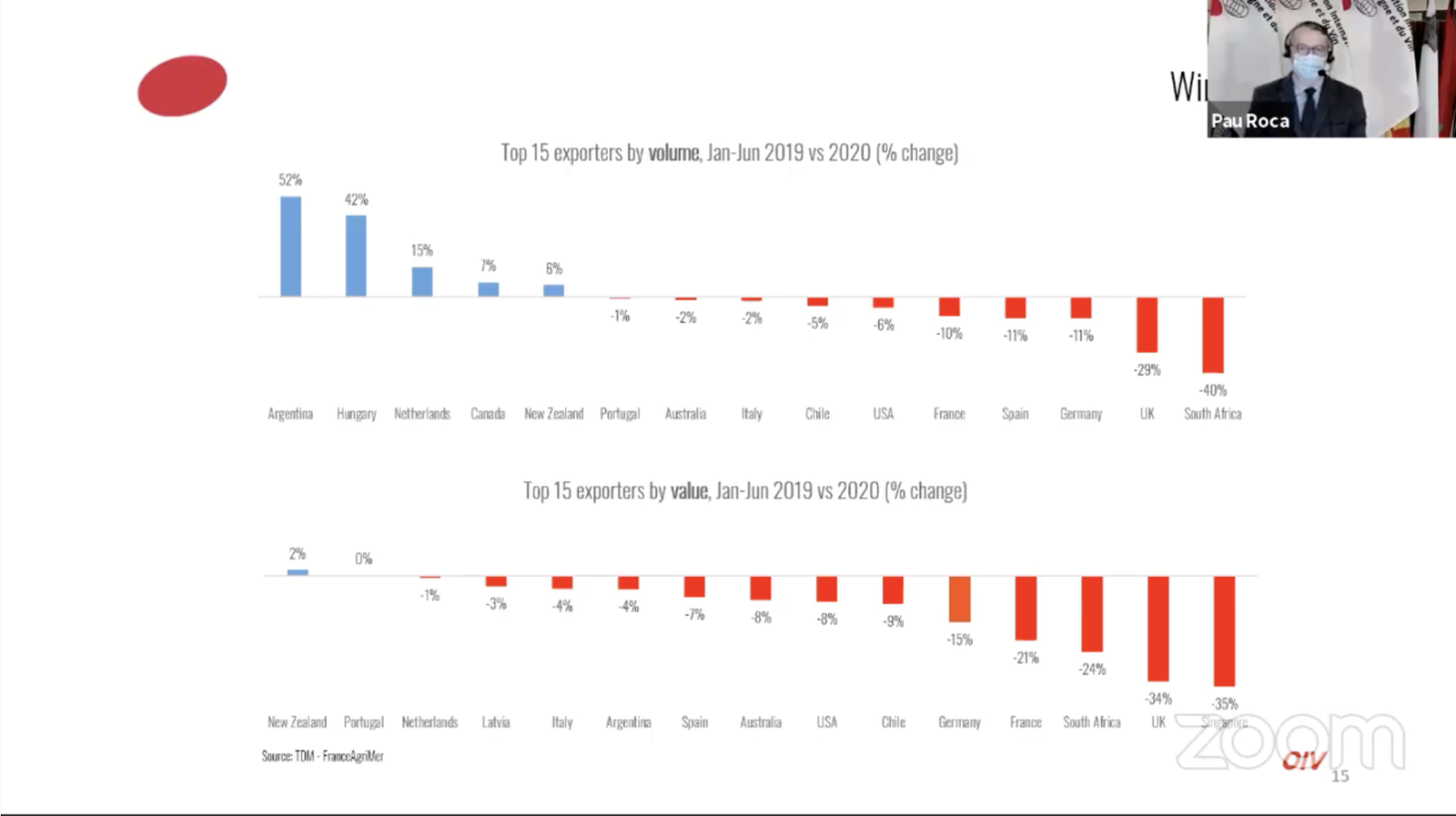 2020 world wine production is flat
Covid-19 affected pricing more than volume
New Zealand and Sweden buck the trends
Presenting initial estimates of 2020 world wine production yesterday, International Organization of Vine and Wine Director General Paul Roca said stay-at-home orders generated a recession that is directly and indirectly affecting the wine sector with falling prices and production declines resulting from a Covid-19 related drop in global wine demand.
Roca said the Covid-19 situation is exacerbating geopolitical tensions that led to rising tariffs, a degradation of international relations and currency instability. Lockdown measures limited the movement of people and goods within and across countries and led to closing regular distribution channels, which in turn led to production restrictions. This occurred in a situation where inventories were already high.
"The situation differs from country to country depending on the length of lockdown measures, the consumption habits of the population and the elasticity of the substitution between wine and other beverages, and also the relevance of the regular channel or the development level of the ecommerce channel," Roca said.
Customs data comparing the first halfs of 2020 and 2019 indicate overall international wine exports fell 6.7 percent by volume and 12.4 percent by value.
Some of the largest decreases in exports were from countries that serve as redistribution platforms, such as Singapore and the UK, with losses of up to 35 percent.
South Africa, one of the countries that suffered most, saw exports decline 40 percent by volume and 35 percent by value.
Georgio Delgroso with OIV said the change in the structure of U.S. imports following retailatory tariffs on EU wines is intersting to observe: exports from Italy, Argentina, and Portugal going well when the final destination is the U.S. while exports from France, Spain and Germany are declining.
In France, export value fell 21 percent and volumes declined 10 percent. French sparkling wines were down 23 percent by volume and 28 percent in value – with some of the decline related to retaliatory tariffs imposed by the U.S. in October 2019 – some of it associated with declining demand from China.
Italy was excluded from the U.S. retaliatory tariffs and didn't underperform to the same extent as France or Spain, with a decrease of 4 percent in value and 2 percent in volume. Sparkling wines from Italy performed better than sparkling from France or Spain with volume up 4.7 percent and value down 7.6 percent.
Chile's export value fell 15 percent.
Argentina was the best performing exporter year over year with bulk wine exports to Spain and increased exports of bottled wines to the U.S.
New Zealand saw export volume increase 6 percent with value up 2 percent attributed to increasing sales to the US.
Imports Drop Like a Rock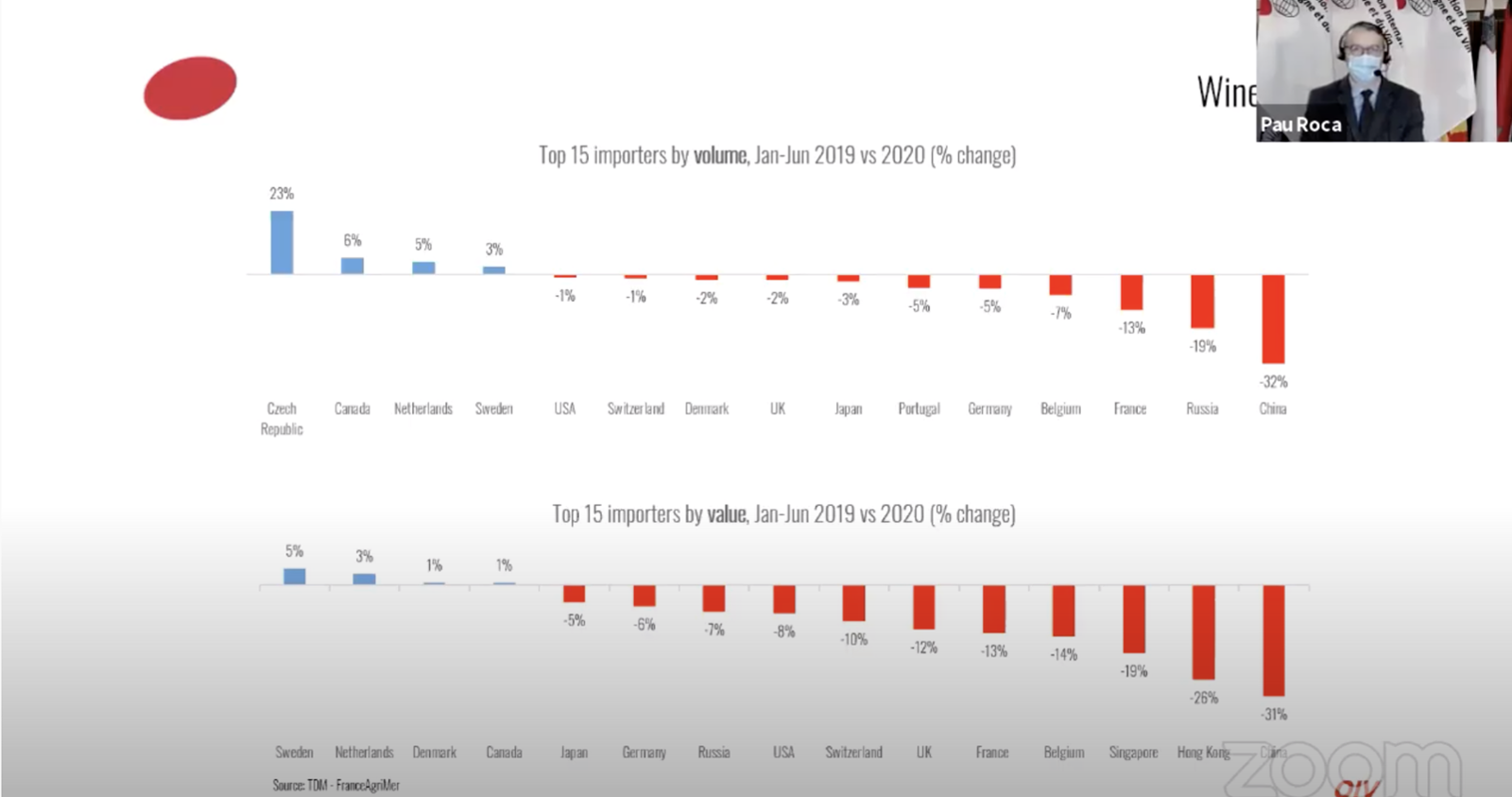 Wine imports were down in most countries, led by China, which recorded 33.2 percent volume and 31 percent value declines, a result of severe lockdown restrictions due to COVID-19 and geopolitical strife.
U.S. imports fell 5 percent by volume and 8 percent by value.
Canada's import volume and value were up 6 percent and 3 percent respectively.
Demand was high in the Scandinavian countries such as Denmark and Sweden, however. Containment restrictions because of COVID-19 were less severe in those countries.
The Changing Climate
Roca said climate change is now directly affecting wine markets with increasingly frequent extreme weather events. He called climate change "a reality that we cannot avoid anymore" and said "without direct actions on climate change, the whole industry will be threatened."
Below Average Production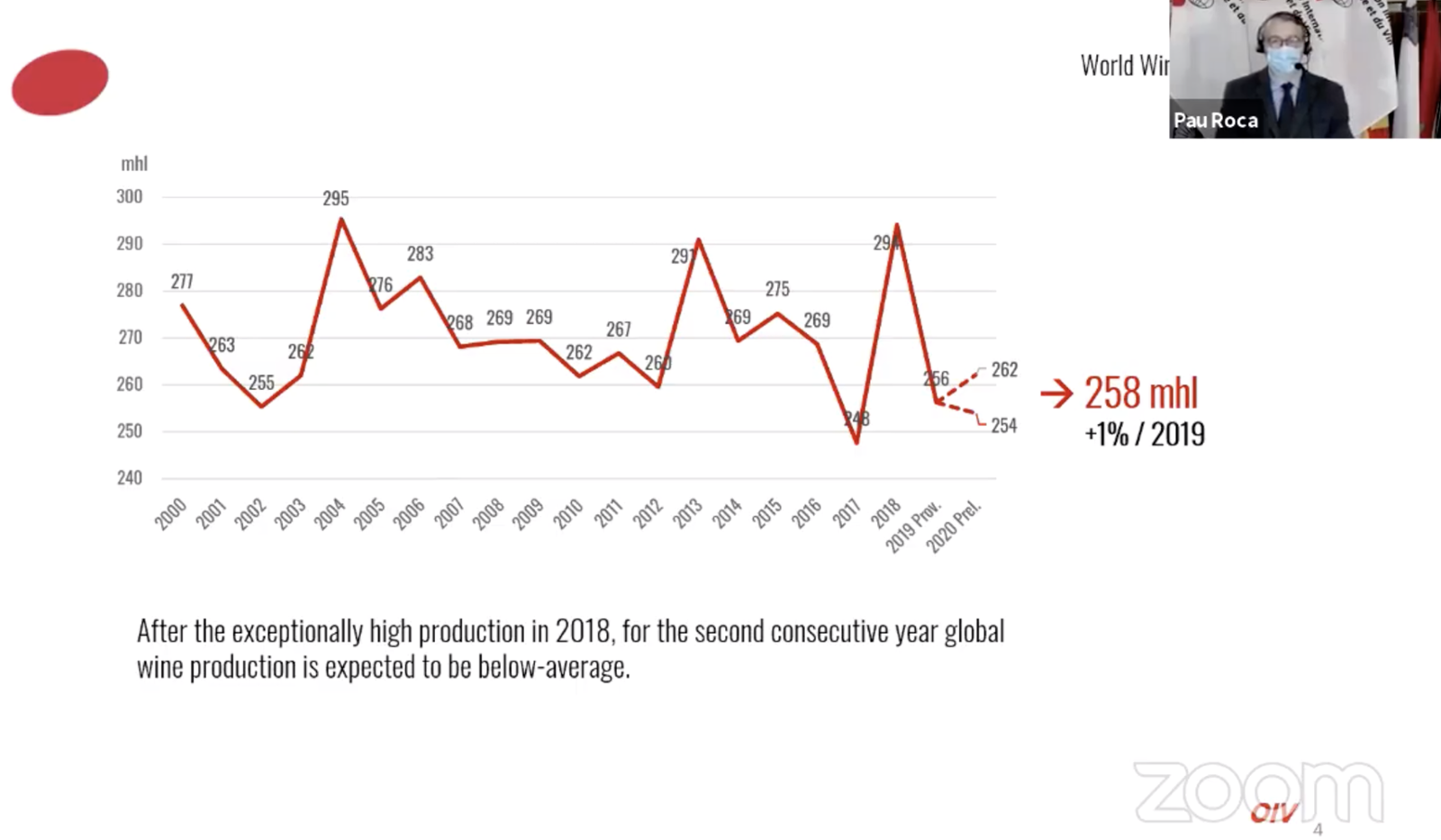 After bumper 2018 and 2019 crops, 2020 production volume is projected to be below the five-year average, based on preliminary estimates.
"This is not necessarily bad news for the sector given the current context, where wine stocks are still relatively high, and geopolitical tensions, climate change and COVID-19 pandemic are generating a high degree of volatility and uncertainty in the global wine markets," he said.
In Europe, favorable weather that produced relatively high yields was offset by measures limiting production to fixed volumes to counter the negative impacts of the Covid-19 crisis on the wine market.
Italy, France and Spain together account for 49 percent of the world production and 81 percent of EU production in 2020. All three countries show preliminary levels of production for 2020 that are lower, or just below the five-year averages.
Germany, however, saw 8 percent production growth while Portugal was basically flat.
In the USA, the preliminary estimate is that production will be up one percent in 2020, based on a US Department of Agriculture forecast Roca said may be revised downward when more information on the effects of the wildfires in Napa and Sonoma becomes available.
South America registered sharp production decreases; Argentina's 2020, wine production dropped 17 percent; Chile was down 13 percent compared to 2019.
Australia also saw strong decline in wine production volume in 2020, down 11 percent compared to the previous year, and down 16 percent compared to the five year average.
New Zealand wine production showed the opposite trend with an increase of 11 percent.
Watch the OIV press conference replay.