Think Locally and Five Other Takeaways from the Wine Intelligence Consumer Trends in the Covid-19 Era Report
Wine Intelligence recently completed a consumer trends in the Covid-19 era study with a 93-page report based on August 2020 data tracked against pre Covid-19 consumer behavior data in seven countries, the U.S. included.
1) Wine is Doing Okay
The big takeaway is that while overall wine sales volume is pretty flat in the U.S. with steep losses in restaurants and big gains at major retailers, wine consumption frequency is up 19 percent in the U.S. in this dataset.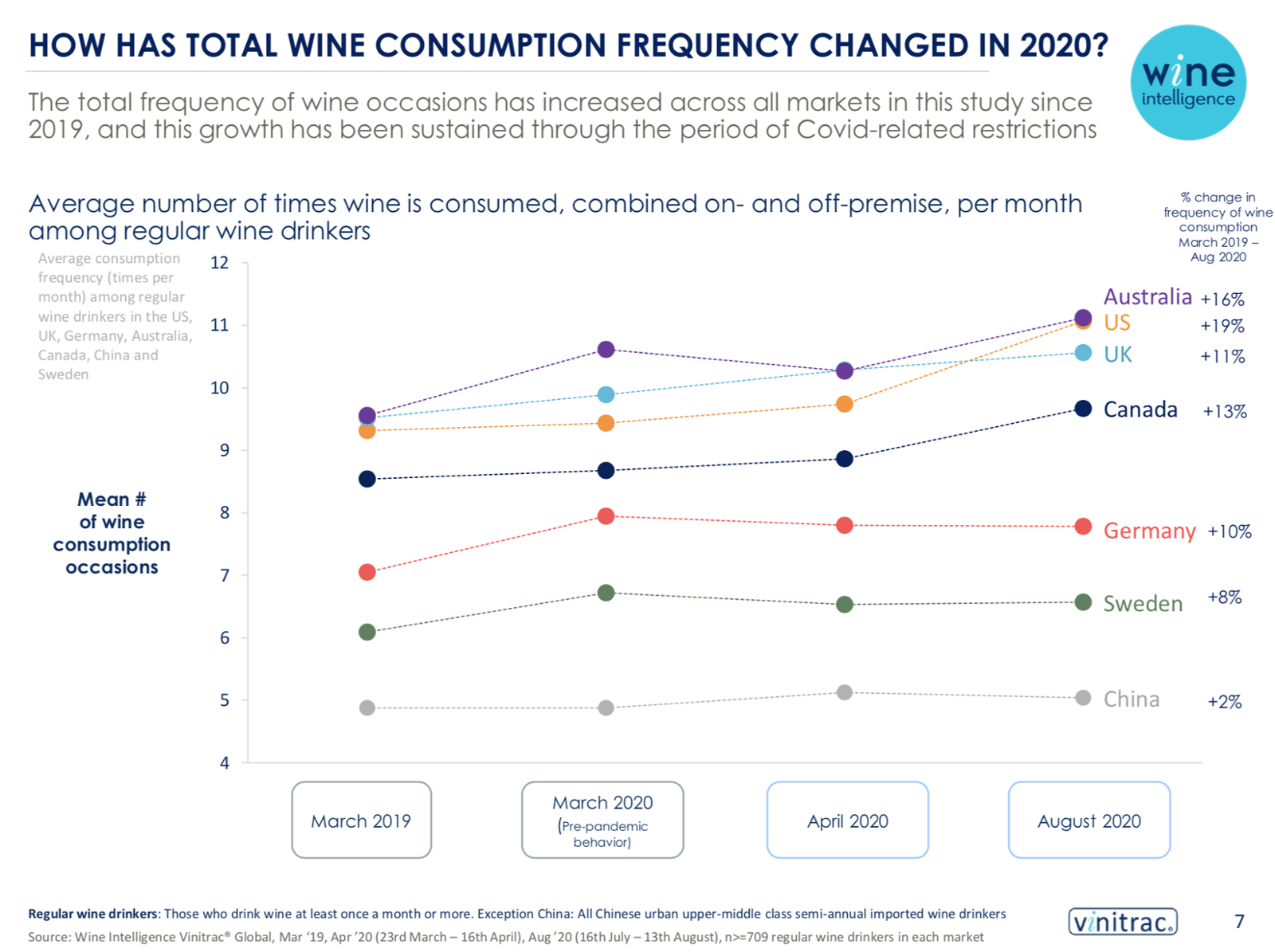 Again, this is frequency of wine drinking, not total volume sold. Wine Intelligence is expecting U.S. sales to end the year anywhere from down three percent to up two percent, depending on what happens with Covid-19 restrictions, taxes, and everything else that occurs between now and the end of the year.
"The bottom hasn't dropped out," Wine Intelligence CEO Lulie Halstead told Wine Business Monthly. "What has happened is a huge shift in terms of where people are buying and what they're choosing."
2) Big Brands Winning Because They're Safe
It seems obvious and was immediately apparent when Covid-19 related shelter-in-place orders sent consumers pantry loading at the start of the lockdowns.
Some tired old brands – the kind of brands Constellation is selling to E&J Gallo because they were stale pre-Covid-19, are just the kind of brands consumers are now gravitating to.
Halstead said that when Covid-19 emerged, people suddenly started buying bottled water and toilet paper because of the human behavioral instinct to protect, an animal instinct that emerges when we're under stress. Wine may not be a necessity for most – even if it is for some of us - but this behavior translates to wine in the sense that "we revert to the known and trusted," Halstead said. "That's why the old brands or the big brands are winning."
"It's a really interesting phenomena because it goes beyond just our category. It's a human behavior, which is in times of crisis and the stress, economic or personal, our natural instinct as human beings is to revert to what's safe."
Another reason big brands are winning is that the way we've been shopping for the last eight months changed, globally. Going into a store now isn't so much about a browsing experience. People don't want to spend time in the store.
"We've got data that clearly shows and demonstrates that consumers are relying less on in-store recommendations," Halstead said. "It's grab and go. Therefore, you look for something more familiar with when you're scanning the shelf."
And, of course, the big brands have a strategic advantage with distribution and shelf placements.
3) Domestic Wine Wins, Think Local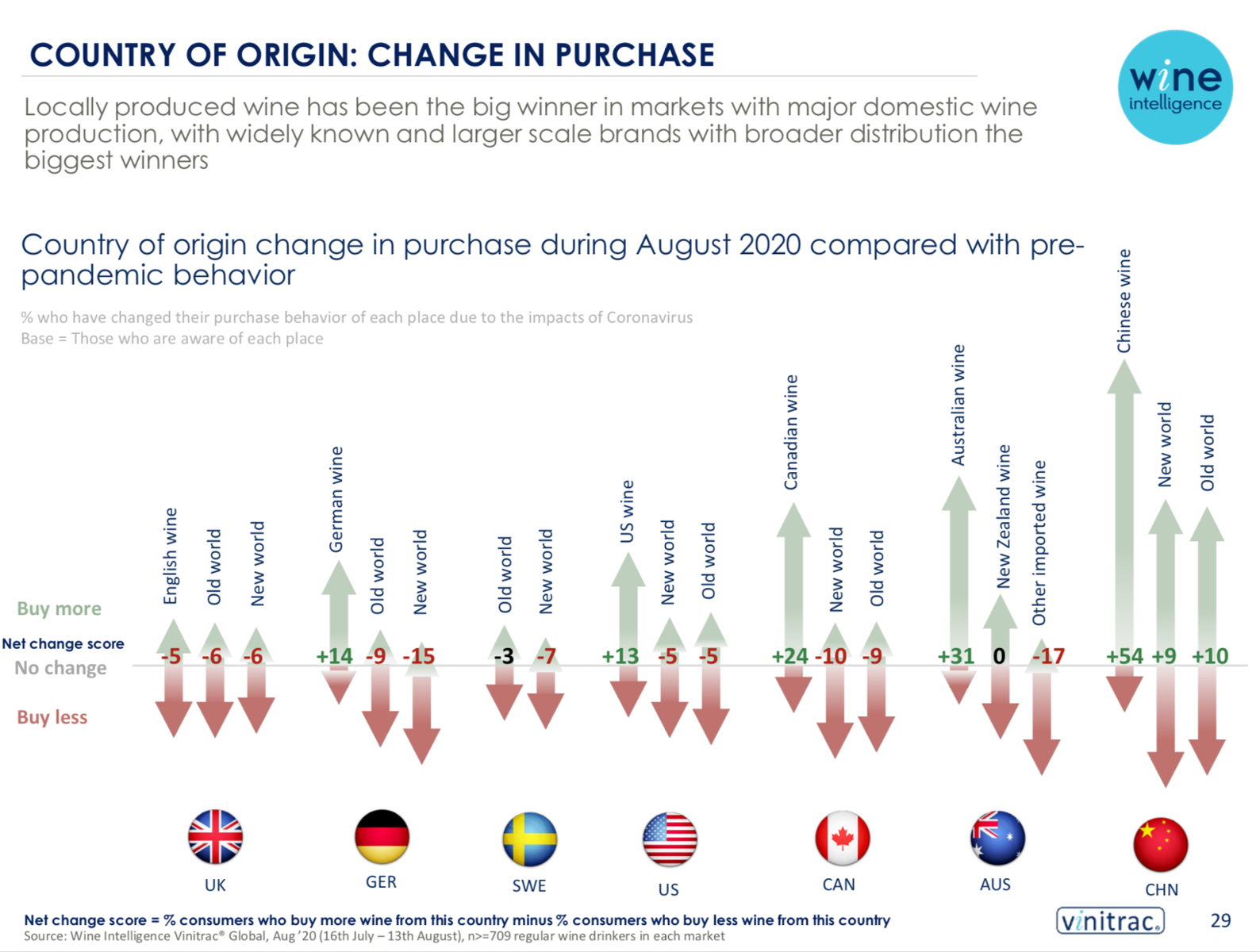 In the chart above, the green is consumers buying more than they did pre pandemic; the red is consumers buying less; and the number across is a "net change score." In the US, there's a net change score of plus-13, which means consumers are purchasing more domestic wine than they did pre-Covid-19. Look at the scores for New and Old World: the chart indicates it's happening everywhere.
The chart indicates wine drinking occasions are down in Sweden and Germany and little changed in China. Those countries had different Covid-19 shut-down strategies, with Sweden not really shutting down and its restaurants remaining open so that people stayed with their patterns of behavior.
In markets where the on premise was reduced more, it prompted people to drink wine more frequently at home. Part of that entails consumers switching from other alcoholic beverages they would have consumed if out in restaurants.
What does this mean for an average winery? With distributors not so interested in new brands, what's a small or medium sized winery to do?
"The starting point, which sounds a bit crass and easy to say, is to focus on your most local consumers first - literally people who live in a one to five mile or 10 mile radius," Halstead said.
4) Doubling Down on Communication is Good
Halstead's main advice is to invest more in communications now, not less. The natural instinct, of course, is to cut marketing budgets when it's difficult to find the money.
"We're seeing businesses that are really pushing through successfully - those that are investing in that communication, even if it's at a very basic level." Halstead said. She said consumers are paying attention to communications and are willing to listen to messaging and stories at this point. Big brands such as yellowtail and Casillero del Diablo significantly increased their marketing spend in the last six months.
5) Remember Non-Food Occasions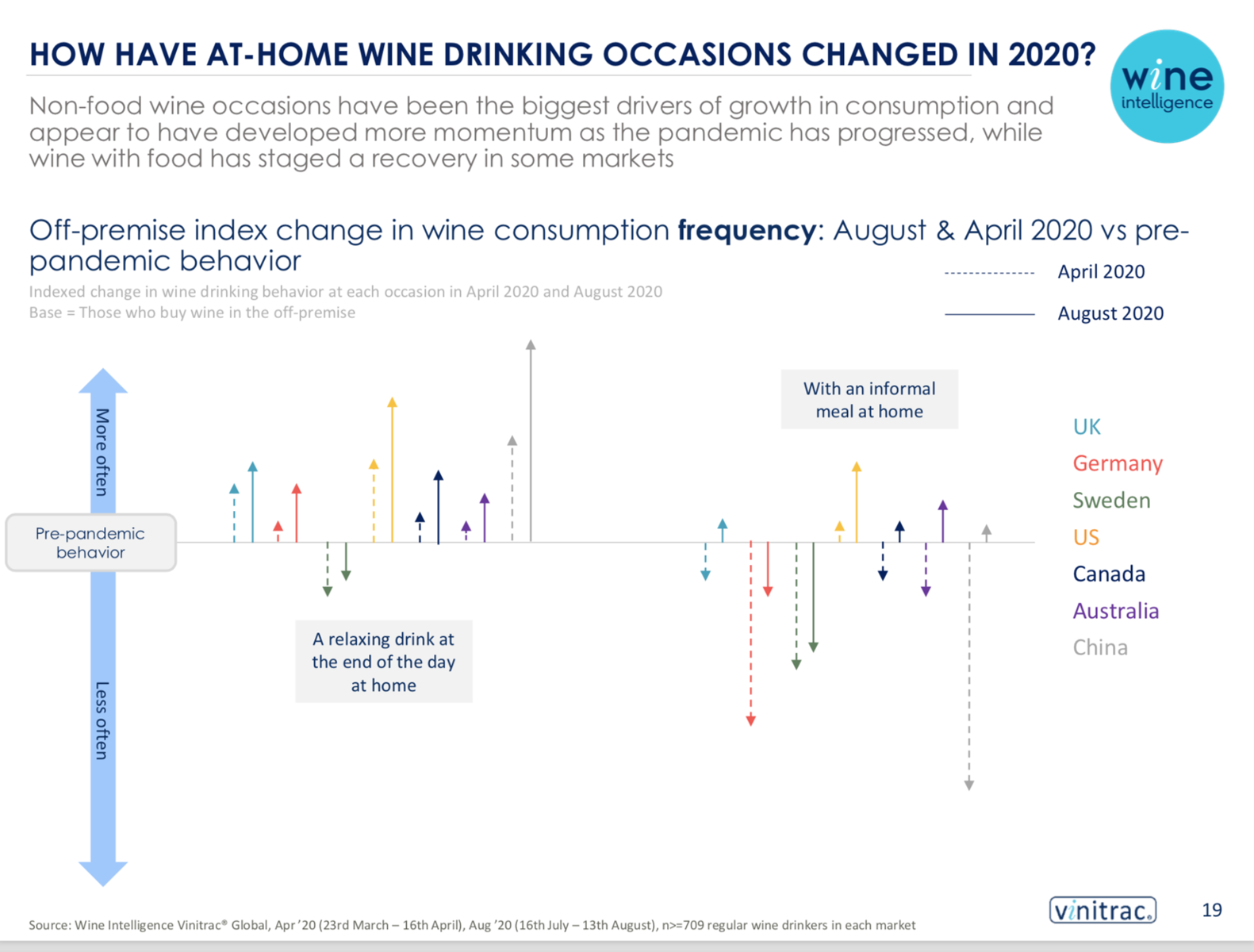 Historically wine has been consumed more frequently with meals at home, but stay at home orders have led to more non-food, wine occasions. Other alcoholic beverages are flat or declining in this in the data set in this report but wine is taking some share as an aperitif.
Halstead suggested wineries think about what in their portfolio might be better for non-food occasions, including lighter styles of red and white wines, and rose, now a category of its own.
She also said consumers are now more willing to open bottles even when not immediately finishing them, because they're not going anywhere. "It's really changed that psychology of the barrier of opening a bottle," she said.
6) 2021 will be a tough year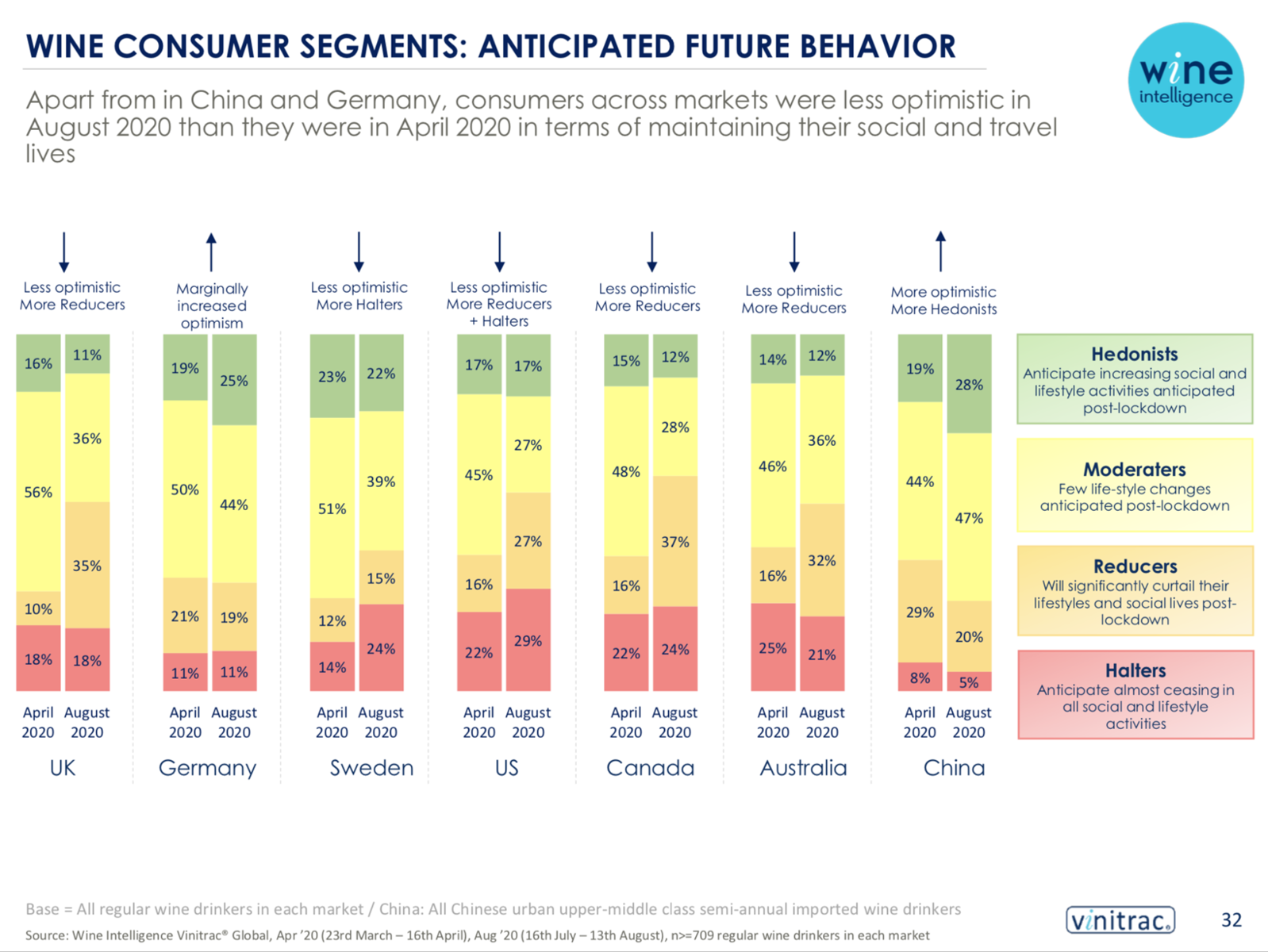 A segmentation analysis asking consumers about their future intentions showed they're not as optimistic now as they were when Covid-19 first emerged. They're saying they're going to go out less, travel less, and socialize in small groups.
"We've got more pessimism now. It's a warning sign for our category, which says, 'you know, 2021 is going to be a tough year, even though people are still drinking wine and they haven't stopped and it doesn't look like they're going to stop,'" Halstead said.
Which links back to the earlier point about consumers buying locally. Digital tastings have opened up new far-off opportunities but as people emerge from this and start to go out into the big wide world, they're going to start by doing it locally.