USDA Providing Economic Relief for Grape Growers
Adds Winegrapes to Coronavirus Food Assistance Program 2 
It's a big win for wine grape growers and while an announcement went out about two weeks ago, it may have gone unnoticed by some.
Here's the deal:
The USDA announced an additional $14 billion for agricultural producers who face market disruptions because of Covid-19, and wine-grape growers are eligible to apply for one-time payments based on 2019 sales.
These are direct payments, not loans, and are easy to apply for.
Payments are tiered according to how much a farmer earned in 2019 (see table). For most wine grape growers, payments will probably be in the range of nine to nine-and-a-half percent of 2019 sales.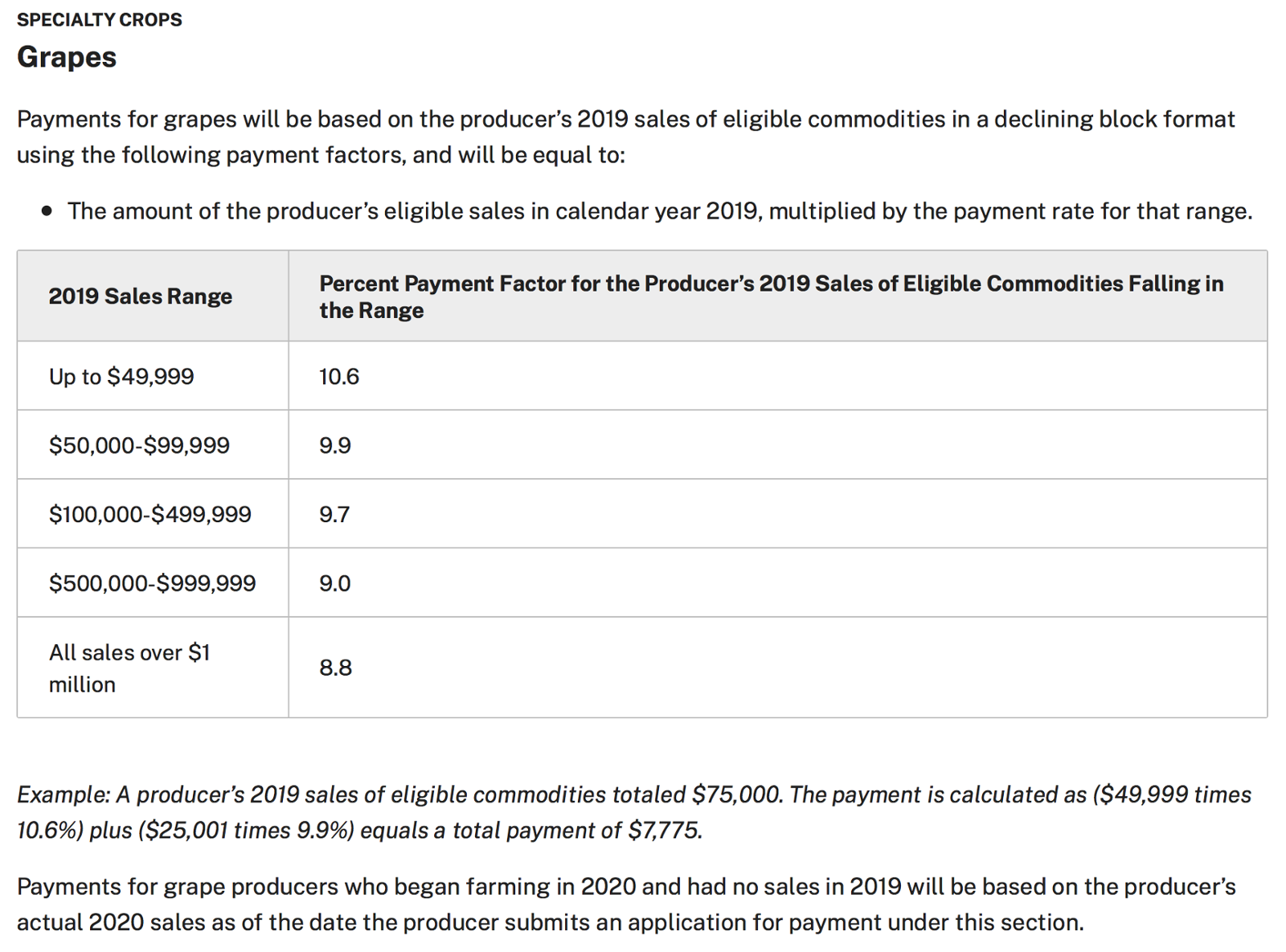 "I'm not sure if everyone knows about it yet," Tom Slater with Slater Farms in Clarksburg said of the program. "It's fairly new."
Growers can apply for CFAP 2 at USDA's Farm Service Agency (FSA) county offices or online. The program provides financial assistance that "gives producers the ability to absorb increased marketing costs" associated with the COVID-19 pandemic. Producers will be compensated for ongoing market disruptions and assisted with associated marketing costs.
"You don't have to provide any documentation to show that you were affected by COVID, Navdeep Dhillon, USDA's Farm Program Chief based in Davis told WBM. "Agencies already made that determination. All you're doing is certifying how much money you received in the 2019 calendar year. Then we are going to issue a payment."
Slater said he applied for CFAP 2 assistance and the process seems very straightforward. He said applying for these programs can sometimes be discouraging because it's a lot of paperwork, but not in this case.
"It's a rather simple process as these programs go," Slater told WBM. "They're only requiring signatures and a couple of documents."
"You don't have to submit receipts unless you're randomly selected for a spot check," he said. "All you need to do is tell them what you received in 2019."
Growers have until December 11 to apply, according to a USDA CFAP 2 factsheet.
"I'm encouraging people to do it sooner rather than later," Slater said. "I see no strings attached."
CAWG issued a statement regarding the program.
"CFAP 2 will provide growers with much-needed financial assistance to help them with the significant and continuing market disruptions caused by the COVID-19 pandemic."
"CFAP assistance has been an important goal for CAWG for the past five months. Since May, CAWG and other agricultural organizations have urged USDA to include winegrapes on the list of specialty crops eligible for CFAP funding. In addition, Rep. Mike Thompson's (D-Napa) leadership and the support of the California Congressional delegation proved invaluable to this effort. We are grateful for Rep. Thompson's ongoing advocacy for the winegrape industry."