Hess CEO talks Smoke, Pandemic Strategy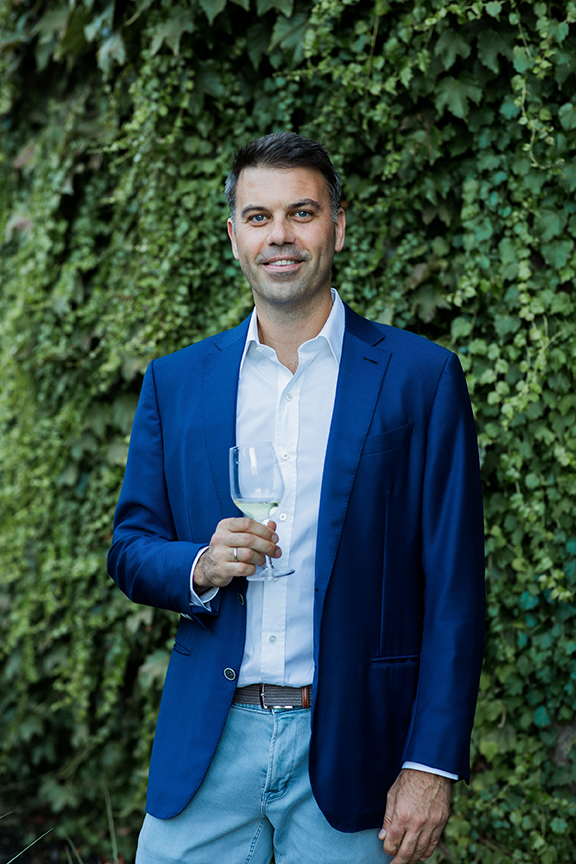 In early September, Hess Collection proprietor and CEO Timothy Persson spoke with the Wine Analytics Report about concerns regarding wildfire smoke and navigating the disruptions wrought by the COVID-19 pandemic.
Persson was working as a corporate attorney in London when he met his future wife, Sabrina, who is the stepdaughter of Hess Collection Winery founder Donald Hess. In 2010, Donald Hess invited Persson to join the family firm and two years later Tim and Sabrina moved to Napa, Calif., to oversee the family's U.S. wineries. Persson was raised in southern Africa and graduated from Trinity College in Dublin. Having grown up in a relatively rural environment, Persson said he was attracted to that element of the wine industry and that it blends farming with business administration, sales and brand development.
Persson took over responsibility for the U.S. business in 2012. The company owns 850 acres of vineyards in Napa County and produces about 120,000 cases of estate wine and about 550,000 cases sourced from other regions in the state. In 2018, construction finished on a new luxury production wing of the winery, which the Perssons named the Lions Head Cellar. Construction began in 2014 following the Napa earthquake, which damaged the original cellar space.
Q: How concerned are you regarding the wildfire smoke?
Persson: We don't have a clear picture yet, but it's a broad point of concern affecting almost every appellation in California in some shape or form. We're in the process of doing smoke-taint tests across virtually all of our sources. It's very difficult to get reliable test results in time – ambient smoke and new fires are a continuing factor in various places, and testing times are getting longer because laboratories are inundated with samples. The general practice that we're seeing emerge is to agree to a delayed acceptance of fruit with growers, allowing for harvest to go ahead, but also giving time to get an accurate picture of smoke taint. The good news is that results that we've received to date from Napa and Lake counties have been far lower than expected. There are some areas in Sonoma and Mendocino that have registered higher readings, but on the whole, there seems to be less smoke impact than we'd initially feared.
Q: Have you had to make any changes in your supply strategy?
Persson: We need to see where we land with the '20 vintage before we make any significant changes to our supply strategy, but if you look at the bulk market, it's a good indicator of the effect the fires have had on the market. It has gone through a pretty dramatic rebound in the last month or so. If you roll back three months or so, the prices for vintage '18 and vintage '19 bulk wine were generally quite depressed across the board as a result of some larger vintages and a gradual accumulation of supply over the last few years, exacerbated by pandemic-related slowdowns. Those prices have corrected quite quickly in the last month, and it will be interesting to see if that position sustains itself once everyone has an accurate reading on vintage '20. We had been planning to sell some odds and ends of vintage '18 and vintage '19 that weren't going to make our blends. About three months ago, we were anticipating reasonable losses on any such sales, and now it looks like we'll be able to cover costs. It's bizarre how quickly it's swung around, and now we're quite thankful to have had generous vintages '18 and '19.
Q: Were you able to offset losses from the tasting room with increased e-commerce?
Persson: We've had good growth rates, but it's obviously off such a small base. But it has been really effective in offsetting a lot of the lost revenue in the retail room. Our bigger concern is really around maintaining and nurturing our club. Typically, club membership would come from visitation to the winery. And as that visitation is significantly diminished through restrictions, the flow of people to the winery and by extension the flow of people joining our club has diminished. Because visits are more intimate in the current environment, our club conversion rates of visitors joining the club have increased, but not to the extent that it would offset the reduced traffic. That is probably my bigger concern. Even though you can offset revenue streams, the nature of the revenue stream from a club member is much more interesting to us in terms of being able to maintain a longer-term conversation. You ideally create ambassadors who help carry your story. And so in that sense, a dollar from e-commerce is not always equal to a dollar from the club. I'm interested to see whether the pandemic has longer-term impacts on the way in which people think about clubs and how they remain relevant to people. Especially as we're moving into an era where people are getting trained into subscription models and the like. I'm interested to see what those impacts will be.
We're all kind of flying without radar right now. As much as you want to be proactive about things, the nature of this current situation is ultimately reactive. The real challenge is to make sure that your feedback cycle is as short as possible so that you can react as quickly as possible to emerging trends.
Q: How has the pandemic affected brand development or how you manage your overall portfolio?
Persson: I think the interesting thing that the pandemic has done for us it to reinforce the sales rates of established items and, conversely, it's made it harder for us with items that we were establishing. Either because we would've traditionally established them in the on-premise arena, or simply because the awareness of that item on the shelf is not as developed with a consumer. It's an interesting thing in the sense that where we were either incubating items or planning to introduce new items, the effect of the pandemic is probably to slow down the progression or the development cycle of those items, or it's causing us to offset or delay the introduction of those items just because it's not a healthy enough environment in which to do so. And we're also learning, like a lot of other people, about which changes in consumer behaviors are likely to be more temporary in nature and which are likely to stick longer term.