Paso Robles Subbasin Stands to Lose Up to $458 Million Annually if Water Use is Reduced, Says Economic Impact Study
CalPoly economic impact study details a "worst case scenario" in which wineries could lose more than $215 million annually if 23 percent water reductions are required and only 5 percent of production loss can be substituted, resulting in an estimated 967 jobs lost
A new study released by Cal Poly San Luis Obispo is projecting the potential economic impact of water reductions in the Paso Robles region resulting from the Sustainable Groundwater Management Act.
The study, The Economic Impact on the Local Economy of Irrigated Agriculture in the Paso Robles Area and Potential Impacts of the Sustainable Groundwater Management Act, performed by Lynn Hamilton, Ph.D. and Michael McCollough, Ph.D. of CalPoly, estimates that reductions to irrigated agriculture could potentially cost the local economy hundreds of millions of dollars and the loss of more than 1,000 jobs.
"The analysis provided here indicates that between 12 percent to 32 percent of the total economic value and jobs could be lost in the Paso Subbasin wine industry, and between 10 percent to 26 percent of all SLO County winery economic output and jobs," the report states. The analysis further shows that between 21 percent and 53 percent of the total value of SLO County wine industry output could be lost in the event of water cutbacks.
"What we tried to do is put the dollars and cents behind what these cutbacks will mean and that might motivate policy makers to think about it," said study author Dr. Lynn Hamilton. "It goes so far beyond just what happens in agriculture because the Paso economy is so heavily tied to the wine industry."
The Implications of the SGMA
In 2014, the state of California passed the Sustainable Groundwater Management Act (SGMA), a sweeping piece of legislation that set rules for groundwater retrieval and replenishment for the first time in state history. It required water agencies and local governing bodies to create plans to stop the overdraft of groundwater by 2020 and bring levels of pumping and recharge into balance. For those basins deemed "critically over-drafted," SGMA mandated they come into sustainability by 2040. Other high and medium priority basins need to meet a 2042 deadline.
As one of those critically over-drafted basins, the Paso Robles Subbasin was one of the first basins to act and the Paso Robles Subbasin Groundwater Sustainability Plan (GSP) was submitted to the state's Department of Water Resources. In that report, hydrologists said that the basin will be more than 14,000 acre-feet in overdraft annually, if water use and weather patterns continue.
The plan called for the region to replenish the basin through flat reductions in water use by that 2040 deadline. It did not, however, discuss how to reach that goal or prescribe what the water cutbacks would look like or how they would be administered, according to Hamilton. She added that the law does not require an economic impact study either, but that the members of the local water district commissioned a study to better understand how it would affect the region.
"This is a really important piece of work," said Randy Heinzen, president and owner of Vineyard Professional Services. "The economic considerations of potential pumping restrictions really should have been part and parcel to any sort of GSP action."
Given that, Hamilton and McCullough were tasked with devising a model that would examine the economic implications of various water cutback scenarios, using the IMPLAN method of economic modeling, accounting for variables specific to the region and to the wine industry. IMPLAN, as described in the report, is an integrated economic modeling software and data set that provides links between economic sectors.
The Results – Overall Economy
Using the hydrologists' reports and discussions with members of the local ag industry and water district as a baseline, Hamilton and McCullough used 10 percent, 17 percent and 23 percent as the water cutback scenarios to analyze. Though wine is one of the predominant agricultural industries, the two also included other crops, and even livestock, in the report, as viticulture is not the only one to be affected by reductions.
Because the GSP did not delineate how the cutbacks would be administered, Hamilton and McCullough further broke it down and researched three potential ways in which the reductions could be implemented: for low-value irrigated crops only (alfalfa and unclassified crops); percentage reduction evenly spread across all irrigated crops; high-value crops only (winegrapes and other fruit).
To determine the impact, they measured the direct effects (impacts on output of the industry in question), the indirect effects (the industries' purchase of goods and services as inputs, such as irrigation supplies) and the induced effects (labor income, jobs, value added by the industry, banking, restaurants, etc.).
What they found was that a baseline percentage cut across all crops produced the greatest economic ripple no matter how much water was being withheld.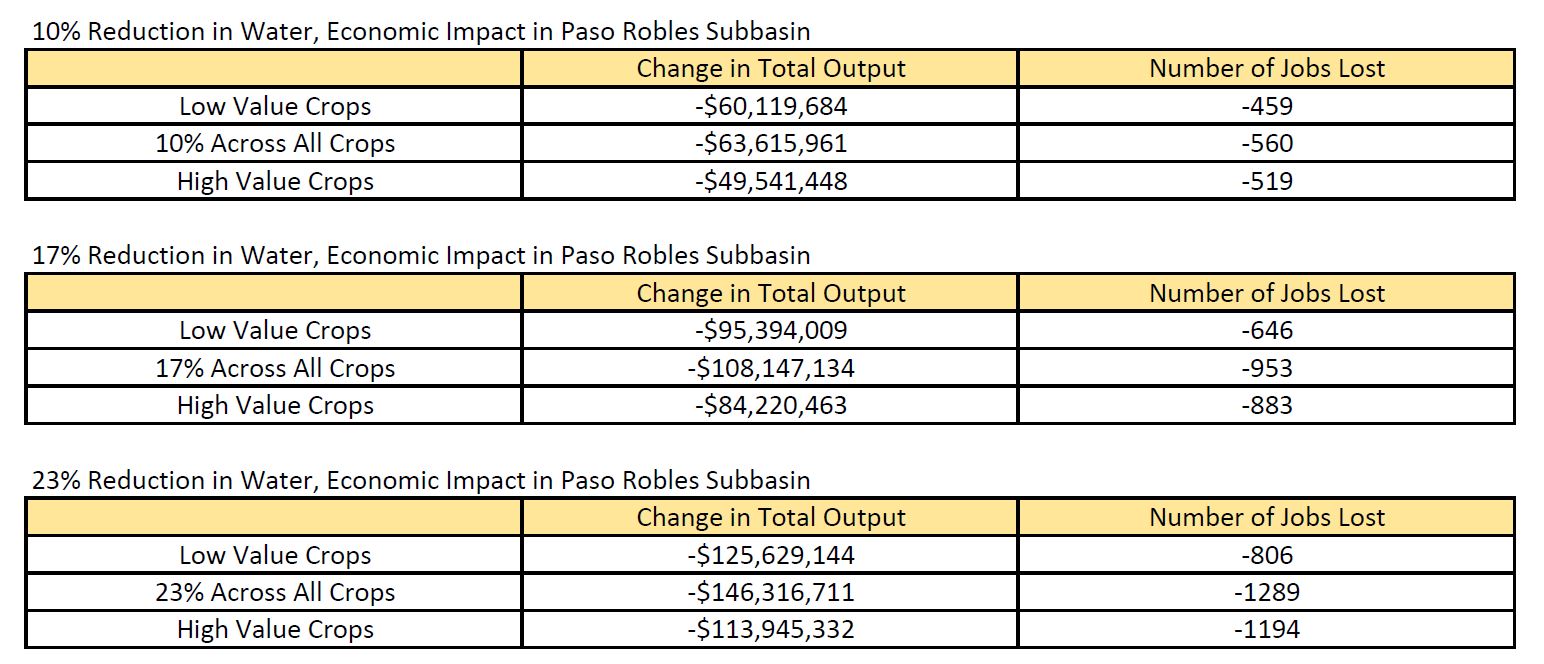 "Given the cumulative effects of this current economic crisis, the pending Diablo plant closure, which is going to have a $1 billion hit to our local industry and just the difficulties and hurdles of managing a business here in California for our farms, wineries, farm operators we hopefully will see wise decisions made as to how to bring this basin into balance," Heinzen said.
How It Affects Wineries
Hamilton and McCullough ran the models in a second round, this time focused specifically on the implications of water cuts to the high-value winegrape crop and the ancillary industries it supports, such as tourism. In this model, the two detailed the substitution of non-local grapes—specifically, if grape production were to decrease based on the loss of water, and wineries had to substitute non-local grapes up to the 15 percent allowed under AVA labelling rules, how would that affect the local economy. The chart below details the economic decline to the entirety of the Paso Robles Subbasin economy and shows that the region could stand to lose up to $458 million annually.

Because winegrapes play such a large part in the local economy, between agriculture, tourism and other support industries, the two also ran the model specific to losses to Paso Robles Subbasin wineries. In this scenario, job losses could run anywhere from 376 to 967 based on how many grapes could be substituted and how big water reduction mandates are.
In these scenarios, the loss to Paso Robles AVA wineries would make up about 47 percent of total economic loss in the Paso Robles Subbasin.

"We wrote this way before the COVID impacts came about, we finished this in early March, that was before California shut down even. And now we've had, unfortunately, a first-class seat as to what happens when businesses close down," said Hamilton. "It's completely non-water related—but it's devastating. And we're getting a little glimpse of that and I don't think anybody wants to have another reason to go in that direction."
Heinzen added: "Given the cumulative effects of this current economic crisis, the pending Diablo plant closure, which is going to have a $1 billion hit to our local industry, and just the difficulties and hurdles of managing a business here in California for our farms, wineries, farm operators we hopefully will see wise decisions made as to how to bring this basin into balance."
Shaping Future Water Discussions
While the GSP has been submitted, it is up for review every 5 years and can be adjusted so long as sustainability is reached by the 2040 deadline. Hamilton hopes that the results of this study will help the decision and policy makers as they determine the way forward under SGMA—and not just in the Paso Robles Subbasin.
"I haven't read a ton of these sustainability plans, but my sense is that they did what a lot of my students do. You do what you need to do to get it turned in on time and there may be some things that are better developed," she said. "I think that incentive pieces—how we actually get here, how we get to these cutbacks in a reasonable way without putting people completely out of business—seem to be missing and not just in this particular GSP but in many of them."
While the study discussed focuses solely on the effects of water reductions, other options to supply water to the region exist.
"Without a doubt SGMA has taught us that water will have to be treated as one of our scarce resources and that will drive technology and investment to maximize its efficient use. However, although SGMA may have deemed groundwater as a scarce resource in our basin, it is by no means our only potential water supply," said Randy Diffenbaugh, owner of Diffenbaugh Farms. He pointed to Lake Nacimiento, Santa Margarita and unsubscribed state water project rights the county has entitlement to, resources that were, in the past, considered too expensive.
"Now we see that the opportunity cost of not exploring other options is potentially $450 million and 3,300 lost jobs. That is a long way from inexpensive."
Going forward, all agree that the results of this study can be used to find the best policy for the region. "The question that I find really interesting is what additional policies are needed to ensure both sustainable water use and economic viability? I think that's the critical issue here that still remains to be answered. What policy solutions can bring those together?" Hamilton said.
The full study is available for public viewing on the CalPoly Digital Commons. The study was sponsored by Estrella- El Pomar Creston (EPC) Water District, Farm Credit West, Paso Robles Wine Country Alliance, San Luis Obispo County Farm Bureau, Shandon-San Juan (SSJ) Water District and Travel Paso. Additionally, the authors acknowledge the cooperation of Martin Settevendemie, Agricultural Commissioner of San Luis Obispo County.