Millennial Wine Buyers Increasing Consumption during Lock-down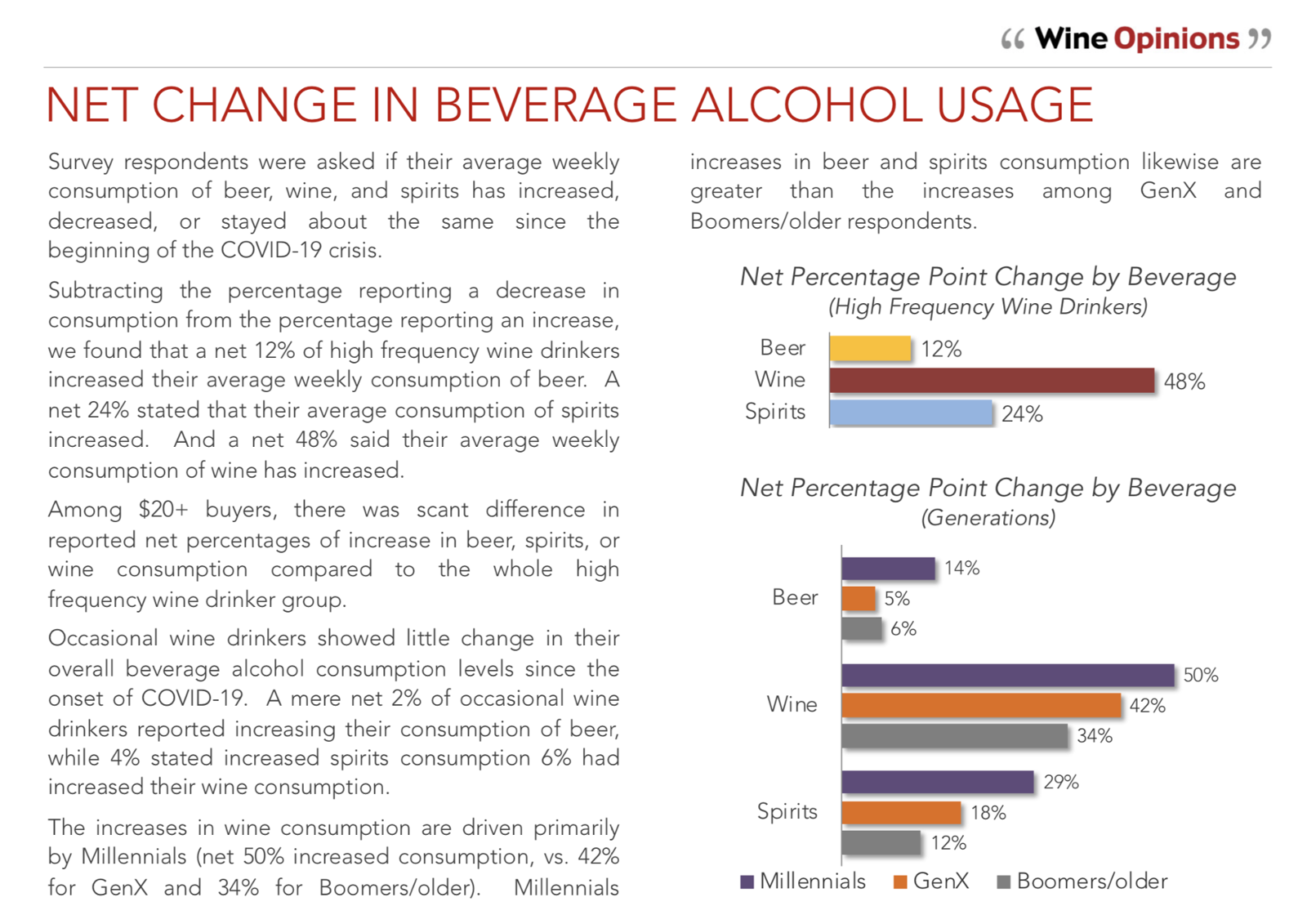 In a new survey by Wine Opinions, 48 percent of high frequency and $20+ wine buyers reported increasing their average weekly consumption of wine.
The survey indicated wines from California benefited most amid shelter in place, with 35 percent of high frequency wine drinkers saying they increased purchases of California wine (followed by Italian and French wine increases).
High frequency wine drinkers and $20+ wine buyers by themselves are a fraction (less than 20%) of all U.S. wine drinkers, according to Wine Opinions founder and CEO John Gillespie, but are driving the market, making the lion's share of purchases across all price segments. Gillespie said they represent 35 percent of the 90 million people in the U.S. who are quote "wine drinkers."
The survey indicated high frequency and $20 + wine consumers are doing a lot of things that all U.S. wine drinkers in the broader market are doing, which isn't surprising. For instance, they're trading up in price for the same reason everyone else is: they're not buying wine by the glass or by the bottle in restaurants.
However, it's millennials that are driving the frequency side of the equation, according to the survey results.
It isn't surprising that millennials are increasing their wine consumption faster than boomers are but the survey indicated millennials are increasing their wine consumption by a net 50 percent, a big number.
"What I'm seeing in this Covid trend is it's millennials that are really upping consumption, discovering wine, and having the experience of having wine as an everyday thing at home," Gillespie told Wine Business Monthly. "I'm looking at that saying, 'well, maybe this is the great awakening that we've all hoped would happen."
"It seems to me it feels like when you're looking at this data, that this is perhaps a transformative moment for this group."
"Six months and a year from now follow-up surveys of these same consumer segments will absolutely positively be the proof that's in the pudding," Gillespie said.
In the survey, more than half of high frequency wine drinkers reported having "Zoom meetings" or other forms of online video chats with friends while drinking wine in the April – June period.
The survey also indicated that 78 percent of high frequency wine drinkers had returned to making in-store purchases at the retail stores where they previously shopped by late June.
The results regarding Millenials are consistent with recent comments by industry analyst John Morararco who said "Millennials will be one of the success stories" the industry will be talking about during the coming economic recovery.
It's also directionally consistent with information recently released by Wine.com. Wine.com chief executive Mike Osbone told Wine Business Monthly that 44.4 percent of customers making a first initial purchase at Wine.com since March 15 2020 are Millenials or younger. He said Millenials represent roughly 30 percent of wine.com's revenue but that the more interesting thing is that the average price of each bottle purchased is higher with Millenials or younger customers than with any other generation. He said the average order value via Wine.com is lower with younger customers because they buy fewer bottles at a time than boomers do, but that they generally buy more expensive wine and purchase wine more often.