COVID Bringing a Painful Evolution to the Wine Business
The experts see a recovery of the U.S. wine market and overall economy on the horizon but concede that many wineries may not be able to get there.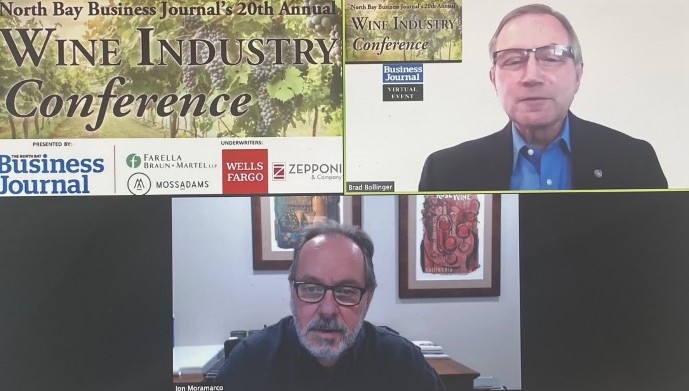 Five months into the global COVID-19 pandemic, the wine industry continues to be held back by losses from the on-premise sector and tasting rooms. The current challenges represent a period of "accelerated evolution" for the industry that will trigger a natural selection of wineries and wine brands.
"We've had a great run," said Jon Moramarco who noted the past three decades have seen American wine go premium while enjoying 3.4% in total market value growth per year largely at the expense of beer. COVID-19 presents a unique challenge to future growth but one that is not insurmountable for companies making the necessary adaptations. "The challenge will be smaller wineries where they have a lot of exposure to on-premise and direct to consumer," he said. "They're fighting to recover their business."
Total consumer spending on wine in calendar 2020 will decline 14.4% to $64.3 billion, Moramarco predicted, with total winery revenues declining 4.4% and margins falling by 8.6% in the same period. By volume, the total U.S. market should be able to see 1% growth to 410 million 9L cases largely because of retail sales.
Moramarco currently runs his own market research and consultancy firm bw166, https://www.bw166.com/ in addition to being partner and editor of the Gomberg Fredrikson & Associates https://www.gfawine.com/ reports. He was the keynote speaker of North Bay Business Journal's 20th annual Wine Industry Conference held virtually on July 29.
Moramarco said he worked through the terrorist attacks of Sept. 11, 2001, the Great Recession and was even running a wine import company in New York when that city was struck by Hurricane Sandy.
None of those disasters or economic downturns are similar to the pandemic, which has killed more than 150,000 people while bringing economic devastation with unprecedented uncertainly. "It's much more challenging, companies have needed to react quickly, and some have done better than others."
If a vaccine is ready by the end of the year and available for widespread distribution by early 2021, the wine business can plan on being part of a wider economic recovery. "The market will not move to a new normal until we have an effective treatment or broadly available vaccine," he said.
Retail sales have been strong, but Moramarco said the entire on-premise market is likely to be down 60% by volume to 27.5 million 9L cases this year compared to 2019. With thousands of restaurants expected to close for good and consumers more inclined to stay at home, the entire on-premise market could shrink from 16% of all wine sales by volume to 12%.
DTC shipments by wineries remain robust, but those gains are being undermined by continued losses from wineries not being able to serve as many tasting room customers as possible. Moramarco said he doesn't expect tasting rooms to be at full capacity until next year and total winery DTC in 2020 will likely be 30% less by value and 37% less by volume than in the previous year.
For smaller wineries that do make it through the challenges of the coming months, Moramarco said they need to continue expand e-commerce while maintaining strong relationships with the consumers who stuck with them.
Economic outlook
Sarah House, a senior economist at Wells Fargo joined the Zoom-call conference from the bank's offices in Charlotte, N.C., and also expressed guarded optimism for a coming economic recovery. She stressed, however, that such a recovery would take longer than expected and not feel like a recovery for many Americans.
House's estimates on the timeline and nature of a recovery were also predicated on the United States being able to flatten and decrease the number of new infections while also having a widely available vaccine by the start of 2021.
If that can be accomplished, total economic output may return to normal by 2022. "In many ways we had nowhere else to go but up," she said after noting total domestic output fell by 12% in the first two quarters of 2020 compared to just 4% in the Great Recession. That previous economic decline also took place over a much longer period of time. "Bottom line here is the recession will be quick, but the recovery will be longer."
House also said the pandemic has created an economic downturn unlike anything else seen in recent history. Triggered by a "wholly external shock" the economy has since responded in ways not seen in previous downturns.
Durable goods spending is up by 0.3% and House noted this is indicative in the current split in the economy between more affluent consumers who have retained their jobs and have been able to spend on RVs and other high-ticket items while riding out the pandemic at home.
Many of those in the service industry and other parts of the economy hit hardest by the pandemic were already living paycheck to paycheck and so are even more dependent on the federal unemployment support that is coming to an end soon. House said she expects some form of support to continue but perhaps at levels lower than seen in previous months.
She said she also expects interest rates to remain low for the foreseeable future as the fed appears to be less concerned about inflation than it is about the long-term effects of continued, widespread unemployment.