In Oregon, King Sees a Changed Industry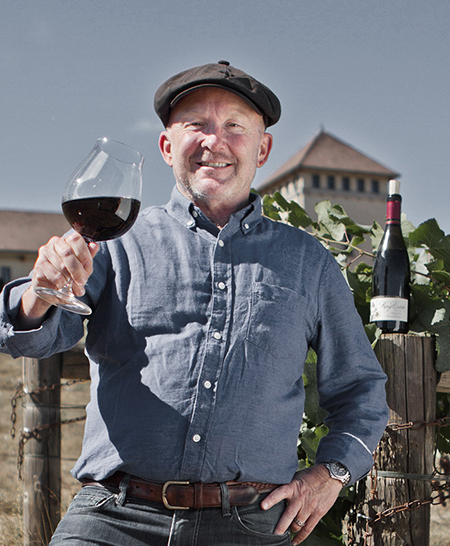 The founder of one of Oregon's largest wineries sees profound and some painful changes for the U.S. wine industry in the wake of the global pandemic and is troubled by out-of-state wineries producing Oregon wines.
King Estate in Eugene, Ore., is one of just three wineries in Oregon producing more than 300,000 cases a year and the third largest, by annual case production, of the state's 803 wineries. The winery was founded by Ed King Jr. (1921-2012) and his son Ed King III, who is the current CEO.
King was recently interviewed for the June edition of the Wine Analytics Report, where this article first appeared.
King was born in Kansas City, Mo., where his father had founded and operated the avionics firm King Radio, and later earned his MBA from the University of Oregon in Eugene. After a career in health care and education, King and his father purchased 600 acres of land outside Eugene in 1990 and established the winery in 1991. As King's family became involved in the business it expanded, and the estate now comprises more than 1,000 acres. In 2009, the company launched the Acrobat brand, which quickly grew into national distribution and was sold to Foley Family Wines in 2018. The estate was certified biodynamic in 2016, and in that same year it also became part of the Willamette Valley AVA after leading an effort to change the boundary to include the property.
Q: How have you responded to the COVID-19 pandemic, and how have you managed relations with your distributors and key accounts?
Ed King: We have had to make a lot of changes. Some of the hardest aspects are getting people to consistently distance from friends and colleagues. It has not come naturally to most. With a restaurant and active tasting room and other guest facilities, we immediately closed all public-facing spaces and began moving all possible staff to remote working. We began at an early point to take temperatures of staff still on site, implement distancing and stagger shifts. Winemaking, bottling, some administrative staff and agricultural activities are still located at the winery. Even with the staff that works out of doors, new protocols were adopted.
Sales has posed another set of challenges, but there has been a de-emphasis on all personal contact. Of course, the on-premise sales efforts ceased. Communications with distribution has been important and necessarily remote. If you do not already have those relationships, it is much harder. Nationally, we are around 70% off-premise with our brands, so the impact was lessened for us. These shifts will continue, and new mini channels to customers will grow, whether it is delivery or online wine retailers.
Expensive, restaurant-directed wines will probably be a reduced part of case sales volumes for wine in America for some time to come.
Q: Have you reopened the tasting room?
King: We are only open for bottle sales to go. For now, we do not see all of this "reopen" effort as being safe or economically viable. Things will change favorably over time, but the way business is conducted will be changed.
Q: When you sold Acrobat in 2018, did that also come with a greater focus on direct-to-consumer sales? Has that strategy changed at all in the course of the pandemic?
King: It has. Our return to focus on King Estate and our many small-production wines has been gratifying, but the marketplace is in a massive shift, as we all know. Expensive, restaurant-directed wines will probably be a reduced part of case sales volumes for wine in America for some time to come. The value segment has every reason to grow with high uncertainty and high unemployment.
Q: Do your most loyal customers live in Oregon or other states?
King: Our strongest state sales are in Oregon, but we also do very well in the southeast of the U.S. Many Oregon wine customers are actually looking for wines with a sense of place or a legit story. The customers seem to know that it does make a difference in their wine experience when they seek their wines just a little more carefully than just grabbing something on sale in the wine aisle. Oregon wine drinkers know that time invested in the effort to learn about the wines is well worth it.
Q: How have you been trying to connect with younger consumers or those who aren't regular wine drinkers?
King: Any way we can. I think many of the younger customers are looking to make their own brand allegiances and make their own discoveries. The success of new approaches and packages aligns with this. Just because someone's parents drank a brand regularly probably does not go too far with younger clients.
Q: Since officially becoming part of the Willamette Valley AVA, have you seen a corresponding increase in the value of the brand?
King: Our location was literally feet from the Willamette Valley AVA. Some of the original creators of the Willamette have told me it was just an arbitrary line drawn 45 to 50 years ago. We had done well going our own way, but the actual inclusion has resulted in a lot less explaining about our location and terroir, and a lot more effort on our part to advance the cause of the Willamette Valley as active industry members.
Q: Is the Oregon wine industry threatened by companies in other states developing brands with either purchased grapes or bulk wine from Oregon?
King: Yes, this is a problem. You have companies from other states buying Oregon fruit and taking it to their states where the legal winemaking ingredients and standards are lower, and then selling the wines as "Oregon" but at a price that is not consistent with Oregon standards.
Q: Do you think it's best addressed with more in-state regulations? If not, is there a better way to address it?
King: The out-of-state brands issue is based on the AVA system in the U.S. and gaps in the way we regulate them. There needs to be legislation in Oregon, from Oregon lawmakers, and perhaps an interstate compact with California about double standards being applied to cross-state production, and could also be addressed at the federal level. If the goal is truly transparency and getting information to the public and customers, we need to follow through on this. What's going on now is confusing at best.
Q: Aside from the pandemic and the resulting effects on the national economy, where do you see Oregon wine's biggest challenges and opportunities?
King: Realigning with where the customer prioritizes as we recover and adjusting the number of active wineries in the state to the survivors. There are a lot of business models in the Oregon wine industry, but many are small enough to be very dependent on cellar-door sales. And yet our population is relatively small. Many smaller wineries also depended on selling to restaurants and bars as well, and that may be sufficiently damaged as to require a long time healing.
Oregon has the climate, the culture and the courage to recover and thrive as the world comes through the crises. However, the wine business as we know it will be changed forever — there's no going back. Key now is to do the hard work of adapting to many new realities.