Wine dollar sales in Nielsen measured off premise channels grew 30 Percent for 7 weeks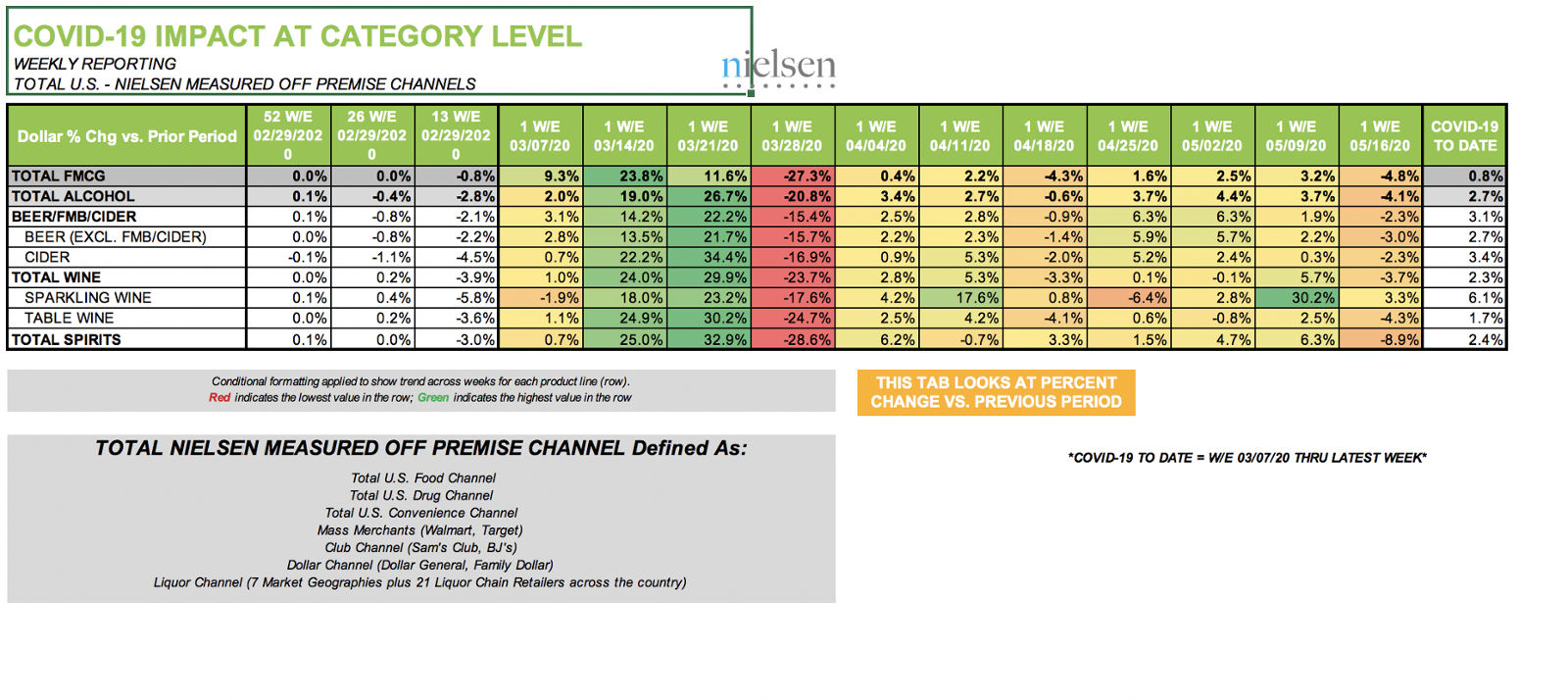 As expected given last week's extraordinarily strong increases in off premise sales, growth rates slowed for the week ending 5/16/20. In fact, growth rates slowed across all FMCG (fast moving consumer goods). For the week ending 5/16/20, while total FMCG was up 12% vs the same week last year, it was down 4.8% compared to the prior week. Off premise alcohol sales continue to outpace FMCG growth, up 29.4% compared to last year, but down 4.1% compared to the exceptional week prior. Overall category growth trends continue in line with prior periods, with spirits leading growth at +38.8% vs year ago, followed by wine +30.8%, and beer/fmb/cider +25.5%, and +16.3% excluding fmb/cider/seltzers.
Next week's report will capture sales leading up to the Memorial Day weekend - and will be an important one to understand consumer activity around holidays.
A reminder that Nielsen estimates that total alcohol needs to maintain at least 22% volume growth rates averagely in off premise channels in order to make up for the losses in the on premise. As the on premise begins to emerge from lockdown and some consumption shifts back, that threshold number will change, but the shift is likely to be very slow, and extended over a long period of time both due to social distancing requirements and large variances in individual consumer confidence.
COVID-19 11 weeks to date (since w/e March 7, 2020) volume % chg vs year ago:
Spirits: +33.1%
Wine: +27.6%
Beer/FMB/Cider: +17.5%
Consumer spending is an entirely different matter. Given the massive shift from On Premise to Off Premise and concurrent reductions in the price consumers pay in these two channels, overall consumer dollars are down double digits.
BEER/FMB/CIDER
Hard seltzers grew 311%, with growth rates slowing compared to the past few weeks, but far outpacing growth in pre-COVID time periods. Hard seltzers now account for 9.1% of total category dollars, and continue on the path to reach 10% share this summer.
All three premium light brands were in the top 10 growth brands for the category, and collectively contributed to 12% of the category growth. However, that lags behind hard seltzer's contribution to growth, with White Claw alone fueling 18% of category growth dollars. While premium lights and below premium beers continue in the black, up 12.6% and 6.5% respectively, both are losing share compared to pre-COVID time periods. The premium light segment lost 1.5 share points since pre-COVID time periods, and below premium is down 2.4 share points.
Mexican imports, led by Modelo and Corona, are up 26.8%, super premium +24.2%, craft +19.7% (independent craft slightly behind at +18.9%), and FMBs (excluding seltzers) +27.7%.
Large packs continue to drive growth, with 30 packs +33.1% and 24 packs +32.5%, vs 6 packs which are growing at 13.1%. Twelve packs continue to play an important role, up 46.6%.
What are contributors to 12 pack growth?
In the early weeks of COVID, hard seltzer share of growth was ~55-60%; however, in recent weeks it has dropped to the low 50s.
Segments that are seeing a greater contribution to 12 pack growth in recent weeks include budget, premium lights, premium regulars, and super premiums.
With Cinco de Mayo sales captured in recent weeks, imports are also seeing a greater share of growth for 12 packs than initial COVID weeks.
Top growth brand families for 12 packs for the latest week are White Claw, Bud, Corona, Modelo, Mich Ultra, and Twisted Tea.
HARD SELTZER CONSUMER STUDY
With hard seltzers roaring beyond pre-COVID growth rates, we wanted to understand what is driving that growth. At the end of 2019, we conducted an analysis to understand how and where hard seltzer buyers were coming from and where they were spending their dollars. That 2019 study showed that a majority of hard seltzer dollars were coming from new buyers that were expanding their alcohol purchases and adding hard seltzer to their current set of alcohol purchases.
So are these trends continuing during COVID time periods? Yes and no. For this new study, we looked at households purchasing hard seltzers in the off premise between 3/01/20-4/25/20.
One common theme is that a lot of hard seltzer dollars are coming from a significant increase in hard seltzer buyers. The number of hard seltzer buyers more than doubled for the 8-week COVID time period compared to the same time period last year.
Among all buyers purchasing seltzer during COVID weeks, 44% of them were new to seltzer, meaning they hadn't purchased seltzer in the entire year prior to March 2020 (including the summer seltzer craze of 2019). This reflects an interesting dynamic that while many trends are pointing to consumers purchasing existing brands they know and trust, there is also a subset of consumers that are willing to try new products (or new-to-them).
While nearly half of hard seltzer buyers during COVID time periods are new to seltzers, it is important to call out that the existing seltzer buyers (meaning those that purchased prior to COVID and during COVID) are contributing more than their fair share of dollars to the segment. The existing buyers account for 56% of total buyers, but represent 68% of hard seltzer dollars during COVID weeks.
Is the majority of hard seltzer dollars continuing to come from category expansion (adding seltzers to their current repertoire)? Not as much as in pre-COVID time periods. Hard seltzer buyers during COVID-19 are spending less of their total alcohol dollars on beer and wine compared to the same time period last year. Among hard seltzer buyers, beer (excluding FMB/cider) lost 5.6 share points and wine lost 4.0 share points compared to March and April 2019. We should expect this trend to continue, as seltzers gain share in the beer category.
WINE
Wine dollar sales in Nielsen measured off premise channels grew +30.8% in the most recent week vs year ago - that's now 7 weeks since the beginning of March with weekly sales growth above +30%. Sparkling wine had another very strong week (+41.8%), well above the growth rate of table wine (+26.7%), which was still strong.
While we've talked before about the growth of large pack formats, it is worthwhile pointing out that there remains considerable growth in some smaller size formats. In the case of wine in Cans, since the start of the health crisis the lowest individual weekly growth rate was +52%, and each of the last three weeks growth was above +70%. And in each of the four individual weeks, 375 ml wine bottles have grown over +60%.
The $20-$25 price tier continues to lead off premise growth in Nielsen measured channels, aligning with continuing off premise premiumization. On the Direct to Consumer (DtC) side though, we saw a significant decline in the average price of a bottle of wine in April 2020, to $33 in the current month from $42 a year ago. It's likely this is a combination of 'new' buyers in this channel coming in at lower price points than existing buyers, and suppliers reducing prices on some of their products to stimulate demand and replace lost tasting room business.
Within Nielsen measured off premise channels, the 'big' keep getting 'bigger' in wine - the top 100 brands, which accounted for 65% of pre-COVID sales dollars, have accounted for just over 70% of the COVID period year on year growth.
SPIRITS
Spirit sales in Nielsen measured off premise channels grew +38.8%, again well ahead of the other alcohol categories. It's noteworthy that within beverage alcohol overall, Spirits is better developed on premise, and so it's likely that a portion of its more rapid growth is a function of transferred demand as restaurants and bars shuttered for 'on' the premises eating and drinking.
Similar to the past few weeks, growth was again led by 3 segments - RTD's, Tequila, and Cordials. Cognac growth has continued to strengthen -- for seven consecutive weeks its growth rate vs year ago has risen, including the most recent week, in contrast to most other segments whose growth rates generally decelerated in the current week.
Within Nielsen measured off premise channels, the 'top' 50 spirit brands which pre-COVID represented 65% of sales have accounted for a similar amount of COVID period year on year growth, as the 'long tail' growth in aggregate kept pace with the big brand aggregate growth (unlike wine). A notable exception was Tito's, with a dollar share of just over 5% pre-COVID, but accounting for over 8% of COVID year on year dollar gains, thus further expanding its #1 brand position.