Long on Inventory, Growers Remove Vineyards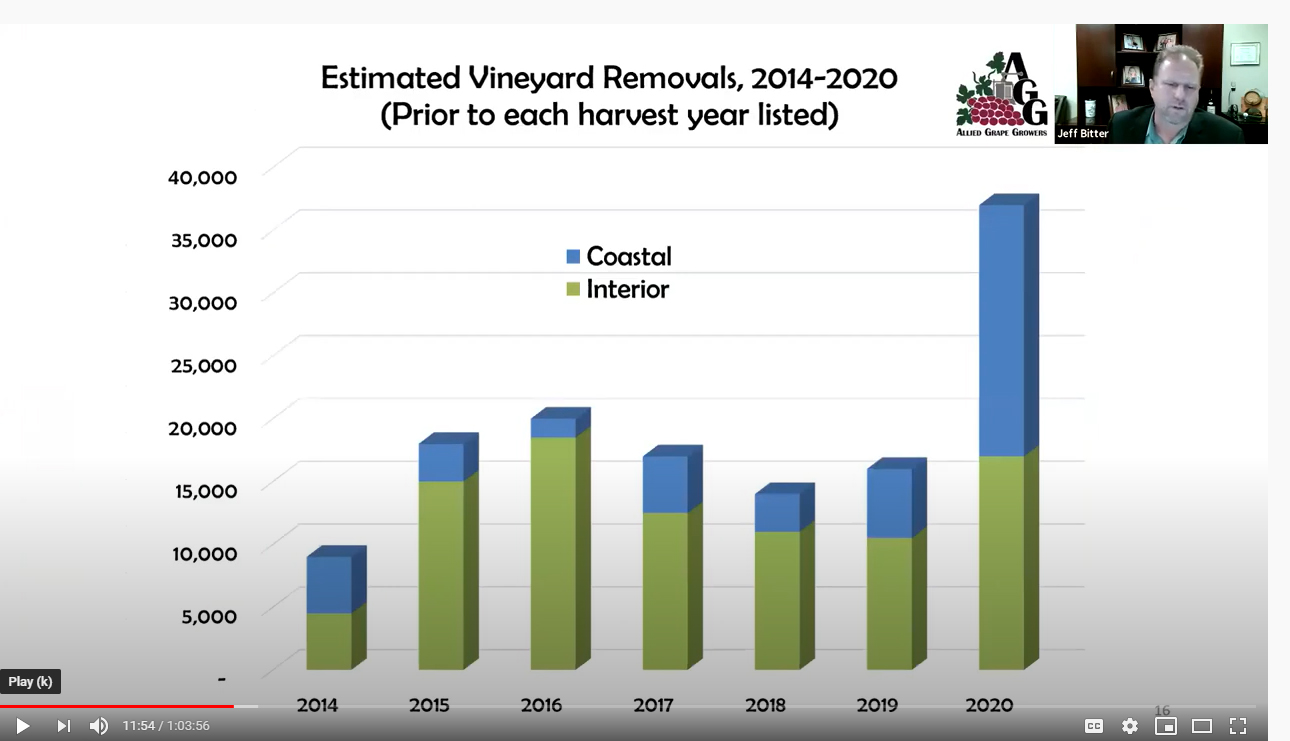 During Thursday's Silicon Valley Bank State of the Industry Special Edition webcast Allied Grapegrowers President Jeff Bitter said growers have responded to an oversupply situation by pulling out vineyards, not just in the Central Valley but in coastal areas too.
However, the industry has not yet accomplished the vineyard removal number Bitter suggested is needed for balance back in January during the Unified Wine & Grape Symposium.
The chart indicates between 35,000 and 40,000 acres have been removed but Bitter said another 15,000 to 20,000 acres needs to be removed when one factors in new vineyards bringing bearing acreage online.
The north coast has been slower to remove vineyard acreage than the central coast. Bitter said 12-15 percent of bearing acreage in the central coast was removed this winter or will be removed. In the north coast, that figure is less than 5 percent.
"Overall, we're still in a long inventory position but we are making the adjustments for the future that will help us out," he said.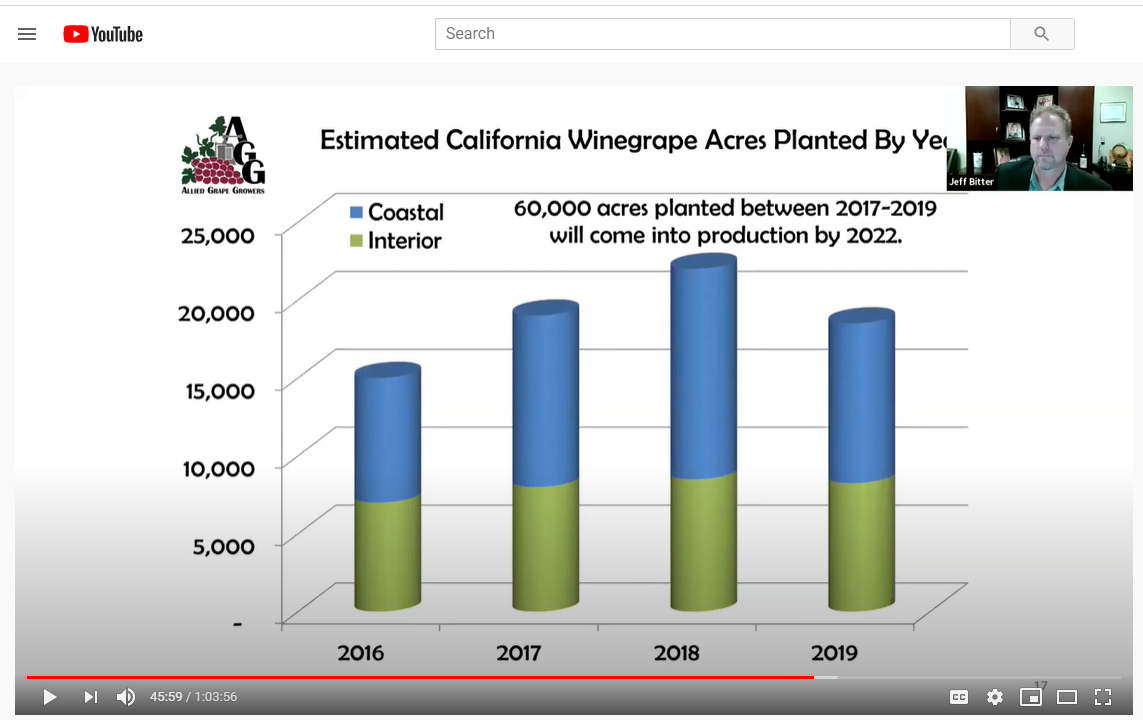 Premiumization or Retraction?
The second chart indicates the industry has been investing in coastal vineyards in recent years, driven by premiumization. "History tells us every time we've had some economic uncertainty, it's not so much that people buy less wine – they usually trade down in their purchase price points," Bitter said. "We have supply coming in, into the coastal regions that's going to exceed demand. That's going to end up cascading down. We're going to be offering some very nice wines out of California."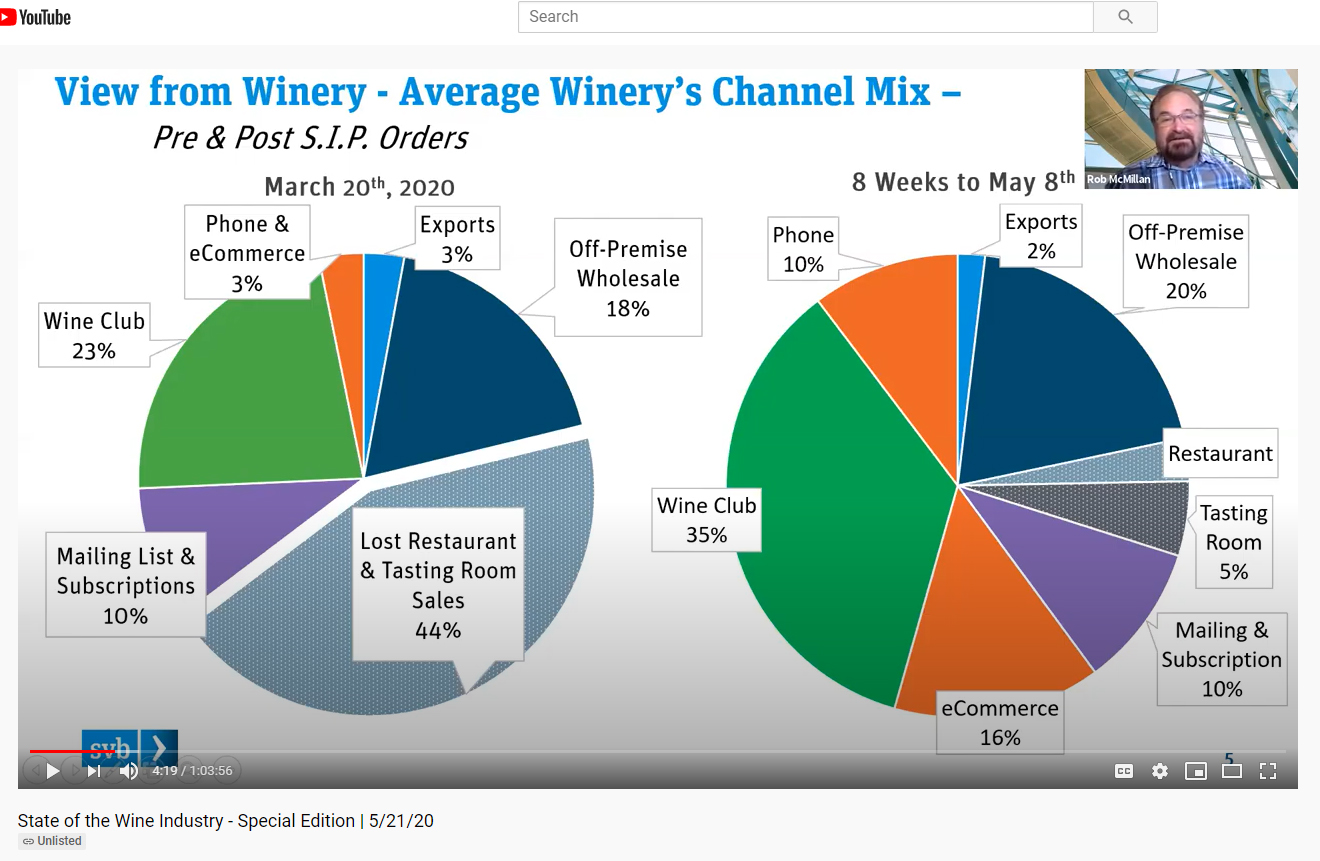 The chart above reflects the massive channel shifting that occured after shelter in place orders were issued.
The chart below with data from Vintrace shows the shifting that has occured within the DTC category, with tasting room traffic cut off but ecommerce, club and telephone sales picking up some of the slack.
"It speaks to what's been happening in the small winery world," Rob McMillan said. "People have been pivoting."