Five Weeks of Weekly Off Premise Wines Sales Growth Above 30 Percent
May 20, 2020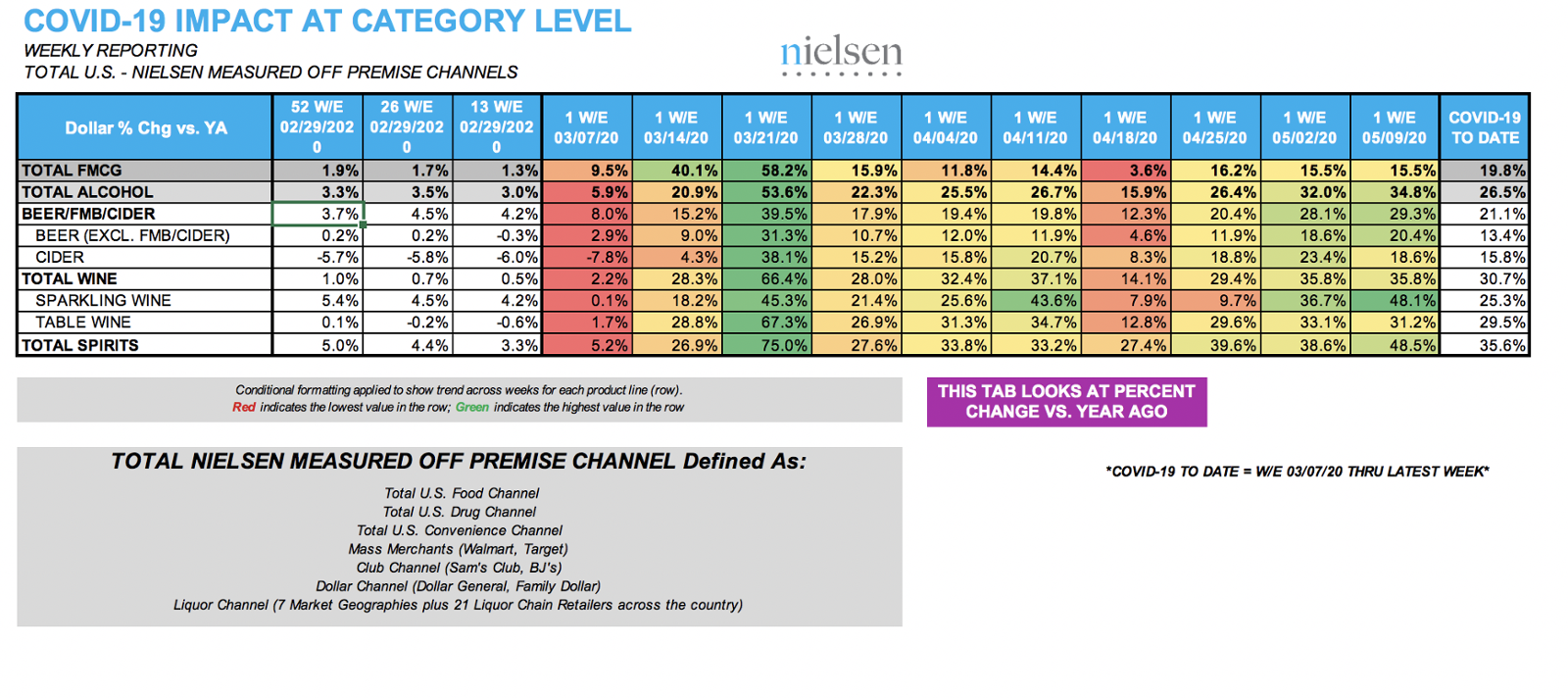 Nielsen reports that the week ending May 9 was the second biggest week of off-premise growth since the big pantry loading week that occured in the third week of March. Spirits led overall growth with a 48.5 percent increase in dollar sales. Mexican beer outpaced growth rates of all other beer segments, up 33.5 percent in dollars. Cinco de Mayo related activity was probably a factor.
Sales increases reflect a shift to more drinking occasions in and around the home, stocking up is still an element.
Wine dollar sales in Nielsen measured off premise channels grew 35.8 percent in the most recent week vs year ago. Sparkling wine had a strong week, up 48.1 percent, with table wine up 31.2 percent.
Consistent over the last three weeks, Wines (in glass) across all tiers $11+ ($11-$14.99; $15-$19.99, $20-$24.99, and $25+) are all growing faster than price tiers lower than that. That's similar to the general direction of last year, just at much elevated growth levels since COVID.
Nielsen Senior Vice-President, Beverage Alcohol Practice Danny Brager said the number of wine items selling in Nielsen measured off premise channels continues to remain firm - "suggesting no large scale reduction of wine variety available to shoppers in stores to this point."
Just released Direct to Consumer (DtC) wine shipment numbers for April 2020 from Nielsen's partnership with Wines Vines Analytics in collaboration with Sovos ShipCompliant showed even larger increases than in March. Volume grew year on year - up 45 percent in April 2020, but with a significantly smaller dollar increase - up 15 percent, as the average price per bottle sold in this channel dropped from $42 last year at this time to $33 in the current month. Within this measurement, Napa wines - the largest contributor to the DtC shipment channel - experienced the largest reduction in price.